November Event to Spotlight Remarkable, Mysterious Story of 3 Tallahassee Men
Two local women pour their lives into exhibits on Tallahassee's Proctor family.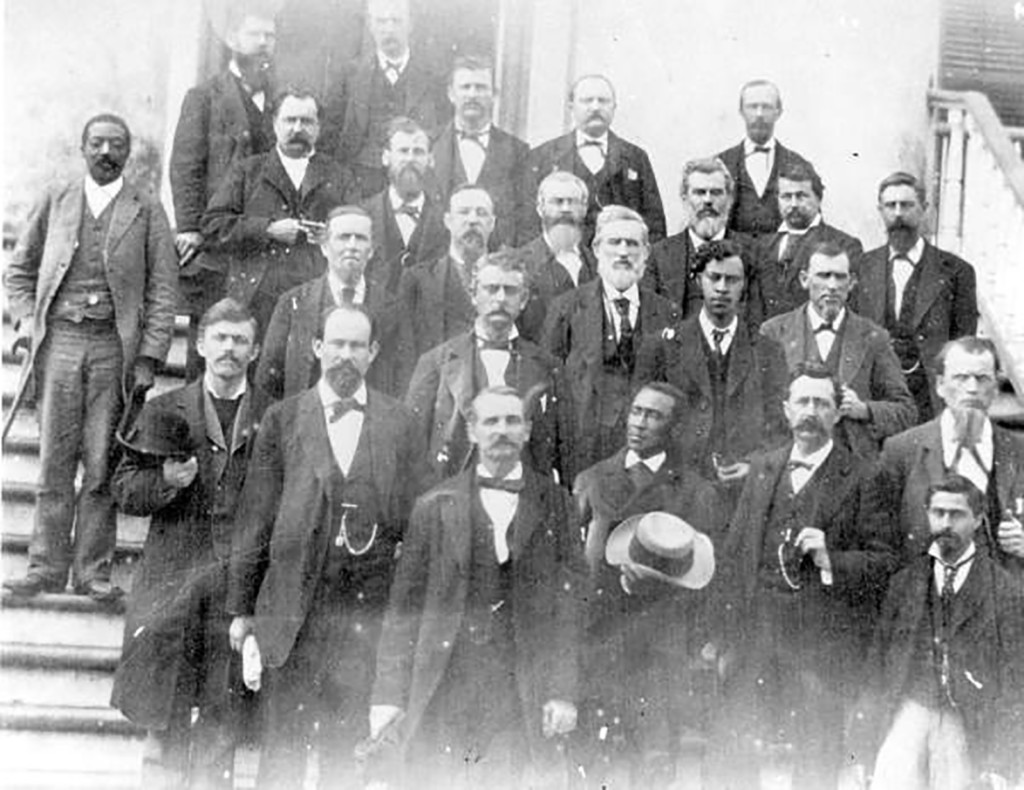 A Tallahassee historical group aims this fall to take you deep into the 1800s with a story about three generations of men — an Indian interpreter, a carpenter's apprentice and a politician.
The story most likely will leave you intrigued, and some parts of it could render you speechless. It serves as a reminder that in Tallahassee, humans once owned other humans and denied liberties as intrinsic as a life with one's spouse.
Tallahassee Hidden History plans on Nov. 3 to observe and honor the lives of Antonio, George and John Proctor — free black men who literally, at least in the case of George, had a hand in building this city.
The event will include exhibits and dedication of a historical marker, plus a trolley tour of Tallahassee landmarks that spotlight the significance of the three men to the city's early history. The story of their lives has wowed one researcher to the point of obsessive wonder.
"I didn't fall in love with Tallahassee until I got into this history," said Maggie Beth McGrotha, an Alabama native who moved here in 1987. She said her research won't end "until we get this celebration done."
The November event will showcase the work of McGrotha, 59, a realtor, and Jacqueline Proctor Erving, 64, a descendant of the Proctors.
They met about two years ago when Erving called to ask for information about Tallahassee's historic Rutgers House, which her great, great grandfather, George Proctor, built in 1848.
As a curious former teacher who had been managing rentals of the property, McGrotha already had spent about a year digging into the house's history and trying to unravel mysteries therein.
Together they would start Tallahassee Hidden History, whose first event aims to highlight "ways in which the Proctors contributed to the city's rich history during the 1800s."
McGrotha and Erving approach their work from different perspectives — McGrotha as a storyteller who says she's inspired to share Tallahassee history "that nobody seems to know" and Erving as a Proctor descendant who passionately wants to see her family's story shared with the community and future generations.
Erving said she became acquainted with the story of the Proctors through her father, General Proctor Sr., who died in 2011.
"This story is not being told, and I just don't want it to get lost," she said. "And I want the younger ones from our family to not forget and to carry on, like my father did."
She emphasized that she wants everybody to know what her ancestors "were able to do at an extraordinary time … and the strength it must have taken."
About 50 family members from all over the country plan to attend the November event, Erving said.
In research for their exhibit, McGrotha and Erving have tracked the lives of the Proctors, starting with Antonio, a Caribbean native and government Indian interpreter who lived in St. Augustine.
Antonio and his son, George, a carpenter's apprentice, ended up in Tallahassee. In 1830 — six years after Tallahassee became Florida's capital — they were among four free black men in the city, which included 381 slaves and 541 whites, according to a 2014 article in Tallahassee Magazine.
George Proctor built many of the city's first homes, including the Rutgers House, site of the Nov. 3 exhibits and reception. He constructed that home, now owned by the Tallahassee Garden Club, for city councilman and territorial treasurer Henry Rutgers.
Much mystery surrounds George Proctor, who in 1839 bought his wife, a slave, for $1,300. According to accounts, McGrotha said, Proctor made a $450 down payment on the purchase of his wife but apparently never paid the balance and therefore never bought her freedom. Drawn to the Gold Rush, he would move to California, where he's buried, McGrotha said.
George Proctor's son, John, would serve five terms in the Florida Legislature, including two terms as a senator. He's buried in Tallahassee's Old City Cemetery, which will gain a historical marker on Nov. 3.
"We haven't found Antonio yet," McGrotha said of the gravesite of the family patriarch.
Though much of the Proctors' story has been documented, McGrotha says she and Erving have been working to answer lingering questions through conversations with people such as Lee Warner, author of a book on the Proctors: "Free Men in an Age of Servitude: Three Generations of a Black Family." He plans to speak at the event, McGrotha said.
Through such contacts, they have secured documents, including one that made McGrotha gasp. It was a bill of sale for a human being.
"It just took my breath away," she said, referring to her reaction to seeing it. "I had to go sit down. A bill of sale — it was for  life. It was like you were looking at a life sentence."