New Rooftop Bar Charlie Park Reimagines Happy Hour
Venue delivers tapas and craft cocktails with a view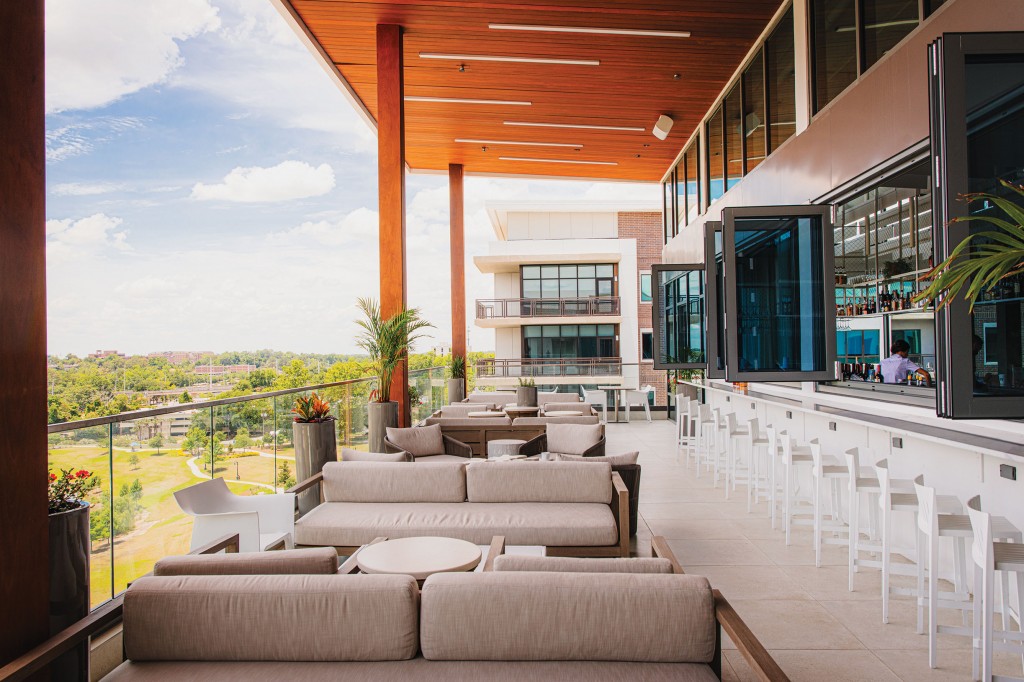 The team at For The Table Hospitality has kept quite busy launching and running popular CollegeTown restaurants like Madison Social and Township. SoDough was added a few years later in Midtown.
But when the group was approached about buying or being a partner in a restaurant or bar at the new AC Hotel in Cascades Park, they instead offered up the concept of a partnership.
"We really want to grow the management capabilities of what we do," said managing partner Matt Thompson. "We know this market. We have resources. We have a dedicated team, and we believe that we could be a great managing partner."
The collaboration that began several years ago has now come to life with the opening of Charlie Park, which Thompson describes as a "rooftop bar experience with tapas dining." Thompson emphasizes that Charlie Park is not the traditional concept of a sit-down restaurant, although they will take reservations.
"We wanted to do something bar first or cocktail-focused first that had an elevated approach to what we do," Thompson said. "This will be Tallahassee's first rooftop bar with food access all the time. We hesitate to call it a restaurant. It's tapas-style shareable plates. Our culinary director, Chris Palmer, has done a phenomenal job with the menu."
And what a menu it is. There are snacks like chickpea Chex mix and roasted olives. There are a variety of land and sea options, from blue crab avocado toast to snapper ceviche and from lamb burger sliders to blackberry grilled cheese.
Tapas options complement the extensive offerings of alcoholic beverages, from beer and sophisticated drinks to a carefully crafted list of hard-to-find wines.
"The wine list is curated to have things that you can't buy in Tallahassee," Thompson said. "You can't buy it in a store or find it on anybody else's menu. We've been very focused on that part of the experience."
The city has designated more than 200 parking spaces in a garage so guests can pay to park or have the hotel valet park. Guests of Charlie Park will be greeted at the elevator and, if they choose, can order their usual drink of choice to expedite service when they arrive at the rooftop bar.
The drinking options are also plentiful. Beyond the beer and wine menu, more than a dozen house-made cocktails are available, including a twist on an oldie but goodie with Not Your Grand Dad's Old Fashioned, a Verde-Rita and The Charlie.
Seating options are plentiful. There is a main bar, lounge area with a fireplace and a terrace with stunning views of Cascades Park. The hotel also features a 500-person banquet space, which Thompson's Social Catering will handle. That banquet space is among the largest in Tallahassee (behind only the Donald L. Tucker Center and Dunlap Champions Club). Thompson envisions hosting memorable weekends for a bride, groom and their guests.
The beauty of Charlie Park is the scenery but also the flexibility of the space. Furniture can be moved to accommodate a larger gathering.
"We hope to have a situation where a bride rents us out on Friday night for rehearsal dinner, and we can handle that," Thompson said. "Then on Saturday, they're doing their wedding or their wedding reception downstairs."
While there is always something to do or somewhere to go, often it's desirable to sit back, unwind and enjoy a great view of Tallahassee with friends, drinks and tapas.
"It was truly a collaborative effort to get this off the ground," Thompson said. "We named it with them, we designed it with them. It just so happened they owned the final say. It's been a great relationship."
Tuesday–Friday 4 p.m.–12 a.m.
Saturday 12 p.m.–2 a.m. Sunday 11 a.m.–6 p.m.
801 S. Gadsden St. (850) 759-4300