New Generation of Vehicles Answer Climate Concerns
Take a closer look at the newest EV and hybrid cars on the market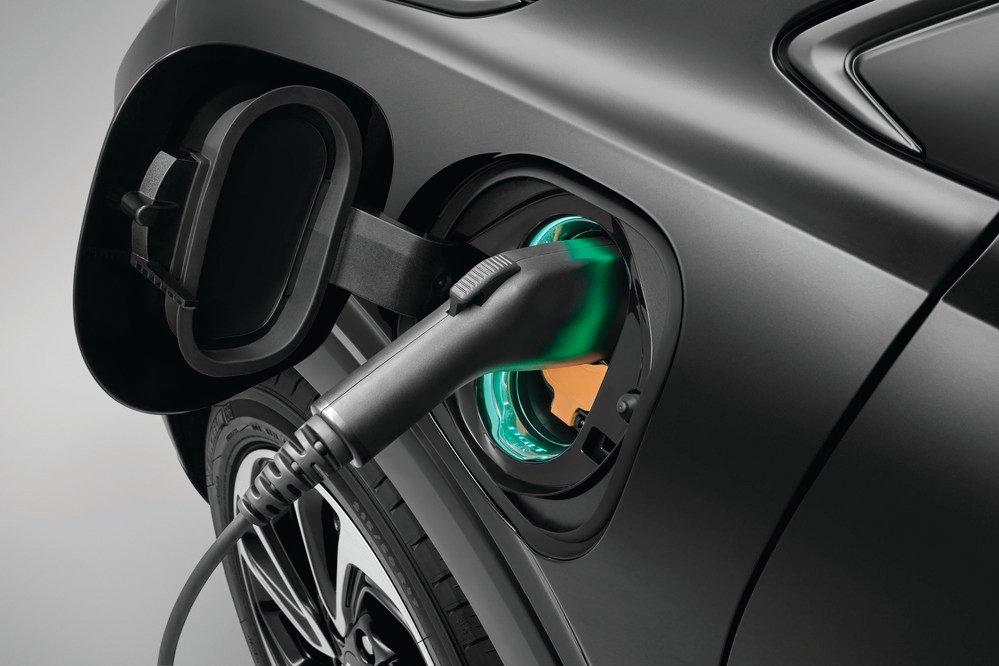 According to the Environmental Protection Agency, the United States is currently the second-largest producer of greenhouse gases in the world, with transportation accounting for a whopping 29 percent of those emissions.
Government policy shifts and consumer demand for greener travel and alternative energy sources have sparked a movement in the automotive industry. More and more of those whacky charging stations are popping up in public spaces, and you're likely seeing more electric and hybrid car commercials than ever before.
General Motors has pledged that, by 2035, it will sell only electric vehicles (EVs). So, move over, Elon Musk. Take a closer look at the newest EV and hybrid entries from Ford, Chevrolet and Toyota, and you'll see Tesla has some tough competition in the electric race.
2021 Ford Mustang Mach-E
Boasting "zero gas, zero emissions and 100% exhilaration," the 2021 Mustang Mach-E makes its debut as Ford's first all-electric crossover SUV.
To some, a battery-powered, four-door Mustang with all-wheel drive may seem sacrilegious and downright un-American.
Indeed, according to Dale Brown, the community relations manager at Tallahassee Ford, the prevailing complaint about Ford's entry in the EV movement concerns its blasphemous display of the equine emblem.
But, those people haven't been behind the wheel to experience what Brown calls the Mach-E's "thrust factor."
In fact, the Mustang Mach-E can go from 0–60 miles per hour in a matter of seconds without so much as a gripe from its eerily silent, 480-horsepower electric motor.
"One of the things I'm equipped to tell those people is the traditional Mustang is in a performance car category," said Brown. "The Mach-E is in the SUV category. When a sales associate comes to get the key to our demo, he never says, 'I need the keys to the Mustang.' They say, 'I need the keys to the Mach-E.' It's like a brand in and of itself."
Brown admitted he was skeptical about the Mach-E but has since had his fair share of test drives with Tallahassee Ford's demo unit. While Tesla has long dominated the EV market, Brown said the Mach-E's features hold their own.
Slide inside, and you're greeted with a 15.5-inch vertical touchscreen that serves as a command center. You're able to map your routes, monitor your vehicle's fuel economy, activate one-pedal driving and select from three driving modes: Engage, a fuel-efficient mode; Whisper, a balanced, energy-saving setting; and Unbridled, which is reminiscent of Tesla's "Ludicrous" mode.
"Unbridled is what people typically punch in when we're doing test drives," said Brown. "That includes a simulated purr of the engine, like most Mustang drivers are used to."
But before you go all Fast & Furious, you'll want to charge up. Officially, the EPA gives the Mustang Mach-E a range of 211 to 305 miles on a charge. Unlike Teslas, the Mustang Mach-E is able to use universal chargers. Many drivers opt to install a Ford Connected Charge Station at home and plug in their vehicles overnight, as you need a little over 10 hours to fully charge a 300-mile Mach-E battery.
Find a direct-current fast-charger, and you'll get up to 61 miles per 10 minutes of charge time. But most public charging stations at hotels, shopping areas and restaurants use the J-1772 universal charger, which much like the Ford Connected, takes time.
Brown said the primary concern of potential Mach-E drivers is its range but, thankfully, the Mustang Mach-E command center is smart about notifying drivers when the power gets low. A handy map details nearby charging stations, making trip planning easy.
"When the Mach-E first debuted, I was impressed, but a bit skeptical as to whether EVs would be Ford's future," admitted Brown. "But, Ford just announced the F-150 Lightning electric truck. Pricing for that truck won't even be available until 2022, and we already have 100 reservations for it. Electric is going to be a huge market for us."
2021 Chevrolet Bolt
For the best insights into the status of EVs, Josh Williams, sales associate at Dale Earnhardt Jr. Chevrolet in Tallahassee, would have you look no further than the 2022 Bolt EUV.
"For me, the Bolt has been eye-opening," said Williams, who has owned a Bolt since March. "I just charge my vehicle at work, and never have to worry about going to a gas station again. GM is eliminating ICE (internal combustion engine) vehicles by 2035, so I feel on the front end of that."
GM Super Cruise, currently classified as a Level 2 type of autonomous technology, utilizes GPS, cameras, lidar mapping (light detection and ranging) and radar sensors to automatically brake, steer and even change lanes along select highways. According to GM, the system is currently compatible with up to 200,000 miles of North American roads, with plans to expand its radar each year.
The system was premiered in the 2018 Cadillac CT6 and has since been added to a few other Cadillac models and the Bolt, adding to the plethora of features that have Williams saying, "I'll never go back to an ICE vehicle again."
"I came from a big Silverado truck with a V-8 engine, and the instant torque and takeoff of the Bolt is definitely comparable," Williams said. "It's powerful, quiet and very zippy. People like to underestimate the Bolt and label it as a good car to get you around town, but it's far more than that."
Don't ask Williams how he knows (he may have had a little too much fun on I-10,) but the Bolt tops out at 92 miles per hour. Its console command center displays register how much fuel you're saving, your estimated range and how much power you're regenerating.
The latter refers to the Bolt's regenerative braking, which absorbs the kinetic energy expended during deceleration and redistributes it as electricity to power its motor. Like the Mach-E Mustang, the Bolt is equipped with one-pedal driving, meaning you can simply let off the gas to slow your vehicle to a stop. That can take some getting used to, but it's like learning to ride a bike: Once you master it, there's no going back.
The vehicle's affordability (Williams said pricing starts at $33,995), paired with its 250-mile range and spacious seating, attract many young people, families and commuters.
Range anxiety is eliminated with the myChevrolet app. Using it, drivers can map their road trips to ensure that they don't run out of juice. (There are currently more than 80,000 chargers in North America.) The app sends alerts related to your range, upcoming charging stations and will even facilitate payments through its click-to-charge feature. And, with a DC fast charger, the Bolt accumulates 100 miles in just 30 minutes.
Williams cites Chevrolet dealer support as another big positive.
"Tesla is kind of lacking in servicing, as their service center nearest us is in Jacksonville," he said. "So, if something went wrong with your battery, cooling system or what have you, you'd have to flatbed your Tesla all the way to Jacksonville versus the two Chevrolet servicers in Tallahassee. I think the reliability of service is huge."
Brown can name several fellow employees, including the dealership's desk manager and parts manager, who have also succumbed to the Bolt bug.
"Being a Bolt owner, I'm excited that people's interest in EVs has grown tremendously," Williams said. "It's not so much of a niche market anymore. Carmakers are becoming more and more committed to going all-electric, so you may as well jump in now and get used to it."
Toyota 2021 Highlander Hybrid
If you're looking to shrink your ecological footprint but are not quite ready to commit to electric, hybrids such as the 2021 Toyota Highlander help ease the transition.
While it is not a plug-in vehicle and does rely on a gasoline-fueled engine, the Highlander also puts to work its two electric motors, combining for 243 horsepower and 186 pound-feet of torque.
The Highlander uses those electric motors as generators so that when the driver brakes, energy flows back into the battery for later use. That makes for ideal fuel economy, considering the Highlander gets an EPA-estimated 35–36 miles per gallon.
Thomasville Toyota sales professional Justin Cannon doesn't drive a 2021 Highlander, but he's been behind the wheel a few times.
"I would describe the ride as luxurious," Gates said. "You'll find it's very quiet, very smooth and comfortable. Toyota did a great job with the redesign."
The 2021 Highlander model is the second year of the fourth generation of Highlanders. Among a slew of new safety features and amenities, Toyota enhanced the Highlander's body style, making it longer and more aerodynamic.
The new and improved Highlander, equipped with standard four-wheel drive and an optional all-wheel drive, features third-row seating and abundant cargo storage space. But where this entry really shines is in its four Hybrid Drive Modes.
In addition to the conventional Sport and Eco modes you'll find in most modern vehicles, the Highlander adds its EV and Trail Modes. EV Mode allows for an all-electric drive utilizing power saved by regenerative braking and can be engaged while traveling short distances at lower speeds. If you're vacationing in higher altitudes, Trail Mode enhances all-wheel drive by boosting traction.
"Since they debuted the Prius, I would say Toyota has more knowledge about hybrids than anyone else," Cannon said. "Other companies producing hybrids will even buy information from Toyota to put into their cars. They're dependable. The Highlander is very safe, and even includes a 10-year, 150,000-mile warranty on its battery."
And, Cannon said, there's a Highlander for every price range.
Potential buyers can customize their Highlander by choosing from among six different trim levels. At its most simplistic, the Highlander L goes for about $38,735. Climbing the rungs, you'll upgrade to various features, including wireless smartphone charging, heated seats, rain-sensing windshield wipers and a digital rear-view mirror.
The fully tricked-out, souped-up Highlander Platinum starts at $48,690. A fair price, some would say, considering that between its deluxe accommodations and electric and gas hybrid engines, you're getting an unparalleled range.
"I wasn't a hybrid fan until I took a 2019 Highlander Platinum down to Daytona for the Coca-Cola Classic Race," said Cannon. "Between the torque, the speed and the silence, I was sold, and even bought my wife the 2020 model."
Toyota recently put out a press release saying that, by 2030, 70 percent of the vehicles they manufacture will either be all-battery or electric hybrid vehicles. With the recent announcement of the 2021 Toyota Sienna and Tundra vehicles, it's safe to say the EV/hybrid trend is picking up speed.
"I know that in the next 10 years, Toyota is looking to have hybrid models of their entire lineup, which is pretty cool," Cannon said. "We're excited about the future."