Neighborhood Coffee House, Catalina Café Grows Up to Be a Groovy Local Success Story
A Feast for the Senses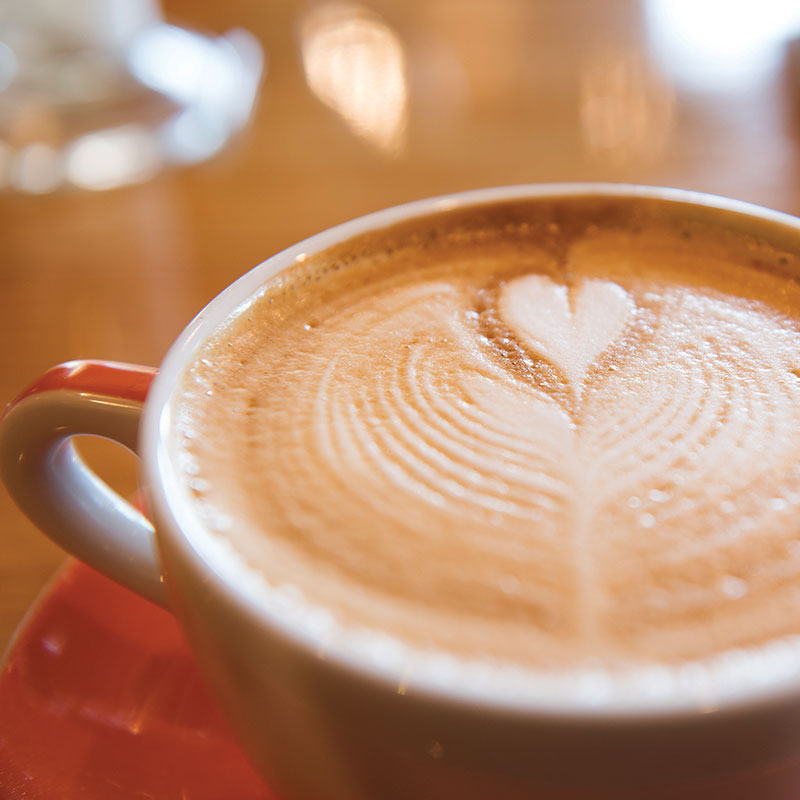 The smell of coffee beans roasting add to the atmosphere at Catalina Cafe.
Lawrence Davidson
If the enticing aroma of freshly roasted coffee beans and the friendly smiles of an attentive staff tend to rub you the wrong way, be sure to steer clear of Catalina Café.
However, with three convenient locations sprinkled throughout Tallahassee — and a fourth on the way — that's going to be an increasingly difficult task. On second thought, maybe it's better just to give in to this charming little set of locally owned bistros. Hey, if coffee isn't your thing, don't worry. They have wine and an assortment of Florida craft beers, too.
"It's a very welcoming, warm (place) that sells awesome specialty coffee and awesome, quality food in a great environment," said co-owner, barista and chief roaster Maurice Moulton. "It's a place where you can take your family."
Check out our behind-the-scenes video from the photo shoot:
Story continues below…
LAWRENCE DAVIDSON
With a casual air of "bohemian chic" (as one profoundly positive online reviewer put it) Catalina Café's flagship location, situated just north of Apalachee Parkway on Capital Circle Southeast across from Sam's Warehouse, offers artful lunch fare along with an extensive list of all-day breakfast options.
Walking in, the intimate dining area feels as aligned with a romantic brunch as it does with a constructive work lunch. The work of local artists fills the walls. Lattes named after Moulton and business/life partner Patricia Allaire's four collective children fill the menu.
"We have a strong customer base," shared Allaire, sitting alongside Moulton in their Capital Circle location. "This is where people got to know us. They know our food. So when we branched out, people would come in here and we'd tell them about the different locations. It makes a lot of people happy because they work downtown. But this is our hub."
Moulton and Allaire's brand of authenticity has attracted quite a fan base since Catalina Café's 2011 opening. The warm reception by Tallahasseeans encouraged the duo to open a smaller-scale, true coffee house alternative to their main eatery in 2012, nestled on trendy All Saints Street near downtown. This setup remains operational, even though this summer, Moulton and Allaire launched another location within walking distance in the Gaines Street neighborhood.
This location, they said, will add to their existing culinary repertoire immensely.
"This one is 'homey,'" said Allaire of the couple's Capital Circle location. "Families come here on the weekends with their kids. The small one at All Saints is like the little neighborhood coffee shop. Kind of like 'Cheers' — everyone knows everyone. The new one (is) a little trendier. It's sort of an industrial building. It's open later.
"We're going to do more vegan, more organic, more gluten-free. We're going to really focus on that. We do it a little bit here, but the market hasn't been as demanding in this part of town. We think it will be there."
"We're excited about the Garage on Gaines location," added Moulton. "We'll have GrassLands (Brewing Company) right there, us and then Gaines Street Pies."
As for their soon-to-be fourth location — ever heard of a little place called Cascades Park?