Mickey Moore
It feels good to be well put together.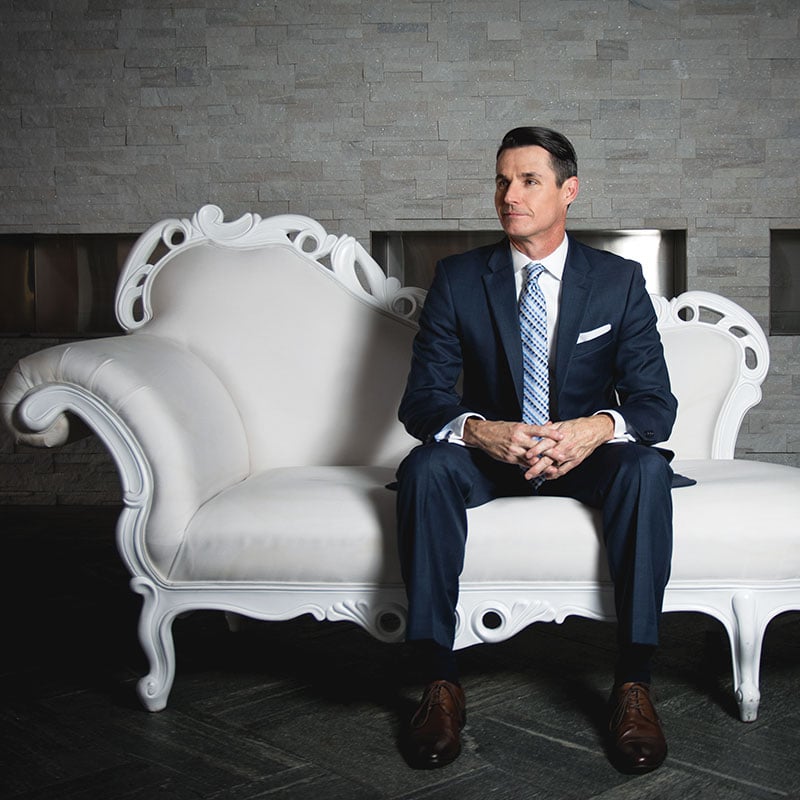 Mickey Moore was ready for me when I arrived at his office to talk with him about his sense of style and his tips for gentlemanly grooming. That is, he was impeccably dressed — albeit for a costume party. He wore pressed jeans, a perfectly tied bandana and a white 10-gallon hat, just like Roy Rogers, the "King of the Cowboys," wore.
But on regular days when Moore, as president of the Tallahassee Memorial HealthCare Foundation, meets with donors, administrators and other fundraising professionals, he reverts to tested and true classics that enhance his flawless physique.
"I'm a runner," he says. "I do between 40 and 60 miles a week and have competed in elite marathons, like Boston and New York." He enjoys, then, a certain body confidence, which is enhanced when he slips into one of his Tommy Hilfiger or Calvin Klein suits and combines it with his preferred shirt style — "crisp and white." He completes his look with a polished pair of Joseph Abboud or Steve Madden shoes and, frequently, a pairs of cufflinks.
Moore says it feels good to be "well put together."
He hasn't always had the luxury of dressing in high-end attire. He was raised by a single mother, and there were times when even basic necessities were unaffordable. What little clothing Moore had was purely functional, not fashionable. Moore attended junior college and went on to graduate from Florida State University. It was then that a mentoring couple bought him his first suit. "They actually helped me understand the importance of choosing the right colors and fabric, and that clothing can say something about who you are."
While Moore, now father to a toddler, admits that he's most comfortable in soft T-shirts with superhero logos, he also owns two tuxedos — one by Vera Wang — for galas and formal affairs. For the office, his go-to suit is a "bluish, tightly tailored look" (another reason he likes to keep fit), and he favors "neckties that pop" — especially a favorite pink.
"I represent the Foundation, its donors and employees," Moore says. "When they see me, I want them to think of integrity and attention to detail. Clothes and grooming can articulate that with every encounter."