Meningitis No Stranger to Tallahassee
Knowing the Symptoms of Meningitis and Getting Vaccinated Can Save Lives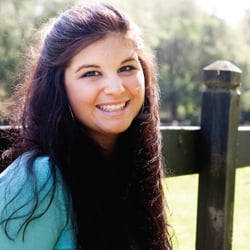 Jenny Mayfield Blackstone
An avid equestrian, Lawson Mayfield was suddenly struck with meningitis and died. The inaugural run in her honor was held in 2011.
In the fall of 2009, 18-year-old Lawson Mayfield was rushed to the hospital with what she thought was a migraine. Twenty-four hours later, the vibrant young woman and accomplished equestrian was dead. The culprit: bacterial meningitis, a rare and contagious central nervous system disease characterized by inflammation of the membranes (the meninges) around the brain or spinal cord.
"I thought she was having a horrible migraine and was hoping for pain relief at the hospital," said Cathy Mayfield, Lawson's mother. Because Mayfield had migraines previously, she was not immediately tested for meningitis in the hospital — critical hours that made a difference with the aggressive disease.
"Lawson literally deteriorated in less than 24 hours from a dull headache into full-blown bacterial meningitis, which is why it is so important for people to be aware of the disease, the symptoms, the treatment and the availability of safe and effective vaccines," Mayfield said.
There are two types of meningitis: viral, which is easily cured, and bacterial, the more dangerous of the two. According to the National Meningitis Association, one out of seven bacterial meningitis cases among adolescents will result in death.
Dr. Philbert J. Ford, a specialist in infectious disease internal medicine at Tallahassee Memorial Hospital, said there is a triad of telltale symptoms to be on the lookout for: fever, headache and stiff neck. Though infrequent, the disease is not a stranger to Tallahassee. "It's relatively rare, thank goodness, but we do see it," Ford said. The disease affects those with compromised or weak immune systems, hitting the very young and very old age groups the hardest.
"My previous knowledge about meningitis was, unfortunately, not much," Mayfield said. "I had heard of both bacterial and viral meningitis but mostly associated the disease with babies. I knew it was very dangerous but again thought it was limited to very young children."
Many young adults contract the contagious disease from living in close quarters like dorms, which increases the chance of the spread of bacterial fluids from coughing, sneezing and kissing.
"There is no real predisposition made on age; the deciding factor is predominately environment, so it's important to maintain cleanliness and take precautions by sneezing into your arm and washing your hands," Ford said.
Alarmingly, the bacteria can colonize in anyone at anytime — your neighbor on the plane, a friend at a bar, your dorm roommate — and there are no signs telling who has the bacteria until it causes an infection.
Luckily, a safe, FDA-approved vaccine can help prevent the majority of meningitis cases. College students are usually encouraged to receive the vaccine before their freshman year, but the Leon County public health department also offers the meningitis vaccination to 11 year olds.
Despite the fact that the meningococcal vaccination can effectively prevent cases and is available to people from age 9 months to 55 years, Florida's current vaccination rate is a dismal 55 percent for those between the ages of 13 and 17, according to the Florida Medical Association.
"In many cases it is a preventable disease," Mayfield said. "The fact that only 55 percent of our young adults get vaccinated is a perfect example of why this information is important."
Ford also hopes the community will recognize the symptoms and be wary of the disease.
"This disease is something the community needs to be aware of," Ford said. "Being informed, knowing the symptoms and getting help as soon as possible is the key."
Run For Lawson
To celebrate her daughter's memory and raise awareness and funds for the National Meningitis Foundation, Cathy Mayfield organized "Run for Lawson," an event open to the community that features a 1-mile fun walk/run, along with 5K and 10K races.
Last fall's inaugural event was a success, earning $35,000. "We were absolutely overwhelmed with the outpouring of community support and involvement," said Cathy Mayfield. The second annual Run for Lawson will be held Oct. 6.
"We are thrilled to again offer a fantastic cross country course, beginning on the athletic fields of Holy Comforter Episcopal School and running through the beautiful Welaunee Plantation grounds,"
she said.
For more information about the race, visit runforlawson.org.