Meet The Taggarts: Florida State Football's First Family
Willie and Taneshia Taggart emphasize togetherness, simplicity for their family of five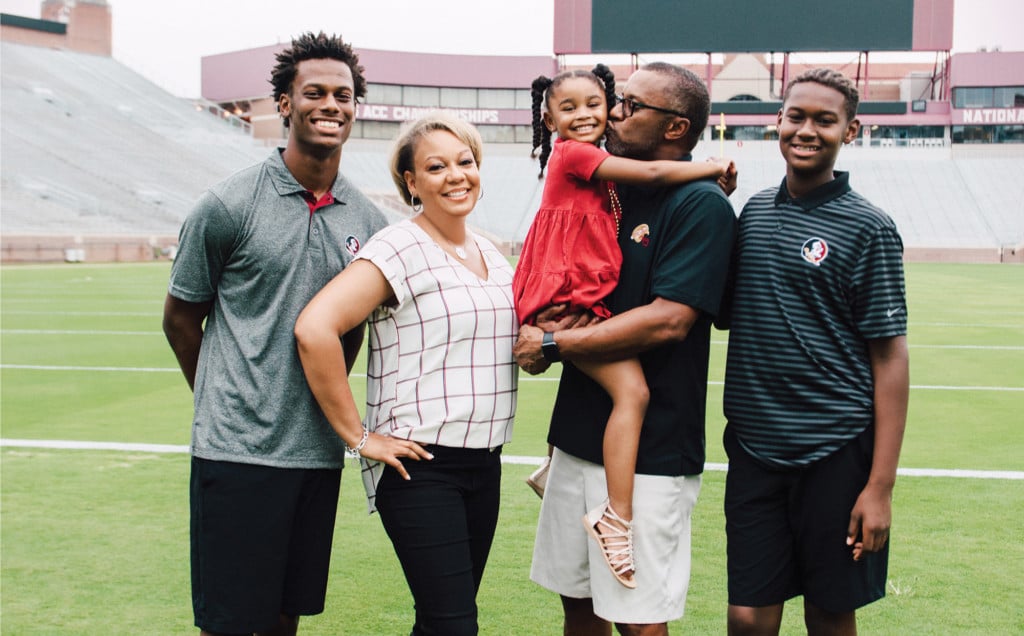 In the south end zone of one of college football's most storied stadiums, 4-year-old Morgan Taggart emerged as the featured player in a family photo session.
She was putting on a performance. And when it came to hamming it up, she was going for the Heisman — hugging her parents' necks, kissing her brothers' cheeks and waving for the camera, with a smile as wide as the 50-yard line.
Suddenly, as the clock hit 8 p.m., she ran out of steam.
"I'm hungry," she announced.
"What do you want to eat?" Willie Taggart asked.
"Popcorn."
"OK. Let's take some more pictures, then I'll get you some popcorn."
Spoken like a dad.
Florida State University's head football coach gathered his family for photos at Doak Campbell Stadium and for a conversation with Tallahassee Magazine at their new home in Golden Eagle.
He and his wife, Taneshia, discussed their emphasis on family and their children — Morgan, 12-year-old Jackson and 17-year-old Willie Jr., all of whom stand out for their height. They also discussed high-profile life and stress, "cute dimples," a typical day at home and their impressions of Tallahassee.
"Nice city," Taggart said. "People are nice and very welcoming. Everywhere I go, it's 'Welcome to Tallahassee.' I've been here over a year, and they still give a 'Welcome to Tallahassee.' "
Willie's Warm Welcome
Taggart welcomes you into his home with, "Hi, I'm Willie." Ask whether he prefers "Coach Taggart," he replies: "You can call me whatever you want. Just don't call me collect."
He would provide more folksy one liners, including when he suggested that a sister, a Florida Gators fan, wouldn't get any Christmas gifts if she didn't give his Florida State Seminoles their due.
"But she's coming around," he said with a smile.
Taggart sat beside his wife in the living room of their comfortable new home. Outside, landscapers were still laying sod. Inside, FSU football's first family was just moving in.
The living area trumpeted spaciousness. Maybe most of the stuff from the movers hadn't arrived yet, you figured. Or maybe the new residents didn't feel they needed that much stuff.
Maybe, in each other, they had all they needed.
"We're a simple family," Taggart said.
"Very simple," his wife said.
Keeping His Game Face
Of course, family life can get complicated when you coach one of the most successful football programs in the country. Expectations never fall below enormous, especially when you're among about a dozen African-American football coaches in the NCAA's 130-team Football Bowl Subdivision.
A top job in college football means 14-hour to 18-hour workdays for the dad. It means pressure and stress on the father, the mother and the children, especially when the season didn't go the way the fans wanted.
The stress becomes heightened in the age of social media, on which frustrated fans spew a constant stream of viciousness, relentlessness and bigotry.
Taggart addressed the stress during the June Tallahassee Magazine interview that focused on family. TV cameras show Taggart as perpetually expressionless, regardless of a win, tumble, first down or fumble.
A conversation with him shows him as human.
"I try to not let anybody ever see me sweat," he said. "By myself, I can let out the frustration or whatever. If I'm stressed out, I'm stressed out from thinking of how I can make these situations better. If I can, I work my tail off and make it better. If I can't, then I'm not going to stress about it and move on and keep going."
Only his wife knows when he's upset, he said. She agreed.
"Normally, he's a very happy, talkative person," Taneshia Taggart said. "So when I see him internalizing and quiet, I know something is eating at him. And I ask him what's wrong. And either he'll tell me something's wrong, or he'll say, 'I'm good.' And I let it go."
The coach said he has had similar talks with sons Jackson and Willie Jr. Both play sports, including football, year-round.
Taggart described Jackson, the middle child, as quiet and disinclined to "let a lot of things bother him."
"But I talk to him about those things and why people do certain things and say certain things and why it shouldn't bother him," Taggart said. "You try to explain to him how it works. And be real about it all."
Unintended Attention
Jackson's older brother, Willie Jr., plays quarterback for Florida State University School, or Florida High. He has a chance to play big-time college football, perhaps for his dad at FSU.
Taggart said he apologized to Willie Jr. for giving him his name, which has brought his son unintended attention.
When football fans say negative things to Willie Jr., Taggart said he tells him: "You don't know those people, so the heck with what they say. When things don't go well, everything's going to be said, and when things go right, still, negative things are going to be said. It's kind of what we're dealing with."
Willie Jr. had touched his parents with an inspiring comment in late 2017 when his father found himself in angst over whether to leave the University of Oregon after one season. FSU had offered him the chance to become FSU's first African American football coach.
Taggart had grown up a Florida State fan and saw it as a dream job. One problem: His oldest son loved Oregon and wanted to stay.
The coach said he and his wife were in their room one day when Willie Jr. came in and said to his father: "I know you're struggling with your decision. I know Florida State's a dream school. You've been having me doing the 'tomahawk chop' since I was 3. You've always told me to take my dreams and not let anyone get in the way of them, so I don't think it's right for me or anybody else to get in the way of your dreams."
The parents hadn't seen that coming.
"Both of us, we were like, 'Wow,' " Taggart said. "We just hugged and cried, and we were like, 'Man, the dude's growing up.' "
"They surprise you," Taneshia Taggart said softly.
'Just Take Care of Your Family'
In the interview, Willie Taggart emphasized his devotion to family and the ways he works that into his coaching. He said that devotion came from his father, John, who died in 2017.
Up until his illness, John Taggart had worked for about 30 years at Darlene's Shells, a company in Palmetto, just north of Bradenton, that processes seashells and sells them as crafts and souvenirs. Willie Taggart had worked there during summers as a teenager while he was a star quarterback at Manatee High School.
Taggart said he models his dad "from the standpoint of just take care of your family."
"That's the one thing that I really miss about my dad," he said. "Every time we got off the phone, he always ended it with, 'Make sure you take care of your family.' We didn't have much, and he didn't have a great job, but he worked his tail off and made sure we had lights and that water and food were on the table. I try to teach my boys the same thing. Take care of the family and take care of your mom."
Their mom is the former Taneshia Crosson. Taggart first saw her in the student union at Western Kentucky University, where he studied social sciences and played quarterback and she majored in interdisciplinary studies with a journalism emphasis.
As Taneshia tells it, she was sitting with a friend when Willie walked in with friends. She said she told her friend that Willie had cute dimples.
Cuteness reigned, because Willie recalls thinking, "Wow, she's cute."
He noticed her looking at him as she talked to her friend. The quarterback knew he had a chance, and he wasn't going to pass on it.
"When I left, he decided to ask her what I said," Taneshia said. "She told him."
Touchdown.
They would start a football family at Western Kentucky, where Willie worked as an assistant coach under the man who would become his mentor, Jack Harbaugh, father of University of Michigan coach Jim Harbaugh.
The Taggarts would move to Stanford and back to Western Kentucky for Willie's first head coaching job. Then they'd move to South Florida and to Oregon before landing at FSU.
'Lots of 'Noles Around Here'
In early June, they still hadn't gotten to know any neighbors because they'd just moved into their new home. But they received a welcoming sign.
On the day the moving trucks arrived, Taneshia said, the house across the street freshly hung an FSU flag over its garage — an obvious salute to the new residents.
"The great thing about it," Willie said, "there's lots of 'Noles around here."
Lots of holes, too — 18 of them. The Taggarts' new backyard overlooks the fifth hole at Golden Eagle Country Club, where the father takes the kids out for golf.
Even Morgan, with her tiny clubs, goes along. "She's my little caddy," Taggart said.
But preschoolers and preteens have their limits. When Dad and kids get to the fifth hole, Taggart said, Jackson might grab his clubs and aim for home, a matter of steps away.
"They get a little tired after a while, mentally," he said.
The coach understands. Golf "ticks me off," he said. But he didn't buy a house on a challenging golf course for nothing.
Willie also likes to cook on the grill. Taneshia, the family homemaker, enjoys a drive to the park. Upon completion of a pool, they planned to spend as much time in it as they could with their kids.
"But that's about it," Willie said. "We're a simple family. We don't do a lot."
Reassurance for Willie Jr.
On Friday nights during football season, Taneshia takes Morgan and Jackson to watch Willie Jr. play for Florida High.
When FSU isn't on the road, her husband joins them, sort of. The coach stakes out a spot near the field where he stands by himself. Yes, he's giving his son guidance through eye contact and gestures. You bet he is.
"Sometimes he won't look," Taggart said of Willie Jr. "But he also looks sometimes for some reassurance."
Taggart said he tries not to force anything on his kids. They should go after a goal because they want it, not because he wants it for them, he said.
Willie Jr. wants to play college football. Through spring, he reportedly received scholarship offers from Florida State, Arkansas and Appalachian State, and he included Oregon among his destinations of interest.
"He knows that I'm always here," Taggart said of his son. "I think he opens up more to his mom than me. I get frustrated because I feel like he isn't listening. But he is. He's listening."
"My dad just tells me to just be me and let people like me for me, and I don't have to change for anyone," Willie Jr. said. "If they like me for me as a person, then that's great. If they want to talk to me as the coach's kid and that's all they see me as, just push them to the side and be a normal kid."
He made his comments near Doak Campbell Stadium's south end zone, where minutes before, his little sister — sporting a garnet dress with an FSU logo — had put on her impressive performance for the camera. Her father had happily played along.
"Kiss me on my cheek," Dad told her. "Now, c'mon, give daddy a hug."
Read more about the Taggart Family's views on family, football and social media here