Market Square's Sidecar is Every Foodie's Dream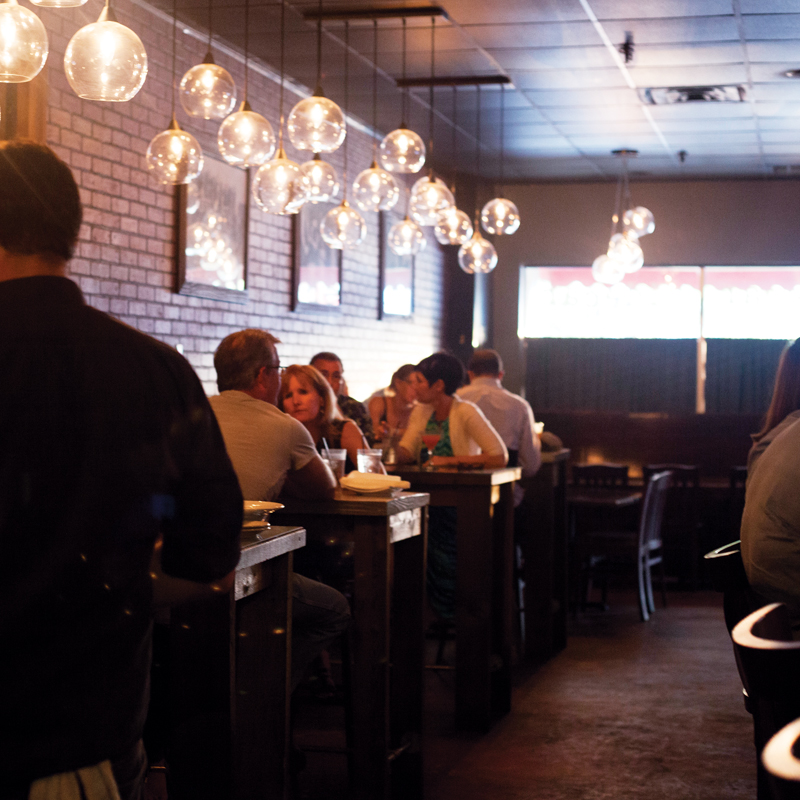 When it comes to bars, food is pretty much an afterthought.
Peanuts, pretzels, popcorn … and if there's a menu, it'll probably feature chicken wings and tater tots.
Not so at Sidecar Gastrobar, a watering hole located next to Kitcho Restaurant in the Market Square Shopping Center.
There are bar nuts, but they're good-sized cashews with a sweet and spicy glaze. Popcorn too. Pick between six varieties, including Cajun spice and vinegar, cinnamon chocolate or Parmesan truffle. And the wings? No medium buffalo sauce here. Sidecar's wings are sweet tea brined and grilled with a spicy lemon honey glaze.
Chef Dan Bales presides over a menu that definitely has a Southern accent, from the pickles, fried okra and pimento cheese appetizers to the shrimp and grits and chicken and "dumps" small plates. There's a healthy-sized list of sandwiches and cheese and charcuterie boards to choose from as well, all presented with flair and a little something extra, like the tomato soup shooter that accompanies the Pork Belly BLT Panini.
Most of the ingredients are locally sourced — including seafood from Southern Seafood and sandwich breads from Au Peche Mignon, located in the same shopping center — and pretty much everything from aiolis to pickles to corned beef is made from scratch.
Bales grew up in Tallahassee, attending SAIL High School, and worked at Jasmine Café with Bobby Cleek, the chef who opened Sidecar in December 2012. The two went their separate ways. Bales would head west, attending the Oregon Culinary Institute and cooking in several West Coast venues, including a time working under chef Kenny Giambalvo at the celebrated Bluehour Restaurant in Portland's Pearl District.
When Bales decided to return to his hometown in mid 2013, pairing up with his old restaurant cooking partner was a natural fit. "It was funny because he was doing a lot of the same things that I had been doing (out West), and so it all made sense — the charcuterie boards, the braising of meats, the fresh seafood and all these fresh flavors … it clicked very well," Bales said.
Sidecar and Kitcho share an owner as well as the Japanese restaurant's menu, so patrons can order sushi or other Japanese specialties along with their Moscow Mule (vodka, lime juice and ginger beer).
In addition to its foodie's delight menu, Sidecar doesn't stint on the "bar" part of its offerings. Bar manager Kristina Matheson said many of the specialty drinks offered there are "classic cocktails," such as martinis, negronis, margaritas, mojitos and four versions of its namesake cocktail, the Sidecar — with what she calls "a twist." There's also an extensive offering of beer cocktails, from the simple "Angry Balls" (Angry Orchard Apple Cider paired with a shot of Fireball whiskey) to the "Steam Roller," which includes Kirin beer, bitters, liqueurs, juices and rye whiskey.
"There are all these cordials and liqueurs … and even bitters," Matheson said. "We try to incorporate things that people would not normally make at home."
Sidecar also has an ever-changing roster of 11 beers on tap as well as about 50 other bottled varieties.
Sidecar seats about 100 people and has an industrial design paired with a few leftovers from its original incarnation as the Velvet Lounge, including the traditional wood bar and velvet couch. And then there's Matheson, who worked as the solo bartender at Velvet for several years and notes the different vibe today. "It was more dark and intimate," she recalled. "A lot of people didn't know about Velvet, but the people that did came every day."
With word-of-mouth, a collection of good Yelp reviews and specials, Sidecar is hopping most nights of the week, appealing to a much broader clientele, from young hipsterish sorts to gatherings of baby boomers, and there's usually a celebration of some sort going on at the larger tables, which can be reserved.
Sidecar is only closed on Mondays, and it offers special attractions on most days of the week: Tacos on Tuesdays, half-price appetizers on Wednesday, Kill the Keg on Thursdays, $2 Fireball shots on Fridays and a very popular Sunday trivia night.
But even when there's a crowd, there's definitely a "Cheers"-like vibe in the gastrobar.
"Everyone definitely knows everybody," said Bales. The entire food menu is served until midnight during the week and 1 a.m. on Fridays and Saturdays. "We have a whole lot of chefs and hospitality folks in general," who enjoy a late-night nosh, he said. "When they get out of work, instead of just having to get Wendy's or Steak 'n Shake, they can come here and actually get decent food."