March of Dimes Strives for Healthier Babies in Post-Polio America
New Generations, New Goals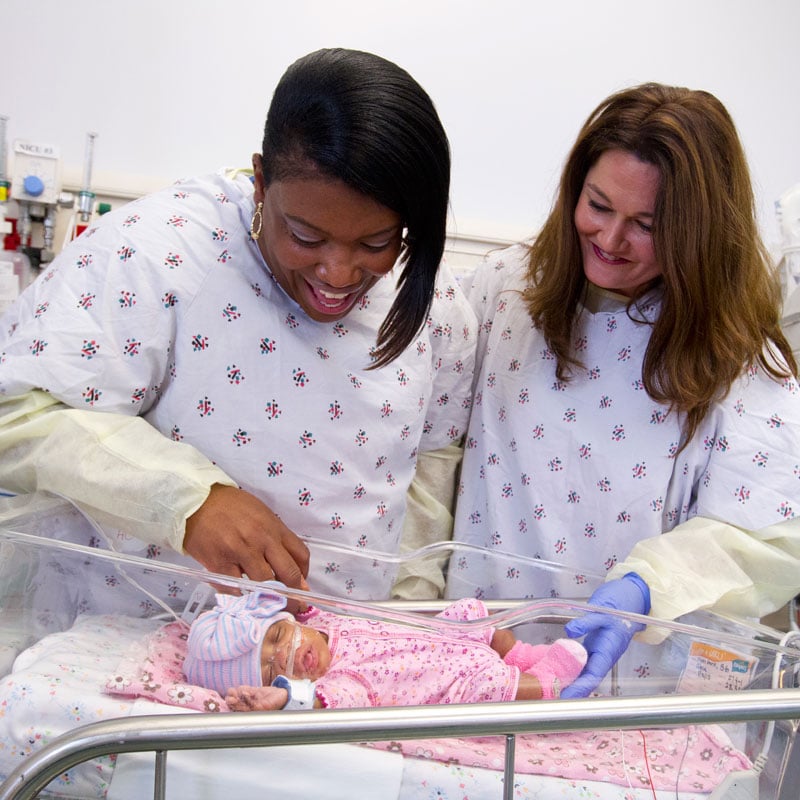 It's an awful, uncertain feeling seeing your newborn lying inside a Neonatal Intensive Care Unit (NICU) incubator. You can't hold your baby and you can feel like you're all alone in the universe. Doctors and nurses can give a clinical description of what's happening, but you're still feeling adrift in swirling emotions. You want to know if everything is going to be OK.
And then someone new comes in and strikes up a conversation. This friendly person isn't a nurse or doctor, but someone with a calming sense of confidence. She explains that her child is a NICU "graduate," and is more than eager to share her experiences: Yes, this is normal; yes, it takes time; things will get better, trust me. I've been where you are now, and my child is healthy, active and perfectly normal.
And, with that, your hope is renewed.
It's this kind of emotional — and educational — support the Florida Big Bend Division of the March of Dimes wants to put in place in Tallahassee. Diana L. Cureton, chairwoman of the local March of Dimes board of directors, said this kind of "graduate" network could be of great service to local mothers who, for whatever reason, have pre-term deliveries.
"We have reached out to the NICU mothers to see what are some things that you want to see from the March of Dimes, locally, that would help," Cureton said. "And a lot of it is really just education and support."
And so, working in conjunction with Tallahassee Memorial HealthCare, which has the only Level III NICU in the area, the MOD is reaching out to create a database of parents willing to help other NICU families struggling through this trying time.
"There's not a system in place where the NICU 'graduates' can work with the people that are currently in the NICU," she said. "You can imagine it's pretty scary to have a child in the NICU. There's a lot of uncertainty, a lot of things you don't know, so they really ask for that support, and the education you can get from somebody that is dealing with the same situation that you've had; somebody that can be empathetic and knowledgeable."
The creation of such a network is just one of many initiatives the March of Dimes hopes will be successful in ensuring babies and families are strong and healthy.
Originally established in 1938, the March of Dimes helped stamp out the scourge of polio, a debilitating disease that racked up a terrible toll in the United States for many years until research funded by the March of Dimes developed effective vaccines in the late 1950s. Today, childhood vaccination has kept the disease at bay in the U.S. — although it still remains a threat in some developing countries.
About four million babies are born each year in the United States, and each one is touched in some way by the vaccines, education and research sponsored by the March of Dimes. It is the leading nonprofit organization for pregnancy and baby health.
"Our goal is to make sure we have healthy babies, and we do that through research, advocacy and education," said Lanisha Wetherington, division director of the Big Bend March of Dimes. "We want to help with birth defects as well as help stop premature birth."
Wetherington said that back in the dark days of polio, the local March of Dimes unit was highly involved in the community. A "hands-on force," she said, produced the iron lungs for patients, fed and clothed families, and did whatever was needed to make sure the patients were comfortable and getting the medical attention they needed.
But when that goal was accomplished, the March of Dimes didn't just go away or rest on its laurels.
"Once we eradicated polio and found the vaccine … our focus shifted to birth defects," she said. "Because this foundation was already created … we wanted to continue with childhood diseases and make sure children were born healthy. Now (the focus is on) birth defects, prematurity awareness and infant mortality."
A NICU grad herself, Wetherington spent many years helping the March of Dimes as a volunteer. Now that she actually works for the organization, she is fully able to put her heart into her work and extremely grateful for the difference the organization has made in her life.
"My son was born premature at 33 weeks, and so he automatically went into the NICU for testing, and then he stayed for over a month because his lungs weren't developed," she said. Her daughter was born even earlier than that, but thanks to the research of March of Dimes she was able to get a hormonal steroid shot that helped the unborn baby's lungs develop. "And so when she was born — even though she was earlier than her brother — she only stayed five days in the NICU … for monitoring and she was on a ventilator, very minimal compared to some children. Some children can be born healthy at 38, 39 and 40 weeks but still have some issues that have to be monitored. So any child in the NICU is what we consider the NICU grad."
Another March of Dimes initiative relates to women who choose to deliver their babies early.
Planning a birth before a pregnancy's full term can have negative consequences for babies if adults make the choice to induce delivery before its time, simply for the sake of convenience. Preterm birth is the leading cause of newborn death in the United States, according to the March of Dimes. That's why parents are being encouraged to not be in a rush, Wetherington said.
"This is not going to be good for your child in the long term," she said. "(We want) to help eliminate that and to make you aware that being early is not a good idea. Brain development is key and (for) people that are healthy and are having a normal pregnancy, electing an early birth is not a good idea."
Hence, the creation of a new awareness program called "Healthy Babies are Worth the Wait." The goal here is to reduce Florida's preterm birth rate of 13 percent to 9.6 percent by 2014.
"There are a lot of elective births prior to 39 weeks. But the research is showing, again through the March of Dimes, that if you actually wait until 39 weeks or after that, brain development occurs that is essential in the final weeks before 39 weeks," Cureton said.
Cureton said she had two elective deliveries; but even though waiting the full 39 weeks was not an option for one of her children, for normal pregnancies it should be the rule, not the exception.
"To me it makes a big difference if you can see what the research shows," she said. "We're working with five states (Florida, New York, Texas, California and Illinois) to spread the word, because they constitute 40 percent of the births in the United States. If we can get the '39 Weeks' program in those five states, then I think it will make a tremendous difference."