Making Tails Wag
Tally Top Pet event sets fundraising record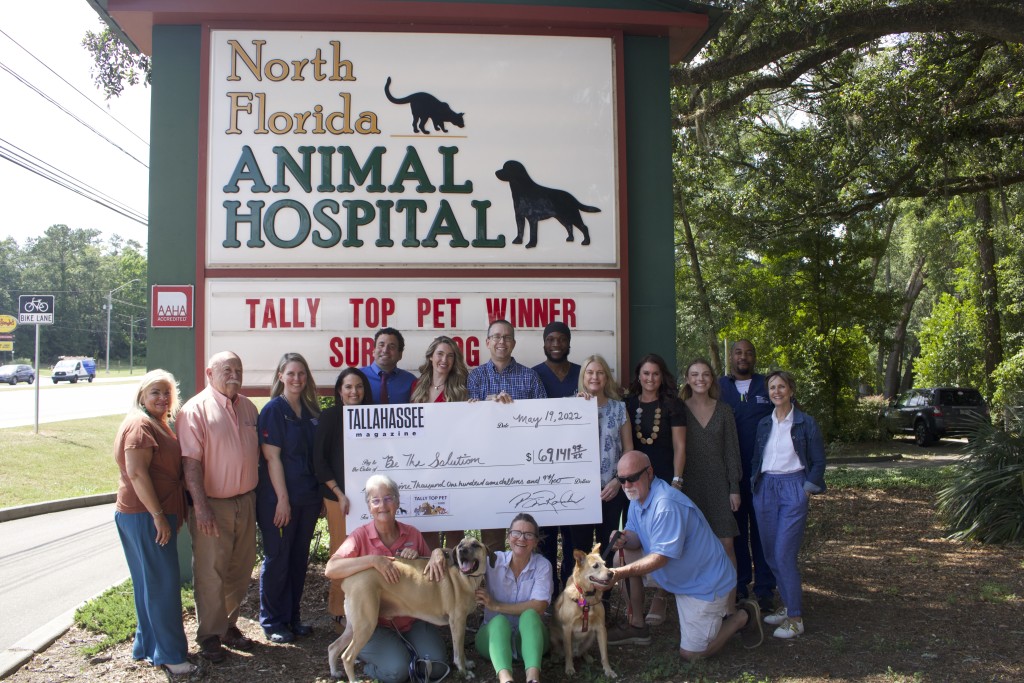 Surf Dog, who by now qualifies as a D-list celebrity, is a shy guy, easily spooked. He led a nomadic existence for much of his life until a caring owner turned his life around and led him to settle down. Now, he's a social media darling with a Tallahassee Magazine cover to his credit.
Surf Dog's many successes were celebrated on May 19 at a check presentation event where he was honored as the latest Tally Top Pet winner.
While Surf Dog was made nervous by the large ceremonial check hovering over his head, people were delighted by the check's amount — $ 69,141.97, the total of funds raised by the 2022 Tally Top Pet contest sponsored by North Florida Animal Clinic to benefit Be the Solution.
Beginning in September of last year, Tallahassee Magazine readers submitted photos of furry, feathered and scaled friends that were entered into the contest. At a cost of $1 a vote, readers supported their favorites and the field was winnowed to 16, to eight and finally the Final Fur.
Surf Dog ultimately was the top dog.
He attended the check presentation at North Florida Animal Hospital with his owner Ivanhoe Carroll; his best friend and fellow Final Fur member, Murphy; and one of his benefactors, former Tallahassee fire chief Bill Russell. Associate publisher McKenzie Burleigh of Rowland Publishing dipped one of Surf Dog's paws in non-toxic ink and helped him autograph copies of Tallahassee Magazine with his picture on the cover.
A few years ago, Surf Dog roamed the streets in an around Crawfordville. While folks including Carroll, the former director of Wakulla Animal Services, tried to give him a home, none succeeded until Russell developed a tentative relationship with him by regularly feeding the wanderer at a spot beneath the Ochlockonee Bay water tower.
Still, Surf Dog resisted settling down until Carroll saw him during a torrential downpour. She called out to him, and he followed her home.
"I don't know why he chose me, and it still gives me butterflies to think about it," Carroll said. "For 14 years, it was my job to keep animals that were running loose safe. When I changed jobs and stopped trying to catch him, he walked right in my door."
Gerry Phipps founded the nonprofit Be The Solution as a vehicle for providing low-cost spay and neuter vouchers and reducing the population of homeless dogs and cats in the Big Bend region. Carroll worked with Phipps for years to bring Be The Solution's services to Wakulla County.
Tally Top Pet serves to promote awareness of the services providing by Be The Solution and the importance of spaying and neutering. From the organization's inception, North Florida Animal Hospital has honored its vouchers, performing some five surgeries a day.
"Raising community awareness about Be The Solution is near and dear to us," said Alice Munroe, office manager of North Florida Animal Hospital. "It's been incredible to watch this event go from raising $15,000 to tripling that amount this year. It proves the community is listening and learning."
Be The Solution accepts donations at any time and encourages people to shop at its Fix Thrift Shop.
"Be The Solution holds such gratitude for the resources North Florida Animal Hospital provides us with and to Tallahassee Magazine for making this event an enormous success each year," Phipps said. "It's wonderful to see all the funds raised and to know Tally Top Pet is fulfilling its potential."