Animals We Adore
The emotional bond that we form with a dog, cat or other significant member of the animal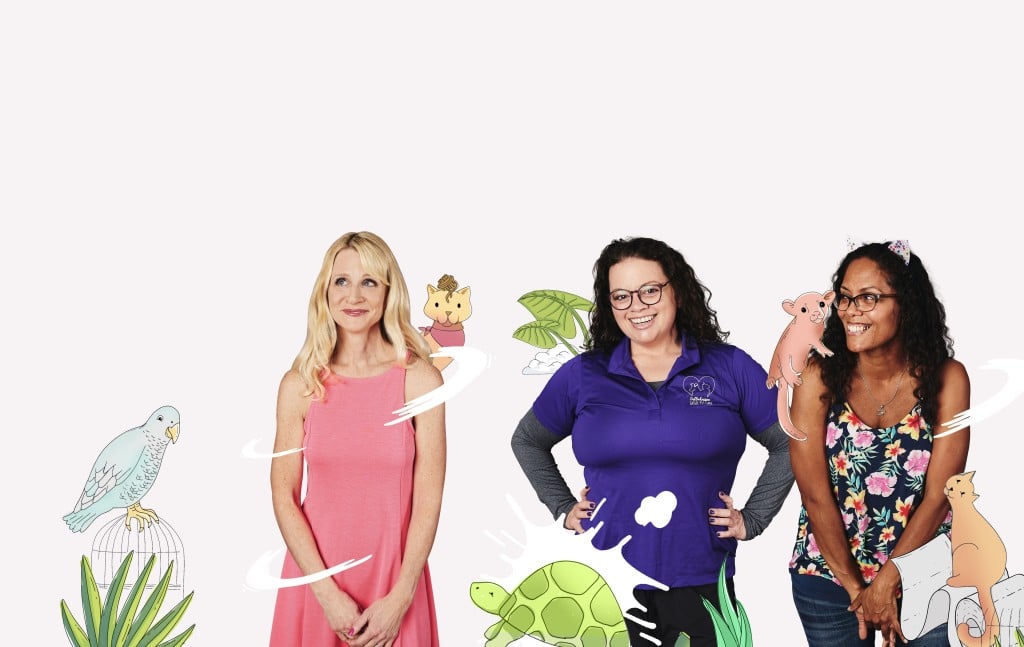 If you are close to a love-giving pet, you know that it has become an extension of yourself nearly as important to you as that other indispensable extension, your smartphone. The emotional bond that we form with a dog, cat or other significant member of the animal kingdom ensures that even as our pet might well be content with less, we are inclined always to give him or her more. Animal welfare is an issue that moves all but the most hard-hearted humans among us. By domesticating animals, we made them our dependents, and there is responsibility that attaches to their reliance upon us. Ah, but they give us so much in return, contributing to the health of our hearts, minds and souls and supplying us with smile-inducing memories that endure. — Steve Bornhoft
---
WORTH BARKIN' ABOUT
Four rescues capture hearts and garner votes
By Hannah Burke and Emma Witmer
Again this year, furious balloting winnowed a large field of contestants in the 2022 Tally Top Pet competition, sponsored by North Florida Animal Hospital and benefiting Be The Solution. Here, we are honored and excited to present overall winner Surf Dog and his three fellow members of the Final Fur. Turns out, they have some good stories to tell.
Surf Dog


2022 Tally Top Pet
Before Surf Dog found a forever home with Ivanhoe Carroll, he was a nomad. Spooked by storms and fireworks or sparked by a sense of adventure, Surf Dog roamed from Crawfordville to Quincy. He even made it to Tallahassee and back to Wakulla County a few times. While many tried, no one succeeded in catching Surf Dog over the years.
That is, until former Tallahassee Fire Chief Bill Russell saw the stray wandering down Surf Road not far from his house. Rather than try to lasso him, he simply put out food every day in the same spot. Surf Dog got used to the routine, and the dog and Russell regularly sat beneath the old Ochlockonee Bay water tower to "talk." When the weather turned stormy and Surf Dog took off, Russell's wife would have chicken and dumplings waiting for him when the skies cleared.
"I don't see how a dog could even be that smart," Russell said. "He always kept to the road, following the white line from one city to the next and back again."
Russell began posting his "conversations" with Surf Dog on Facebook, and the canine became an international celebrity. Soon, the water tower was repainted to read: "Ochlockonee Bay, Home of Surf Dog."
Over time, Surf Dog became less wary of people, but his fear of thunder kept him running. One torrential afternoon, Carroll and her husband spied Surf Dog running through their neighborhood and called out to him. As a former director of Wakulla Animal Services, Carroll was acquainted with Surf Dog's elusiveness. She was surprised when Surf Dog followed her car all the way home and into her house.
"He's a lucky, lucky dog to have Ivanhoe," Russell said. "He was skinny for a while after he showed up with them, but now he's just as happy and friendly as can be. It's the best dog story in the world."
Veterinarians who have examined Surf Dog figure he's about 10 years old, but he's still got the energy of a young pup. He loves palling around with his big brother Murphy and little sister Sweetie and still enjoys exploring.
"He loves to go, but he has to be the first one back in," Carroll said.
Annie
Colleen Fahey and wife, Lauren, have for years volunteered and fostered dogs through the City of Tallahassee Animal Service Center.
So, when a friend found an abandoned pit bull roaming a dump just outside Pensacola, they knew who to call.
"We had accommodations for an extra dog, and were happy to take her in," Colleen Fahey said. "As soon as she came through our door, we pretty much fell in love with her."
They weren't the only ones.
The couple's other dog, Penelope, was a shy, timid thing. While cohabitating with Fahey's other fosters, she never came out of her shell.
Then came Annie.
The two began engaging in friendly, rough-and-tumble play and would even curl up next to each other to sleep.
"That's when we knew we couldn't separate them, and Annie would be a part of our family," Fahey said.
Annie, now 4, would prove a colorful addition. The sweet but sassy pup often barks to let you know exactly what she wants, when she wants it. Typically, that's a scoop of peanut butter (her go-to treat) or playing ball in the backyard.
"To her, a game of fetch consists of humans throwing the ball, and Annie chasing it down and refusing to give it back," Fahey laughed. "She's definitely not a retriever."
Too, Annie has caught the travel bug. She loves going on trips to the beach, where half of the fun is derived from the car ride itself.
When Annie's moms take in a new foster, they typically let the arrival get used to his or her new environment apart from other dogs. During those times, Annie attends doggy daycare at Camp Mojo's, where a day of play often results in new friendships.
"Annie is a fun-loving, very in-the-moment dog," Fahey said. "We like that she's vocal and that we can usually tell what she's thinking. She's always ready for attention and affection."
Apollo
Around the time of the 50th anniversary of the Apollo 11 Moon mission, a boxer puppy arrived at an animal shelter on Florida's Space Coast.
Folks at the shelter named him Apollo, and later, his adoptive mother Nichole Arntz found the name to be just right.
"He's definitely lived up to it," Arntz said. "He's curious and very adventurous."
Indeed, Apollo goes where few of his breed dare venture: the water.
Arntz discovered Apollo's atypical penchant for swimming while living in South Florida where she had a pool. Apollo would dive right in, and when pursuing a toy, he could nearly clear its entire length.
"When we moved to Tallahassee, I was looking for a pool we could rent," Arntz said. "I was asking around on Facebook, and someone said, 'You need to get him into dock diving.'"
The sport involves competitions in which a dog's toy or disc is tossed out over a pool, and pooches, bolting down an elongated dock, vie for the longest jump.
Apollo took to the sport like a duck to water and, indeed, has performed giant leaps for caninekind. His success last year brought him all the way to nationals in Springfield, Missouri, where he placed first in his category.
Apollo has a Facebook page, and Arntz said he frequents local events and recently performed at the North Florida Fairgrounds.
Apollo abides by a "work hard, play hard" philosophy. Arntz said he's a "high-energy, play-driven" kind of guy, often demanding vigorous fetch and chase sessions outside. He is a social butterfly with those he's comfortable with and likes to spend time with his boxer sister and pit bull cousins.
Mostly, he's a mama's boy.
"I love how he loves me," Arntz said. "He's very attached to me. He cuddles with me, puts his head and paws on my lap when we're on the couch — he's very much a source of support for me."
Murphy
Ivanhoe Carroll had spent 14 years running an animal shelter, so when she first met Murphy, she knew his story just didn't add up. When Murphy's former owners surrendered him to Wakulla Animal Services, they said he was aggressive with children. At nearly 100 pounds, Murphy was big but not mean. As it turned out, he had been suffering from a serious, untreated ear infection for some time. Carroll thought that might have made him touchy when children tugged at his ear. She called the family, but they had no interest in taking him back.
So, Carroll brought Murphy home, and the two have been close ever since.
"He doesn't have a mean bone in his body," Carroll said. "He's a super sensitive, sweetheart, smart dog."
In the years since Carroll added Murphy to her family, he's always been loving toward pups of all sizes. He loves to play with his canine brother and sister, and he'll do just about anything for a Nudges dog treat or spoonful of chunky peanut butter. Murphy, by the way, prefers to ride in style. He hops into the golf carts of family, friends and neighbors whenever he gets the chance.
"You might think he's a little slow just from how he looks," Carroll said with a chuckle. "He's a little cross-eyed, and his tail is missing. He's got this great big front end and tiny hiney, but he is actually really smart."
Murphy stares at the TV when he and Carroll share a couch at night. Whenever characters in a show are fighting or the music gets tense, Murphy reacts with a concerned bark. He pays extra close attention whenever a dog appears on the screen. A certain Subaru commercial is almost surely among his favorites.
---
PERILS
O
F
PE
T
SITTING
Know this: Kinkajous only come out at night
By Hannah Burke
People often project their own personalities onto their pets, making for neurotic animals with outlandish routines and strange predilections. Too, some of these creatures are naturally bears to look after. They are escape artists, serial property destroyers and agents of chaos, often deemed "too cute to punish." In Tallahassee, the dedicated caregivers who watch these scoundrels while their owners are away are members of an elite squad known as pet sitters. These are their stories. All are true, although some breeds and client names may have been changed to protect the innocent.
Carla McClellan
Tallahassee Lassie Pe

t

Care
A pet sitter since high school, Carla McClellan had long treated the profession as a side hustle while going to school and embarking on a career in public health and social work. But five years ago, it became a full-time job when she launched Tallahassee Lassie, a licensed and insured pet care service with hundreds of customers.
McClellan and her staff have encountered numerous characters: a parrot, Peaches, who incessantly shouts her own name; Loki, a mischievous feline who delights in nothing more than pouncing from behind doors to give humans the jump scare of a lifetime; and a tiny Maltese who thinks he's a lab and refuses to leave the backyard pool.
"I've also had to wear a cat," McClellan said. "The client warned me, 'He will probably want to be worn.' So, I had to walk around all day with this huge cat, who also drooled, draped over my shoulder like a shawl. I'd put him down, and he'd want right back up."
McClellan's favorite story is 20 years old. It was her first time pet sitting for someone outside of her immediate family and circle of friends. McClellan, pen and notepad in hand, came prepared to jot down a few notes about the dog's care routine.
She should've brought a binder.
The client, Susan, and her spaniel-mix, Brie, were initially pleasant. Susan began giving McClellan a tour of her home, and nothing seemed out of the ordinary until they reached the living room.
"There was not one, but four beds for this single dog," McClellan recalled. "I was told that these beds were to remain here in the morning, but needed to be moved around the house at different times of the day. I began scribbling things down, making sure I remembered that, at sunset, one bed needed to go in the home office, while another goes to the bedroom."
Things got weirder when the tour reached the kitchen. Brie, you see, had a strict morning program. She was to wait in the living room while McClellan prepared for her a breakfast of cheese and dog biscuits and delivered it on a silver platter.
"She had to be fed this cheese platter every morning," McClellan said. "And, it had to be arranged a certain way — half a piece of provolone on the left side, half a piece of mozzarella on the right. Then, two dog biscuits, divided evenly down the middle, in between. I got the full demonstration."
While Brie scarfed down her cheese medley, it was imperative that McClellan sit on the floor with her and discuss that day's itinerary. Susan insisted Brie didn't like surprises, and it was best to warn her of any walks, potty breaks and playtime that might be upcoming.
Brie proved not to be particularly persnickety, nor did she suffer any separation anxiety during her owner's absence. Those close to Susan, though, may have volunteered the dog wasn't the problem.
I wondered how it was that McClellan, who was exposed to this outrageousness in dealing with her first real client, decided to keep pet sitting.
"It was baptism by fire," laughed McClellan, "but I love what I do."
Maria Este
s
All About Cats Pet Sitting
Cats have long been stereotyped as low-maintenance, self-sufficient companions. Just make sure they have kibbles and water, and you won't have any problems, right?
"Wrong," said Maria Estes, owner of All About Cats Pet Sitting in Tallahassee. "If you're a cat person or in this business, you know people who say that are incorrect."
Estes, who started her business 11 years ago after a long stint as an ultrasound technician at Tallahassee Memorial HealthCare, has long labeled herself a cat person. She is a self-admitted "helicopter mom" to her own kitties and isn't surprised when a client leaves behind four pages of care notes for a single feline.
"I've had clients who watch their cats through cameras they've set up in their home, and they still make me hold up a phone so they can FaceTime directly with their cat," Estes laughed. "But, I get it."
When asked about some eccentricities she's encountered, Estes rattled off a list. Many cats refuse to drink from water bowls, she said, often preferring to sip from running faucets, special cups and, yes, even toilets. The bowls instead, Estes said, are used to drown toy birds and mice.
While cleaning litter boxes, Estes often has an audience. I told Estes that my cat, Kisa, often hops in his litter box as soon as I've added fresh litter, eager to soil it again. "They do that!" Estes said. "Some even get in while I'm cleaning it out. One time, I had three cats waiting in a line for me to finish scooping so they could jump right in."
Another cat, Meatball, cannot be trusted in the kitchen alone, as he has a penchant for turning paper towels into confetti. "I tried moving them way back on the counters, and that didn't work. The next day, I put them under the sink, and he somehow found his way in there, too. My client has now installed a baby lock on the door."
Then, there's 21-year-old Squirrel.
Squirrel was a notorious climber in her early years but doesn't get along so well with gravity these days. But despite her geriatric status, Squirrel manages to hobble around.
"She wears a collar with a chip that allows a flap in the door to open, so she could go outdoors if she wanted," Estes said. "But I have been caring for this cat for years, and she's always preferred to be inside."
However, a few weeks ago, Estes went over for her daily visit and Squirrel was nowhere to be found. Panicked, Estes called Squirrel's mom, who seemed none too concerned. They hung up and, a few hours later, Estes got another call.
"My client was calling to tell me that she had just heard from someone that Squirrel was the talk of the neighborhood," Estes said.
A Good Samaritan had spotted Squirrel tottering along the street and judging from her awkward gait, decided she must have been injured and lost. Said person then took Squirrel's mug shot and plastered it all over Nextdoor, a neighborhood-based app that serves as a community marketplace, event organizer and gossip forum.
While a breeding ground for nosey Karens, the app sometimes serves to reunite owners with missing pets. The person who found Squirrel was so smitten, she refused to hand her back over to Estes. The client, who found this hilarious, agreed to let Squirrel stay at her neighbor's house, provided that Estes could continue caring for her there.
"I was allowed to take Squirrel home on the last day of the client's vacation," Estes said. "Needless to say, she's no longer allowed outside without supervision."
Nicole Wiedemann
Dakini House

(Home Alone Pet Service)
Nicole Wiedemann doesn't play favorites.
The owner of a menagerie of dogs, cats, crested geckos, dart frogs and turtles, she is a friend to animals of all kinds. Wiedemann relies on that experience in leading Dakini House (A Home Alone Pet Service), a business she inherited from a friend in 2012. It provides care for conventional pets, farm animals and exotics.
"Getting to love on other people's pets is the best job I could imagine," Wiedemann said. "We're their second-best friends."
Some friendships, though, don't always get off on the right foot. Certainly not with Bella the kinkajou.
Kinkajous are tropical rainforest mammals also called honey bears. They closely resemble monkeys and are equipped with long, prehensile tails and the cutest little ears you ever did see. (Trust me, Google them.)
They are also nocturnal, bear deceptively sharp chompers as well as adorable, razor-clawed hands.
At the request of Bella's owners, a married couple living just outside of Havana, Wiedemann arrived at night for a meet-and-greet. Bella was a sweet, vivacious creature content to swing around the house and munch on fruit. Bella's mom, who received her as Mother's Day gift from her husband, told Wiedemann to come at night.
The next day, Wiedemann arrived at sunset. Nestled in a pile of fuzzy blankets, Bella was sleeping soundly in her cage.
"I approached slowly, whispered, 'Hi, Bella!' and she flew out of her blankets and began attacking her cage!" Wiedemann said. "She was screaming bloody murder, and it was terrifying! The client said to let her out when I arrived but from the way she was acting, I thought she might rip my face off."
The docile creature from last night was no more, and like a vampire disturbed from his coffin, Bella was out for blood. Slowly, Wiedemann backed away and retreated to the kitchen. She prepared Bella's fruit and waited for nightfall.
"I go back in and there she is, calmly sitting in her cage and chattering like nothing had ever happened," Wiedemann laughed. "I opened the cage, she crawled on my shoulder and decided she wasn't going to eat me alive. Apparently, it's normal behavior for nocturnal monkeys. I made a note on the client's account for future sitters that said, 'When they say to come at night, they mean it.'"
Wiedemann also shared with me that Bella, like Squirrel, escaped her owners one day and went missing for nearly three months. A homeowner found Bella relaxing in an empty birdcage on his porch and rightly speculated that she must be someone's pet. Bella was promptly reunited with her parents, but who knows what havoc she wreaked upon the Tallahassee wilds.
Wiedemann isn't going to add a kinkajou to her family anytime soon, but thanks to another client, she will be inheriting Alfred the African grey parrot.
Alfred, who is 25, still has decades of life ahead of him. His owners, an elderly couple, know he will outlive them.
"Alfred's parents vacation a lot, and we've been watching him for a few years," Wiedemann said. "Every time I'd come in, I'd start humming the 'Mahna Mahna' song by the Muppets so he'd know it was me. He'd never sing it with me, but I figured he recognized me because he would immediately begin squawking, 'Wanna grape!'"
One day, the client called Wiedemann wanting to know if she'd taught Alfred a song. It had been a while since their last vacation, and Alfred busted out the tune to let them know it was time to see his pet sitter.
"They thought it was so sweet, they put me in their will so I would take care of Alfred when they pass on," Wiedemann said. "They gave me a cage, so I'm all prepared for him. In the meantime, I get to continue building a relationship with him."
---
DOGS

GOTTA EAT

When shopping for dog food, check the label
By Steve Bornhoft and Emma Witmer

Victoria Maliborski has resisted the temptation to scale up her operations in the 15 years she has been making dog foods.

Maliborski is the president, CEO, chef and quality control officer at Miss Autumn's Barquery, a two-person, Bay County business that ships its products across the country and internationally. She manufactures dog foods and treats in small batches in the kitchen of her home. Her husband Jim, retired from a military career, is chief operating officer.

Using only natural, human-grade ingredients, Maliborski uses low-temperature, moisture-retaining processes in making small batches of her standard-diet foods and medical formulas tailored to dogs with diabetes, pancreatitis, cardiac issues or other health concerns.

Maliborski holds a doctorate in animal science nutrition from the University of Sheffield in England and is prepared to consult with a dog's veterinarian to ensure its food meets any special requirements the animal may have. Each jar contains 7½ grams of vitamins, minerals and nutrients, and all of her products meet Association of American Feed Control Officials (AAFCO) recommendations.

"Some dog food makers use rendered fats, animal byproducts and powders," Maliborski said with alarm in her voice. "Now, instead of the peas and carrots we use in our foods, they are trying to introduce insect powder as a protein. Really? What are they feeding the insects?"

Maliborski recognizes that her dog foods are pricey at $7.25 a jar. (A jar might last a Pomeranian a week. A Labrador retriever? That's a different story.) Some people choose to add small quantities of Miss Barquery's to bowls of dry dog food.

"If you are feeding dry dog food, it's always a good idea to add our product or some beef broth or chicken broth to ease digestion," Maliborski said.

Not all dry dog foods are created equal, she advises.

"Check the ingredients label and look for a balance between carbohydrates and proteins," Maliborski said. "When balanced, they will work together to ensure that a dog is neither hypoglycemic or hyperglycemic. You're in the Goldilocks zone, and that is highly important."

Protein and carb levels are close to equal in Maliborski's standard-diet sweet potato and turkey/brown rice products.

Maliborski was motivated to develop superior dog foods after losing Cheyenne, her prized English Staffordshire terrier, to cancer. An autopsy revealed the presence of a carcinogen traceable to the food that Cheyenne had been eating.

"Diet matters," Maliborski said. "Feed your dog the best ingredients you can afford."
Pet-Friendly Restaurants
Tallahassee loves its dogs. Even our restaurants have a soft spot for Spot. The city may have more dog-friendly restaurants than chew toys you have lost.
Uptown Café is known for its brunch menu, but this locally owned and operated restaurant is also a go-to joint for your pooch to see and be seen. General manager and co-owner Nic Tedio said that customers are welcome to bring any pet they like, large or small, as long as they remain on a leash and stay outdoors. It's always a good idea to make sure your pet is comfortable with other animals before taking it out to eat. It helps that tables at the café are widely spaced apart.
"Pretty much everybody here is a dog owner or previous dog owner," Tedio said. "For people who want to bring their pets, we love being the place where they get to do that. It's something we take pride in and enjoy."
Looking for a night cap but don't want to leave your pooch at home? Bird's Aphrodisiac Oyster Shack, a laid-back locals' hangout, welcomes dogs of all kinds. From itty-bitty purse pups to colossal canines, Bird's has a "we take 'em all" attitude. The picnic table porch is the perfect spot to post up with a pint and a dozen oysters while live music pours out the front door.
Want to give your pet a taste of the good life? Tallahassee is home to multiple pet-friendly, fine dining establishments. Food Glorious Food serves award-winning dishes inspired by cultures and cuisines the world over. And, according to hostess Dee Mair, people aren't the only customers Food Glorious Food aims to please.
Its outdoor patio is the perfect place to bring your dog. Mair said the staff keeps doggy treats and water bowls at the ready to make sure any visiting pups have a fine dining experience right alongside their owners.
Standing a little over 5 feet tall, Mair is often greeted by large canines who plant their paws on her shoulders, but she doesn't mind.
"We have this guy from Chicago who brings his older dog in almost every week," Mair said. "He's huge and fluffy and super friendly. It's always a highlight of my shift."
Hitting the Road
Traveling can be stressful, especially for pet owners.
How do you keep your pet safe and comfortable on long car rides? Do you bring your pet at all? If not, who can you trust to take care of your cherished companion while you're away? According to North Florida Animal Hospital veterinarian Dr. Lyndsey Steele, there is no one answer to these questions. Factors including age, training, species and breed all come into play.
Tallahassee has more than a dozen pet boarding facilities. This can be a solution for those who don't have friends or family to look after their pet, but it can also pose problems for certain pets like older dogs, cats and unsocialized animals. It's best, Steele said, if your pet has gotten used to the facility from a young age and associates it with fun and play.
"If you have a cat or an older pet who isn't used to boarding, it's best to get a good in-home pet sitter," Steele said. "That way, they can be in their own home with their regular routine and someone they know. That is pretty ideal."
Steele recommends taking a tour of the facility before dropping your pet off to satisfy yourself that it will be safe and comfortable.
"Check out where your pet will be staying, where they will be sleeping, what other pets will be beside them and if they have a group play area," Steele said. "You want to find out if there is someone there with them all the time and how often they are going to be taken out."
If your pet has any medical conditions or requires medication, boarding at an animal hospital is your safest bet. North Florida Animal Hospital is available around the clock to administer medications and provide emergency treatment.
When hitting the road with your pet, take steps to keep it safe, even if that makes for some barking or meowing. Secure your animal in a crate. This decreases the likelihood that the driver will get distracted, and in the case of an accident, provides protection for your pet.
"Ideally, you should have them in a carrier," Steele said. "Part of that comes down to training. Are they used to being in the crate? If you feel like they are going to be anxious, we can prescribe a minor sedative and give tips specific to your pet."
Steele encourages owners to think about what is best for their pets before committing them to a long trip.
Said Steele, "I think sometimes we need to ask ourselves, 'Am I doing this for me? Is this what is best for my pet?' It may be convenient for you, but long car rides can throw off your pet's normal routine. They can get an upset stomach, they may not eat or go out at regular times."
Welcoming an Adopted Pet
Before adopting a pet, take stock of your expectations, advises Erika Leckington of Tallahassee Animal Services.
"You need to ask yourself what you want from a pet," Leckington explained. "Whether it's a cat or a dog or a guinea pig, you need to decide what you are prepared to do in terms of cost, time and energy."
Consider how much time you have to help the new pet get acclimated to your home, and how they will interact with children or other animals in the home. A good place to start is by asking about the animal's history. Young animals or those who have participated in foster care are more likely to behave well around children and animals, Leckington said, while older animals' personalities are less likely to change with time.
"It often takes three months or longer for an animal to adjust to a new environment and for you to really understand what that animal will be like," Leckington said.
At Tallahassee Animal Services, all animals are fully vaccinated, dewormed and free of fleas. They are tested for heartworms and chipped.
When adopting a pet elsewhere, ask what vaccinations or treatments the animal has received and find out about any existing medical conditions.
"It's really a problem in our community," Leckington said. "We have people bring in dogs with heartworm disease, and that is completely preventable. Getting your pet checked in with your veterinarian early on can save you a lot of time, money and heartache down the road."
It is important to understand what your new pet has been through in order to provide the best home possible. Much of the fear and anxiety experienced by animals in the foster system stems from abandonment and a lack of routine.
"The biggest thing you need to do when you take home an animal is set boundaries," Leckington said. "It's not unlike raising children. You need to set the rules, and everyone in the household needs to stick with the rules. Be clear and concise with that animal, and provide a sense of routine."
Consistency is key, especially when it comes to meals, exercise and potty breaks.
Pets already in your home need to make adjustments, too. Animals can be territorial, so a bit of tension at the onset is to be expected.
"Make sure that both your old pets and your new pet have their own space separate from each other," Leckington said. "For dogs, having their own crate gives them the space to decompress. With cats, you can close them off in a room by themselves for a time, or simply put up a baby gate."