Local Pubs Brew Craft Beers for a Newly Discerning Clientele
Bottom's Up!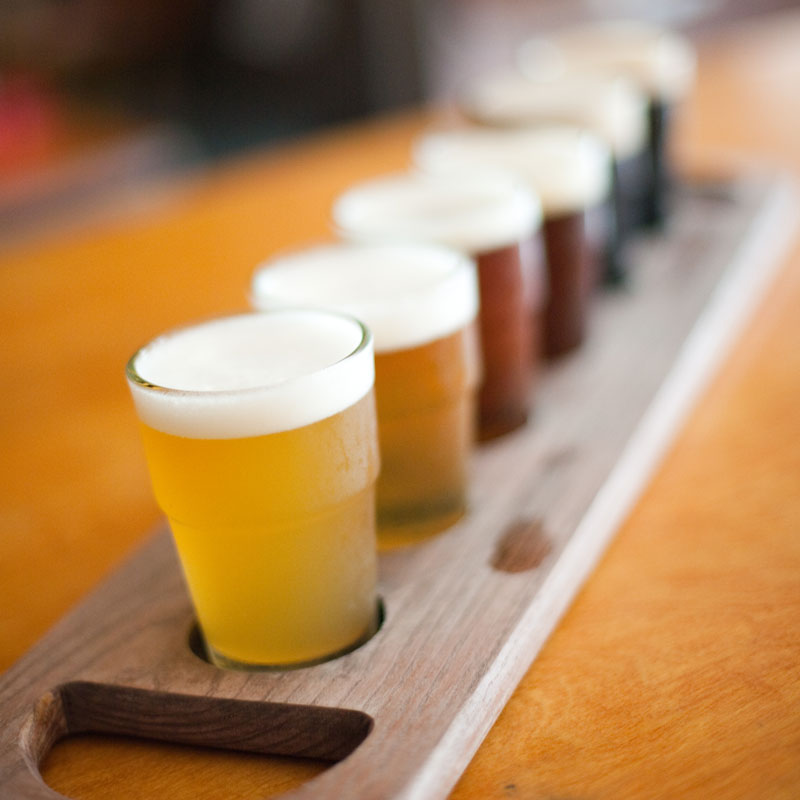 Is Florida poised to become the next big craft beer state, joining the ranks of California, Colorado and Oregon? The question's possibly a bit premature. In 2012, Florida still ranked 44th nationwide. But craft-beer consumption is on the rise statewide, as it is nationally; and a significant number of its enthusiasts and brewers agree that the Sunshine State — long behind the eight ball when it came to craft beer — is quickly catching up.
Talk to craft-beer brewers and you get a sense of their excitement and optimism.
"The Southeast is the fastest growing craft-beer area in the country," asserts Mike Halker, president of the Florida Brewers Guild, which represents 95 percent of the state's craft-beer brewers. "Whether you want to look at consumption or number of breweries, it's around a 14 or 15 percent growth … we're reverting to where we were 100 years ago, when there were breweries everywhere, before Prohibition shut everybody down."
People are as receptive to local beers as they are to local foods, offers Byron Burroughs, owner of Proof Beer Brewery in Tallahassee. "People realize it's something made fresh in their own market, and that helps create and support jobs and the local economy. It's been a little late in coming, but now it's exploding."
Add to that the fact that it's trendy to drink quality craft beer, says Elliot Eckland, co-owner of Pensacola Bay Brewery, located in downtown Pensacola. "It's a phenomenon happening across the Southeast, which is about 15 years or more behind the rest of the country when it comes to microbreweries and craft beers. But with the laws changing and craft beers getting down into the Southeast, demand has really started to take off because people are getting familiar with good beers."
And once you get used to drinking a good craft beer, it's very hard to go back, Eckland adds. "It's like drinking fine wine and then going back to MD 20-20." Pensacola Bay Brewery's products are distributed throughout Florida and into Alabama.
Jamey Price, founder and president of Grayton Beer in South Walton County, compares craft beer today to wine in the '90s, when people in the Southeast were just developing a taste for it. Once people try craft beer, they don't want to go back to the watered-down version, he says.
No question about it, whatever you choose to tap into, you're not alone in your love of suds in Tallahassee.
Momo's Pizza Brewpub on Market Street is one of three establishments producing quality craft beer, compliments of headbrewer John Larsen.
"I brew a lot of classic beer styles and occasional specialties," says Larsen, a brewer for more than 25 years who has been with Momo's since mid-2011.
Momo's tries to have four or five beers on tap at any given time, including several types of India Pale Ales (IPA), porters, stouts, honey beers, spiced ales and Kolsch.
"We won two gold medals at the Best Florida Beer Championship," Larsen says. "We also won first place in Best of Show and first runner-up in Best of Show for our Moose and Squirrel Nut Brown Ale and Big Papa Porter, respectively."
Larsen sees a definite growth in the popularity of craft beer locally.
As for the reason, "craft beer is just that good," he says.
He also sees potential challenges for the industry, both internally and externally.
"The big brewers and their distributors may attempt to place obstacles in the way of getting craft beer on the shelves," Larsen says. "Within the craft industry itself, market saturation might be the biggest issue; we might create more beer than the market can bear."
Proof Beer Brewery on Tennessee Street is Tallahassee's only licensed distributing brewery. Opened as a craft beer and liquor store in 2007, Proof quickly morphed into a craft-beer bar with a wide and award-winning selection of craft beers; it added its own brewery and two tasting rooms in 2012. The plan now is to expand into a full-scale distributing brewery in another part of town.
"We are in the process of doing that right now," says owner Byron Burroughs. "We should be online and distributing locally and out of town by this fall. Our goal is to be a regional distributing brewery."
Once the new operation is up and running, the Tennessee Street location will become a pilot brewery where batch and experimental beers are tested.
Proof is currently developing and perfecting its core beers. Burroughs identifies among the possibilities five that have won awards in the Best Florida Beer Championship, including an IPA, a pale, an amber and a rye.
Like the now-disproven belief that Floridians would only consume big commercial beers, Burroughs is betting that college students will drink more than just light and inexpensive beers. Not only are young people extremely receptive to new styles and full-flavor beers, they are developing tastes and brand loyalties they will carry forward, he says.
He is excited about becoming Tallahassee's first full-fledged brewery.
"I think a brewery enables a neighborhood or city to have a sense of place," Burroughs says. "It's something people can be proud of; beer made locally, if well received, spreads the word about a town. There is much community that can be built around a good local beer brand, and all the peripheral things that go along with that."
The Fermentation Lounge on All Saints Street has been around more than four years. A retro-style neighborhood bar in the quasi-residential district between the Florida State and Florida A&M campuses, Fermentation offers a rotating selection of 12 craft beers on tap, as well as an extensive assortment of bottled beers.
"We stock craft beers from all over the country and the world," says General Manager Andrew "Ace" Evans. "Whatever we can get our hands on we put here and rotate constantly. Our bottle menu can reach up to 100 to 200, depending on how many bottles we can fit at the time."
Fermentation also produces a limited amount of craft beer onsite.
"Sometimes during a month we might pop out two beers, or we might take a break, like now where we're on a four-month hiatus," Evans says. "During a given year, I estimate we produce 10 to 12 craft beers."
And demand for craft beer?
"It's constantly increasing," Evans says, adding that the establishment featured German beers on tap and discounted drinks during Oktoberfest.