Less chilling, Great Taste
Schmoe Farm produces poultry and pork, ethically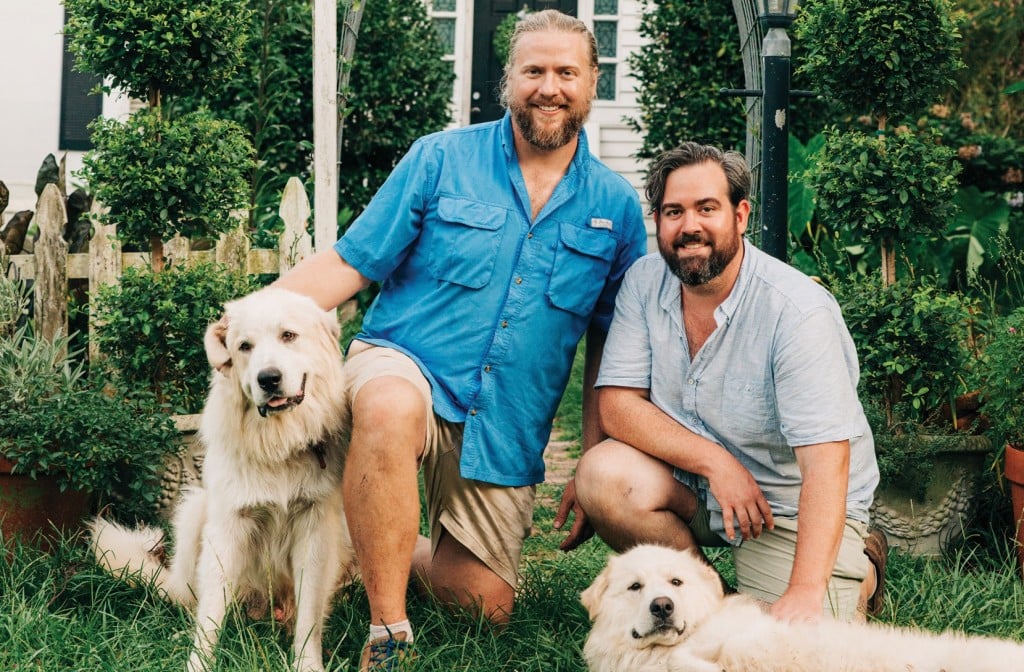 Christian Schmoe was going on 30 and living in his New York apartment when he acquired a distaste for certain foods.
He had read about factory farming practices and the additives that corporations introduce to meat products, and he was so disgusted that he almost gave up meat for good.
Schmoe, however, loved meat and didn't want to quit eating it if he could conscientiously avoid doing so. He decided that if he couldn't obtain meat up to his standards, he would usher in the change he wished to see. He committed the next two years of his life to learn about farming with a focus on ethical and humane practices.
His homework complete, Schmoe, along with his husband, Drew Schmoe, quit their jobs with a global public relations firm and moved back to his family farm located just north of the Florida-Georgia line off U.S. Highway 221 near Quitman, Georgia.
Six years later, Schmoe has arrived at a new approach to eating, and he's well on his way to changing the diets of others, too. Schmoe Farm was founded more than five years ago with the aim of setting a standard for good farming practices, and it's becoming increasingly popular every day as people grow more conscious about their consumption.
Schmoe's primary focus from the outset has been the ethical farming of chickens and eggs. Travel the road to his farm, and you can expect to be greeted by a flock of chicks that he sources from a local hatchery. These baby birds will spend just a short time maturing before they are classified either as meat birds or hens.
If they are to become meat birds, Schmoe moves them to a wide-open pasture near his house. He gives them no artificial growth hormone or genetically modified foods. Instead, the birds' diet consists of natural grain and the essential nutrients in grass. They may mature slower than the chickens on factory farms, but this doesn't matter to Schmoe. He intends that his flock grow naturally and happily. The end result is not only an unstressed bird, but a better product for his customers.
The hens live a similarly comfortable life on Schmoe Farm. They are kept in a grassy area separate from the meat birds. Multiple fences and two guardian dogs prevent predation. These birds are not fed anything treated with herbicides, pesticides or GMOs, and they are kept outside so that their immune systems develop naturally.
Perhaps the most striking sight in the hen enclosure is the coop: It's on wheels! Schmoe hatched the mobile pen idea after noticing that hens were eating the grass in their area faster than it could grow back. As a solution, he built a coop which he can simply move to a new, grassier spot whenever his hens exhaust an area.
Schmoe's ethical practices yield an egg that is extraordinarily rich in nutrients and flavor.
The farm also raises pork, following the same ethical and green principles that guide chicken production. Pigs are kept far away from the birds in a heavily wooded area. The breeding and nurturing of the animals is confined to the farm where they will spend up to a year growing and maturing, compared to an average of six months on most commercial farms. Like the chickens, they receive no chemicals or hormones to accelerate their growth, instead living on non-GMO feed and plants in their enclosure.
To ensure that the pigs always have adequate grass and other vegetation to feed on, Schmoe moves their enclosure periodically. This has the additional benefit of giving the forest time to recover, which the hogs will pick through again later in their lives. Sustainability and harmony are core tenets at the farm.
When Christian and Drew abandoned a megalopolis to become chicken farmers, they determined that their products would be environmentally friendly, ethically raised, economical and most of all, flavorful.
These requirements make up the four pillars of Schmoe Farm, guideposts to which Schmoe has closely adhered.