Leather Pleasure
Leather is not just for rockstars as anyone can rock the look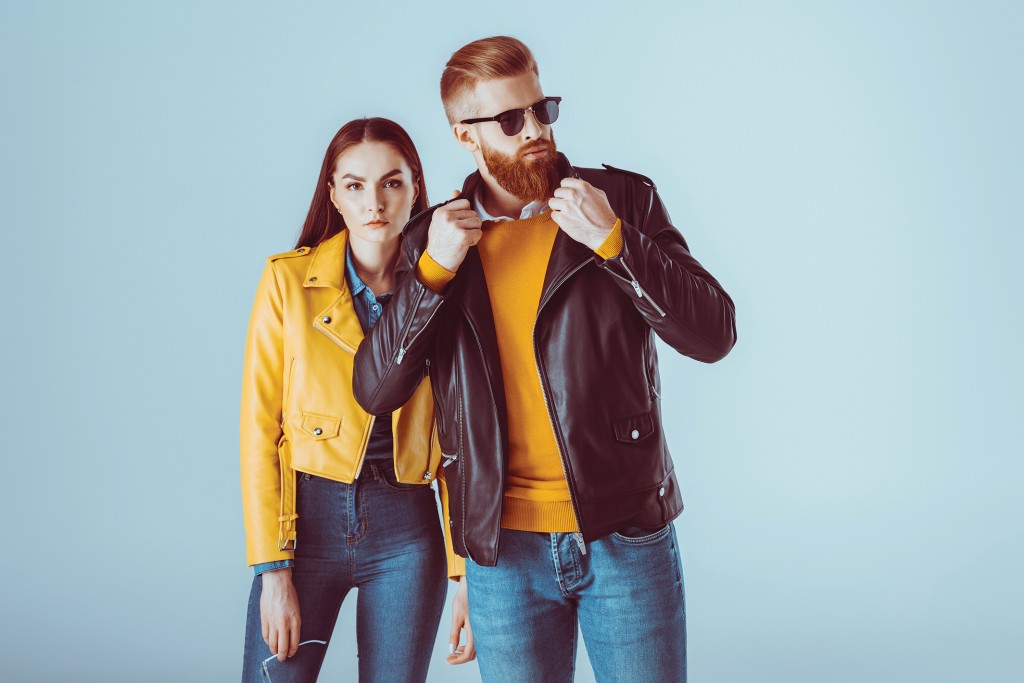 I distinctly remember when my love affair with leather began. The summer before sixth grade, I became obsessed with the movie Grease. Sandy's transformation from sweet sock hop gal to bombshell babe decked out in head-to-toe leather transfixed me. She was the epitome of cool, daring to make a masculine look decidedly feminine with fire engine lips and high heels to match.
Reading Hunter S. Thompson's Hell's Angels, watching Sons of Anarchy and ingesting any form of media with the "bad boy" archetype, I noted all had a uniform in common — leather.
While a Harley Davidson doesn't have to be your preferred method of transportation to be a leather wearer, it does require a certain level of rebellion, of confidence and of being undoubtedly cool. If you wouldn't define yourself as having these characteristics but wish to, put on some leather.
The rise in wearing leather aligns with rock and roll as stars ranging from Guns N' Roses to Jimi Hendrix to Joan Jett sported the look. Yet, leather has been worn since the Stone Age when hunters set out to use every part of the animal possible, including its skin as clothing and shoes.
Nowadays, our ancestors would be perplexed to find that the "leather" most worn is not derived from animals.
"With new technology making vegan/faux leather better and more accessible than ever before, we are seeing it used for more than just jackets," said Sarah Villella, manager and buyer at Narcissus Tallahassee. "From wide-leg pants to draped dresses, in hues that are vibrant or more traditional, pleather is not what you remember; it's soft and comfortable."
Villella does note that few closet staples are more lasting and iconic than a genuine leather jacket for women or men.
"I think the leather jacket has a stronghold as the No. 1 most worn leather clothing item," said Kathryn Stewart, owner of Wonsaponatime Vintage. "In my opinion, a leather jacket can be worn with just about anything because it instantly updates and modernizes your look."
For either gender, Stewart styles leather jackets with a classic white tee or tank and jeans and even with athleisure wear. Her unexpected favorite is with a sundress.
"Seeing leather worn over a sundress forever changed the way I view leather attire," Stewart said. "I love the juxtaposition of the hard look of a leather motorcycle jacket and a flowy, floral dress. It doesn't sound right, but then I see it on someone, and it totally makes sense."
Much like the little black dress, the black leather jacket is a staple piece. Additions and upgrades are seen in embellishments such as studs, rhinestones, pearls, fringe and colored leather.
"Now you can get just about any piece you want in leather; leather dresses, shorts, skirts and pants have become popular lately," said Lauren Seymour, co-owner of Lobo's Boutique. "I love that the leather trend has expanded because it gives the consumer more room for creativity when styling. Leather has become a timeless textile, but it's nice to see it evolving."
For men or women wishing to ease into the leather look, try a leather jacket or leather blazer paired with a basic, neutral-colored top and your favorite jeans. For men, a leather jacket works well with a classic straight leg or skinny jeans with tops ranging from a band T-shirt to a crisp button-down. While leather pants are less common, I always encourage letting loose your inner rockstar.
For a ladies' office look, pair leather trousers with a silk blouse or structured blazer. A leather mini skirt amps up your favorite fall sweater; complete the look with knee-high boots. For a casual look — leather leggings, a slouchy T-shirt and stylish sneakers. Tuck a white button-down into a pair of leather shorts for that transition between seasons. For date night, top a sundress or silk slip dress with leather outerwear.
Accessories need not include bandanas or chains, just a dash of confidence to achieve the bold and beloved leather look.