Narcissus' Blooming Flower
Juli Downs makes every day an event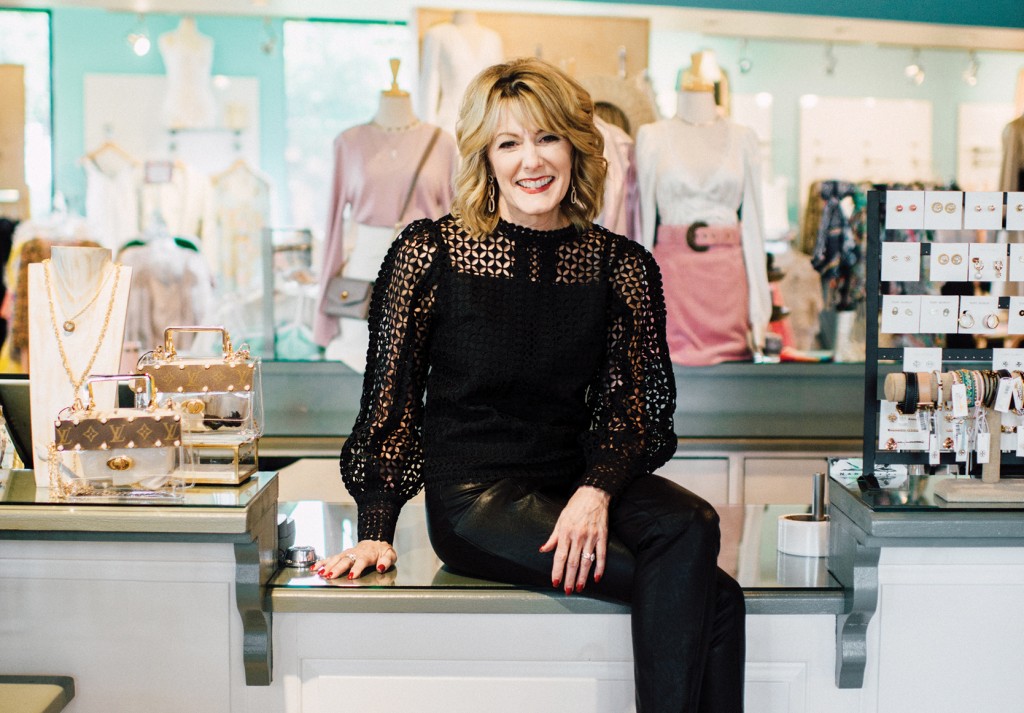 There are different styles for different eras, right? The chestless chemises of the Roaring '20s; the Leave It to Beaver '50s; the Big-Haired pop styles of the '60s and '70s; the Broad-Shouldered '80s and '90s, and the panoply of Whatever Suits Your Fancy of the 2000s. But in the year 2020, another trend hit Florida and the fashion world and — Gulp! — we're coming to believe it might be here for a while.
Call it Pandemic Chic.
Juli Downs, a doyen of style for more than 30 years, is the manager and buyer for Narcissus, one of Northeast Tallahassee's most trusted boutiques for everything from trendy casual wear to attire for the most glamorous evenings of the year.
"We are known for event clothes," she said. "The anniversaries and wedding days, where you want to say something special about yourself." But Downs, with her long history of fashion retailing, finds herself helping people articulate something slightly different these days.
"Not only am I wearing them, but we are selling them like crazy," she said. "It seems like everybody wants a mask to coordinate with their outfit. Whether it's boho or something elegant for a special occasion, we're able to coordinate a mask with your attire."
Yes, Narcissus has masks for all occasions: pink ones with a feminine blush, multicolored ones to dramatize a plain white blouse, a tailored, black-and-white form-fitter, and for a party or a Tallahassee gala, how about one of the new sequined masks or something with butterfly charms or fur?
Stylish women are adjusting in other ways as well.
"It's hard to accessorize when you've got on a mask and your face is half-covered," noted Downs. "Earrings are smaller this year — 'huggie' loops and studs are in, and not as many scarves are used." And she sees a new emphasis on comfort clothing. With fewer people going into offices or in highly visible settings, finding solace in your clothing has taken on new meaning. "Now, wearing dark jeans or leggings to a party, paired with a dressy top and a coordinated mask, may work really well."
For Downs, matching fashion trends, selecting the colors of the season or even incorporating masks into daily wear is all in a day's work.
She graduated from Florida State with a degree in fashion merchandising and design and went on to work retail jobs in bridal and high-end department stores from Atlanta to California.
"But I found my niche in private boutique clothing stores where your customers become friends, and you know exactly what they like," she said.
Narcissus was born in 1989, originally as a lingerie and swimwear specialty store. Ten years ago, Pink Narcissus, selling exclusively Lily Pulitzer designs, settled in across the street. Now there are Pink Narcissus stores in three other cities.
And what of Downs' personal fashion preferences? Laughingly describing herself as petite and "fashion-forward," she modestly says that others might call her style "age-appropriate" and "put together."
She loves jewelry that catches the eye and Tory Burch shoes that are elegant and comfortable. But that's not to say that she won't dress up.
"Even though the Tallahassee Memorial HealthCare Gala has been postponed until spring, I'll be wearing a beautiful gown when the moment comes," she said. 
Downs reflected on what has affected everyone for the past months.
"You can't ignore the effects of the pandemic," she said. "I think everyone feels slightly depressed, but there are ways to celebrate even if it's within your own house, at your own dinner table.
"Take the time to dress up, set the table beautifully, put on your makeup, fix your hair and wear a gorgeous dress that will make someone else happy, too. Remember that you are part of someone else's story, and they're part of yours. So make every day an event to be dressed for, something to be remembered beautifully in the tale of our lives."
And while you're at it, she said, don't forget to shop locally if you can.