Keep Your Salad Days Healthy
A deconstruction of sorts.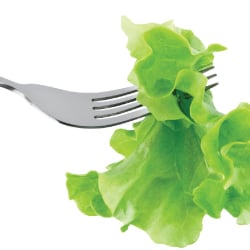 Congratulations! You've passed on the meat and fried food, and are keeping it low cal by sticking to the menu's salad selections when you eat out. But diner beware — those extra fixin's that make a salad so tasty can also boost the calorie count to fattening levels.
A "Design-Your-Own" salad calculator on the Tossed restaurant chain's website (tossed.com/design-your-own) will give you the perhaps not-so-skinny on exactly where extra fat and calories may be lurking in your bowl. As you click from a menu of dozens of possible salad ingredients, a nutrition label adds up the calories and percentages of daily requirements in your virtual salad.
Calorie-wise, things look pretty good when you toss together lettuce, spinach, cucumber, tomatoes and onions. But by the time you've added some avocado, croutons, bacon, cheddar cheese and blue cheese dressing, you'll find your "light" salad is actually checking in somewhat north of the 705 calories in a Big Mac.
It's also instructive to take a look at the nutrition information for different salad ingredients.
For example, avocado and cheddar cheese both have similar calorie and fat counts. But the avocado has minimal sodium (5 milligrams versus cheddar's 230) and six grams of fiber — the cheese has none.