It's About Wellness
Expert advice on setting fitness goals you can achieve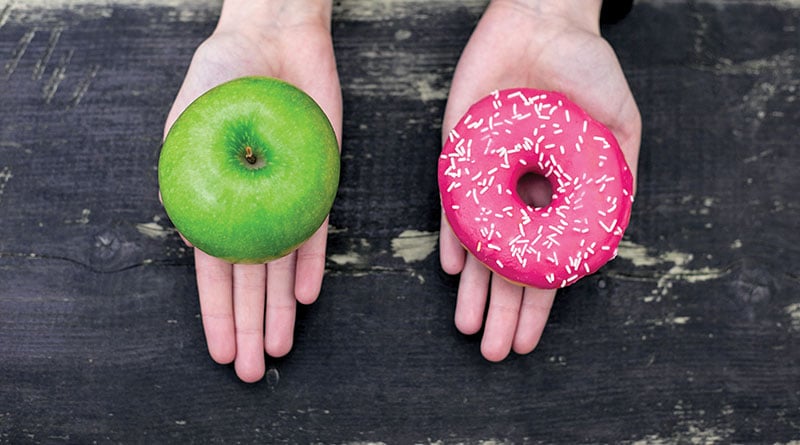 Our approach to nutrition and fitness can be tied to how we approach other challenges in life. That's why when a new client walks through the door at Sweat Therapy Fitness, owner Kim Bibeau often asks questions that may not at first appear to have to do with health.
Rather than making conversation, Bibeau aims to find out more about a client's past achievements, because those achievements can in turn be connected to fitness. "Say a client tells me they paid off a big credit card debt over 12 months," Bibeau said. "Let's build on that. Say they got a bachelor's degree in criminology and it took eight years — it didn't happen right away."
Clients sometimes come in with an unrealistic timetable for meeting their goals, Bibeau said, such as I want to lose ___ pounds by ___ date.
"The more you see success, the more success you want."
— Kim Bibeau, owner of Sweat Therapy Fitness
"You have to realize that any goal that's worth meeting is going to take time and effort," advised Dr. Larry Kubiak, director of psychological services at Tallahassee Memorial Behavioral Health Center. He suggests forming a specific plan of action and meeting with your doctor, especially if you have a medical condition such as diabetes, prediabetes or food allergies. "You'll want to see if your doctor agrees with your goal, whether they feel it's realistic, or if they have suggestions to offer," he said.
Upon meeting a new client, registered dietician Heather Fisher does an eating behavior assessment. "I won't tell someone what they can and can't have. Instead, I look at the timing of what someone eats, the components of what they eat, and we make modifications from there." Part of Fisher's job, she said, is to translate the science of nutrition into its practical application — one's eating habits. Like Bibeau, she counsels a goal-setting approach based on the client's strengths.
The dietitian joined Dr. Kubiak and Bibeau in stressing the importance of not making changes too quickly. "It's about wellness, not weight."
Keep It Small, at First
We're told to aim big in life. But keeping it small is rule #1 in behavior change. Kicking off a new eating plan may be as simple, Fisher said, as adding a piece of fruit a day to your diet (or even every other day) if you never eat fruit, or cooking a healthy meal at home once a week if you've grown too used to convenience foods for dinner.
Setting a series of small goals was crucial for Bibeau in losing 90 pounds over two and a half years. "I was tired of counting calories," she said. "The first thing I said was that I'm going to exercise three times a week. I did it for a month, and it got easier. Next I decided to change my breakfast, and not worry yet about lunch or dinner."
"If I miss a training session or throw in a few pizza or wing nights, it has an impact on the five or 10 pounds I'm trying to lose," Bibeau said.
She added that as a bonus, when a client achieves a small goal, he or she gets hooked on the feeling of success. "The more you see success, the more success you want."
Fisher recommended looking at what you eat as a series of choices. "'Diet' is just another way of talking about what you choose to eat. When you're looking at meeting that immediate desire for food, you choose to eat one thing over another. Ask yourself, what will make me feel better, give me more energy?"
Half the battle, said Dr. Kubiak, is forming an effective image of what your life will be like with the goal accomplished. "The 17th hole at THE PLAYERS Club in Jacksonville is known as the Island Green because there's nothing but water between you and the green. I'm looking at all that water, so why am I surprised when I hit the ball into the water? The professionals form an image of the ball landing on the green, close to the hole."
Build a Support System
It's also important to know what kind of person you are — what motivates you and keeps you motivated. "Some people have no trouble getting up at 5 o'clock in the morning to go jogging and do fine. There are other people who have trainers and go to classes," said Dr. Kubiak. "I pass a group of women jogging when I'm on the way to the gym and I never see one by themselves. Clearly there's a support system there."
Accountability may be where a place like Sweat Therapy Fitness can come in, Bibeau suggested. "Find a place that expects you. Find that buddy who says, 'Hey, we missed you this morning.' Make that lunchtime friend who says, 'You've been eating fast food for lunch a lot lately; what's going on?'"
"Share your goals with the people who care about you," Dr. Kubiak said. "Write it out, put it on the refrigerator or medicine cabinet. Tell your spouse, your workout buddy. You'll feel more obligated to follow through." Dr. Kubiak even recommends developing a formal contract with yourself about your goal that you sign, witnessed by a significant other. Joint goals, he said, can also help ensure compliance.
At the same time, Fisher cautioned not to compare oneself to others. The Internet is a great tool, but much of the advice on fitness and nutrition blogs can end up making her clients feel worse about themselves, she said. Fisher offered this advice: "Take care of yourself as you can. Don't beat yourself up for not doing what some chick on Pinterest says."
Shift Your Goals, or Set New Ones
As those of us who have dieted before know well, you'll only be able to stick with a new healthy behavior if you enjoy what you're eating and doing. Enjoyment is as important to Fisher's nutrition strategy as balance, she said, noting that frozen diet meals may be balanced, but if you don't enjoy them, you won't eat them for long. "Enjoy what you're eating. That's key. Have an appropriate portion that satisfies your desires."
Don't give up — but do look at your goals periodically and modify them if need be, said Dr. Kubiak. "Maybe your goal was to lose 20 pounds but you like the way you feel after losing 15, and maybe that's enough. Maybe your goal is to run a marathon, but you don't have to run a marathon to be in shape. You might decide that jogging is putting too much pressure on your joints, and you can stay active longer if you try bicycling or swimming."
It's also common to run into setbacks and try again. "I think about climbing Mount Everest," Bibeau said. "No one goes straight to the top. They stop at little summits along the way, and sometimes they have to stay at one for a little while, maybe to rest or maybe to fix their equipment. That's kind of what this is.
"Set the course, stay on it, and be consistent. There's no way to fail unless you quit trying."