Irrepressible Talent
Elton Burgest adheres to his true calling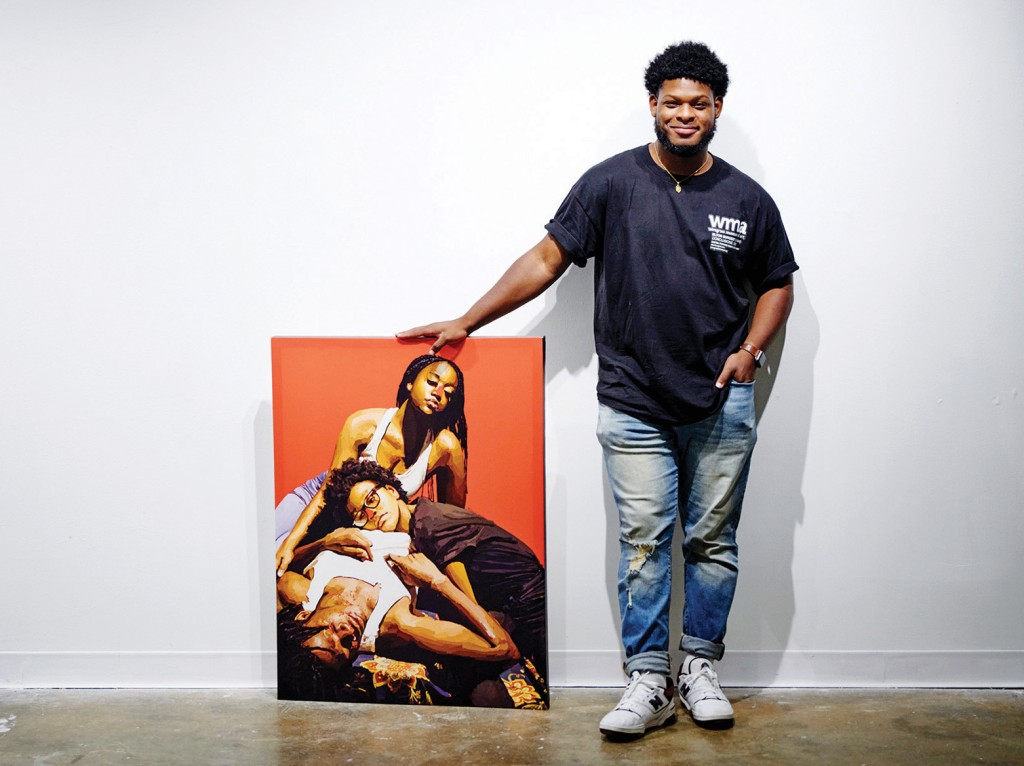 At age 2, Elton Burgest drew a rough interpretation of Pikachu, a yellow, squirrel-like Pokemon character, on the kitchen wall at his family's house in Marathon, Florida.
His grandmother promptly rubbed out his creation. There would, however, be no erasing his artistic bent and talents.
Today, Burgest is the lead graphic designer at Tallahassee Community College and a leading Christian artist who expresses himself by "taking a picture and making it better."
His blossoming as an artist who is quick-witted and self-assured occurred in stages. Burgest learned life lessons at the C.K. Steele-Leroy Collins Middle School in Tallahassee. He was excited to find that the school had a uniform dress code that reminded him of the Japanese computer-generated anime characters he grew up watching as a child.
At Godby High School as a student in the Academy of Information and Technology, he embarked upon his studies of design, which would extend to TCC and Florida State University, where he earned a bachelor's degree in fine arts.
There were times when Burgest questioned whether he should pursue a career as an artist and considered instead medicine or architecture. But those doubts dissipated when he saw a picture of Jean-Michel Basquiat, a Black artist who collaborated with Andy Warhol in the mid-1980s. It was at that moment he realized there were successful Black artists in the world, and he resolved to join their ranks.
Burgest specializes in taking photographs of scenes and people and employing those images as the basis for his paintings.
"I always enjoy using my friends as models for my artwork because it's a reminder of our friendship and how they helped me when I needed help, and it sort of solidifies the bond between us," Burgest said.
A group of friends posed for a photograph that led to a painting, Conclusions, which represents to the artist "the curiosity, the apprehension, the insecurity and the stoic feeling of truth being whatever you want."
Religious symbolism figures in Burgest's creations. In Temple, a young woman holds one end of a white sheet that is held at its opposite end by a pair of hands extending from behind a red curtain. The sheet, Burgest said, represents "the struggle of being an individual and also a Christian."
His works have been displayed at the Armstrong Gallery at Georgia Southern University, the Thomasville Center for the Arts, the Museum of Fine Arts at FSU, the South of Soho Gallery and the 621 Gallery in Railroad Square. And, Burgest has posted many of his creations to his Instagram account.
In Disbelief, two Black women lean over a supine Black man who is splattered with red paint. The piece, Burgest said, was inspired by a painting, Judith Beheading Holofernes, a work by the 16th-century Italian painter Caravaggio that depicts the slaying of an Assyrian general. Burgest said his piece speaks to the "emotional burden that Black women take on when the men in their lives are murdered."
Burgest relaxes after working 9 to 5 at TCC by working on his comic book, Hallelujah, about a "poor girl's journey of forgiveness and friendship." He loves to design graphic streetwear and especially athletic footwear. He created a display of famous footwear for the FSU Museum of Fine Arts that he called KICKS OFF.
Burgest said many women who had faith in his artwork did much to lead him to success. His grandmother, who wiped out his first creation, has become one of his biggest fans.
SEE
MORE
Check out Elton Burgest's comic book, Hallelujah, at WEBTOON.com. Many of his paintings can be found at EltonBurgest.com.