In Search of the Best Milkshake and Fry Pairings
This college kid connoisseur knows a thing or two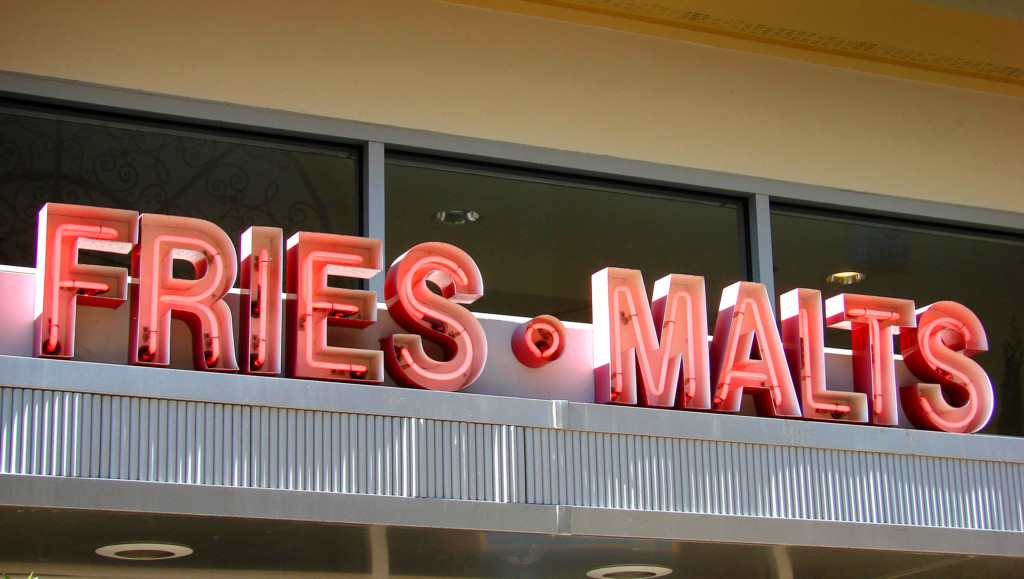 As a child, I traveled a lot. We spent nearly every weekend traveling for some family event or another, and with four kids, there were always a few stops along the way.
We took our lunches on the highway, but there was one big problem for 7-year-old me: I did not like fast food. The smell of it made me sick. 
The solution? French fries and ice cream.
No matter where we went, the only way to get me to eat was to stick a milkshake in one hand and a large fry in the other. I would munch happily for hours and slurp up the remainder.
It's true. Some french fries are better than others. But for each, no matter their variety — seasoned, shoe laced, curled — you know you can get a milkshake to go with it. 
I prefer to stick to the simple shakes. The smorgasbord of exquisite concoctions offered by The Shake Shop or Sugar Rush Bar are, of course, outstanding … but the flavors are far too complex to try and capture them all on a single fry. 
Strawberry, chocolate, vanilla — they're classic for a reason. But you can't stick any fry in any flavor. 
For example: McDonald's has light, bright fries. Crunchy and crispy on the delicately salted outside, fluffy and warm on the inside.
The vanilla milkshake, while simply delicious on its own just like the fry, has a flavor too simple to pair properly with it. They blend together rather than accentuate each other.
The chocolate milkshake, on the other hand, is too rich, too heavy; it only weighs the fry down. 
Strawberry is your winner. Like sunlight sprinkling over strawberry fields, the light, airy and delicate flavor of the golden french fry highlights the bright tang of the shake, and the soft sweetness that follows makes the salted spoon that much more vibrant. 
The Five Guys fry is a classic: Thick-cut french fries fried in peanut oil with flaky salt brings out an earthy, savory note that seems almost too sophisticated for a burger-joint fry.
This quality makes it an excellent candidate for their vanilla milkshake, if you're lucky enough to have access to a location that offers this holy grail of dairy-based beverages. 
While these earthy tones do complement a chocolate mix as well, the flavors of the fry are too subtle — the mix will likely swallow them. The fry will taste great going down, but it will leave the milkshake unchanged.
A symbiotic relationship is required for the perfect fry/shake combo.
This fragrance of the Five Guys fry, however, brings out those natural dark vanilla flavors of the shake, taking you on a frolic through the perfumed orchid fields of Madagascar.
Soft herbs like thyme, rosemary or even oregano have the potential to bring out the more intricate flavors of a vanilla shake, so test your favorite herbed fries or make some at home to take your palette on an adventure to Africa.
To properly complement a good chocolate shake, you need spice. Fries seasoned with chili, cumin, or even drizzled with some jalapeno honey, will bring some brightness out of a normally dark and heavy flavor.
The kick of the spices will make the smooth chocolate sing.
Some would scoff at my idea of fine cuisine, but even on the sticky linoleum tabletops of fast-food joints, dining is an affair.
As our most ancient luxury, it remains a staple indulgence: Whether you are savoring petit hors d'oeuvres under a reservation made three months in advance, devouring a homemade pizza thrown together by your best friends or shoveling ice cream straight out of the tub in front of your latest Netflix binge, you are dining quite finely, indeed.  
There are nuances in all things, and food is no exception: You just have to find decadence in the simple things, and savor it.
Natalie Kazmin is a receptionist at Rowland Publishing, owner of Tallahassee Magazine. She graduates in December from Florida State University with a degree in creative writing.