How to Find Your 'Best' Fitness Tracker
To find the activity band that's best for you, start asking questions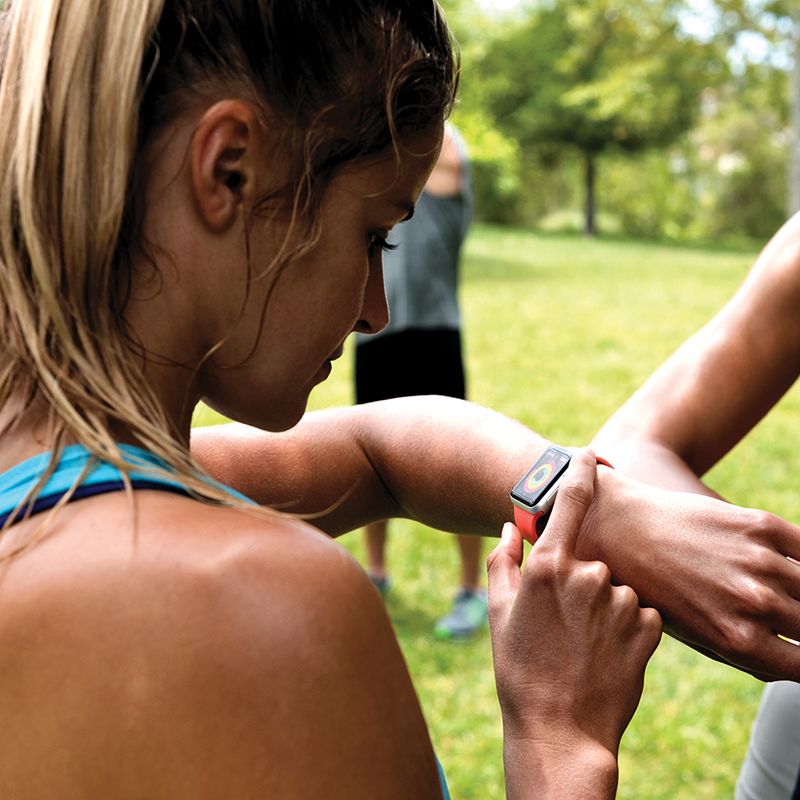 Once upon a time, long, long — OK, three years — ago, there were pretty much two options for strapping a device on your wrist to track your daily activity: a Fitbit or the Jawbone.
But that's forever in tech time and, today, there are hundreds of choices when it comes to wearable devices, alternatively known as fitness trackers or activity bands. While the originals were technologically advanced and did a great job tracking steps, calorie burn and sleep, newer iterations from the original manufacturers as well as other companies — from the ubiquitous Apple to a China's cheap, colorful Xiaomi — are packing in more new features every day.
"A fitness tracker is like a portable trainer for accountability — think of it as that little voice reminding you to get up, to take the stairs instead of the elevator, to push that heart rate a little higher on your jog," says Shannon Colavecchio, owner of Midtown's Badass Fitness studio and an avid runner. "It can be the motivator that is the difference between someone doing that workout, or not."
For those who want to join the revolution, upgrade from their activity band 1.0 or replace one that's gone kaput, question is obvious: What's the best fitness tracker for me?
And the answer is: It depends. To find your perfect band, you're going to need to ask yourself questions — lots and lots of questions.
For starters, what do you want your tracker to do?
Count steps? You can do that with a pedometer. Even the fanciest versions only cost $20, are easy to operate and let you know how close you're getting to that 10,000 steps-a-day goal.
Most new-generation fitness trackers also will estimate how many calories you're burning, your heart rate, how many miles you've walked and how much sleep you're getting. They come with apps to give you a long-term look at your activity level; and can be synced via wire or Bluetooth.
If you're planning to wear it all day, every day, style and comfort are key. Do you have sensitivity to Latex? Do you care about the look of wearing a "rubber" bracelet? »
Misfit's Shine devices are simple and pretty on their own, but a blinged out Swarvoski version ($249) turns your tracker into statement jewelry. Swiss watchmaker Mondaine has a beautiful (albeit pricey at $850) line that has the look of a quality analog timepiece, but with the technical innards to also serve as an activity tracker.
Are you on the move? Garmin's Vivoactive ($250) might be the one for you. The folks who brought us the car GPS can track your running, swimming, biking or golfing using the same technology.
Here are some other considerations: Is it easy to charge and sync? What's my budget? Is it reliable? Can it easily connect to other users for encouragement and competition? Does it need a chest strap to monitor my heartbeat? Do I want it to track general movement or athletic performance? Does it play well with other fitness apps? (For example, while bands are good at tracking how many calories you burn, it's going to take a different app, such as My Fitness Pal, for you to track how many calories are going in.)
Once you've figured out what you want to use it for and your band budget, let the internet research begin! Reviews, product comparisons and best-of lists abound. The website wareable.com is dedicated to these devices and offers up detailed stories daily about their features and reliability.