How Neighborly Lucilla Beat The New Restaurant 'Curse'
Despite projections about new restaurants in town, Lucilla has people coming back for more.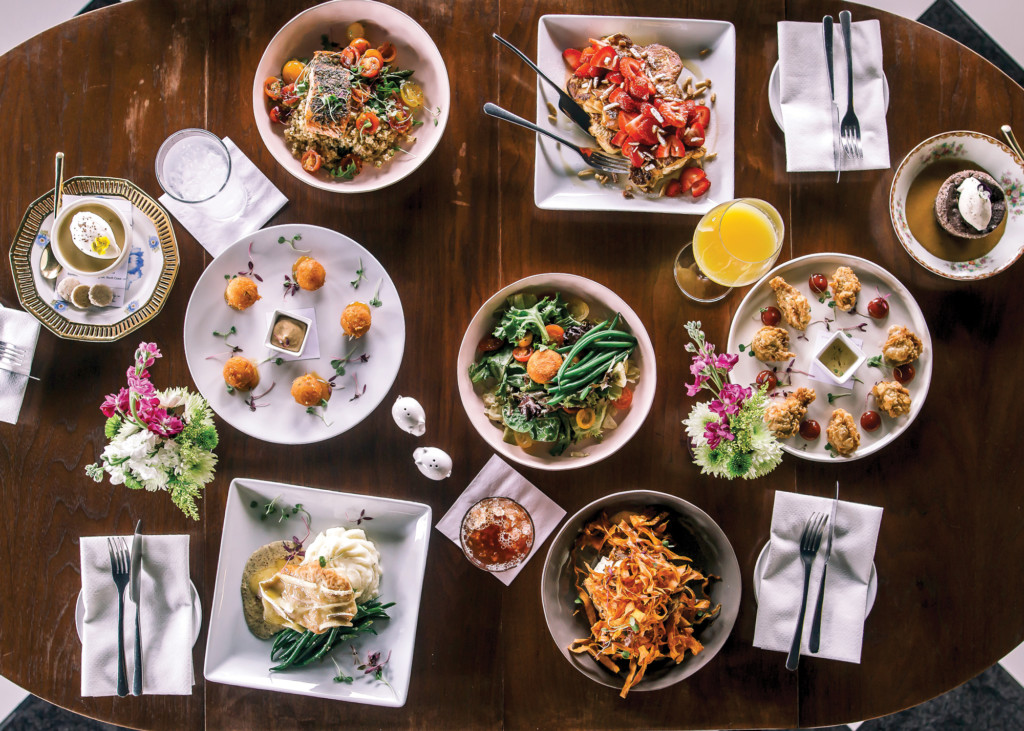 When Joe Richardson and Lara Hooper were ready to launch their new restaurant, Lucilla, they figured it would be a few years before it evolved into more than a neighborhood destination.
Instead, it took about three weeks. Lucilla's 50-seat dining room has been attracting big crowds since the restaurant opened Jan. 2 on Lafayette Street, in the former home of Sahara Greek & Lebanese Cafe.
The restaurant draws regulars from Tallahassee and the surrounding area who have become hooked on dishes such as pimento cheese fritters, snapper St. Charles and salted butterscotch pots de crème.
Lucilla offers a call-ahead system that puts you on a wait list for lunch or weekend brunch.
You'll want to make reservations for dinner, particularly at prime times. "We thought it would take three years to gain traction," Richardson said.
"It kind of took off from the very beginning and exceeded our expectations."
Taking a break as the last of Lucilla's lunch crowd finished up at 2 p.m. on a Tuesday afternoon, the couple reflected on their initial plans for Lucilla.
Richardson, Lucilla's chef, said he and Hooper had set out to create "a neighborhood bistro for Myers Park and Indianhead Acres.
That was always the foundation of our business. We live nearby, and we wanted the kind of place that we would want to go to."
But they were concerned about a dilemma experienced at so many new Tallahassee restaurants — fickle diners.
"We know about the new restaurant curse in Tallahassee," Hooper said. "Diners patronize a new restaurant for a few months and then they stop going. They move on to the next new thing."
"Always in the back of my mind, I worried, 'Is this business going to die off after a few months?' " she said. "We wanted to come out of the gate ready. We wanted to impress people right away, and maybe that has had something to do with it. Our customers have been so supportive."
Richardson has labeled his cuisine upscale American comfort food with Creole and Southern accents.
The restaurant complements it with a small, thoughtful wine and beer list.
The brunch menu features shrimp and grits as well as crab cake Benedict, bruléed grapefruit with ginger cardamom sugar and a playful dish of Bradley's sausage with figs, pecans and duck fat Coca Cola jus.
During lunch, customers can chow down on vegetable pot pie, meatloaf or a big, juicy burger.
Dinner staples include roasted duck breast, Scottish salmon and pepper-crusted filet mignon.
Two favorites at any meal are pimento cheese fritters and fried oysters. Take a bite of those Southern-fried pimento puffs and savor the soft melty cheese inside a crisp panko shell.
The fun fritters are set atop a smidgeon of bourbon-peach glaze with a side dip of kicky Creole black garlic aioli.
The fried oysters, from Tallahassee's Southern Seafood Market, are lightly coated and seasoned, letting you taste the faint flavor of the sea.
"We don't have a big walk-in cooler, so we order a small amount of fish and produce every day," Richardson said.
As a Tallahassee native, he said he appreciates products from local farms. Richardson initially learned a lot about cooking in his childhood kitchen, with the help of his mother and both grandmothers.
But he honed his skills in the Big Easy. After his sister went to graduate school at Tulane University in New Orleans, Richardson joined her there in 1993 and began working in local eateries.
"That's where I got passionate about restaurants," he said. "Cooking in a restaurant is entirely different from cooking at home.
"The pace and the pressure, the multitasking and the scale of everything is so much more intense in a restaurant," Richardson said.
"It's easy to make something fantastic if you have three hours to cook for four people. It's something else if have three hours to cook for 300 people. But the rush was what made me enamored with the business. I had never experienced anything like it. It was exciting."
Hooper worked in restaurants as a server while attending high school and college. Originally from North Carolina, she came to Tallahassee in 2009 to do graduate work in health care administration at Florida State University.
In 2011, she went to work at Andrew's 228, where she and Richardson, Andrew's chef, became friends. A few years later, they started dating.
Hooper had decided to stick with restaurants instead of health care, and in 2016, she went to work at Sage as a server, bartender and manager. Richardson said Hooper has "set the tone and culture" at Lucilla, managing the service and handling finances.
"Of all the people I have worked with, she is the most relentless advocate for the customer experience," he said. "She's been incredibly dedicated to service and making the place look as fantastic as possible."
The couple worked for about five months to refurbish Lucilla's space and add spiffy decorative touches such as new artwork, fresh flowers on the tables and whimsical piglet salt-and-pepper shakers.
As for choosing the restaurant's name, there's a story. "On our first or second date, I asked Lara what her middle name was and she told me 'Lucilla,' " Richardson said. "I immediately said that should be the name of our first restaurant."