How More Americans With Hearing Loss Get to Hear Again
Assisted Hearing Patrons Enjoy the Show When They're in 'The Loop'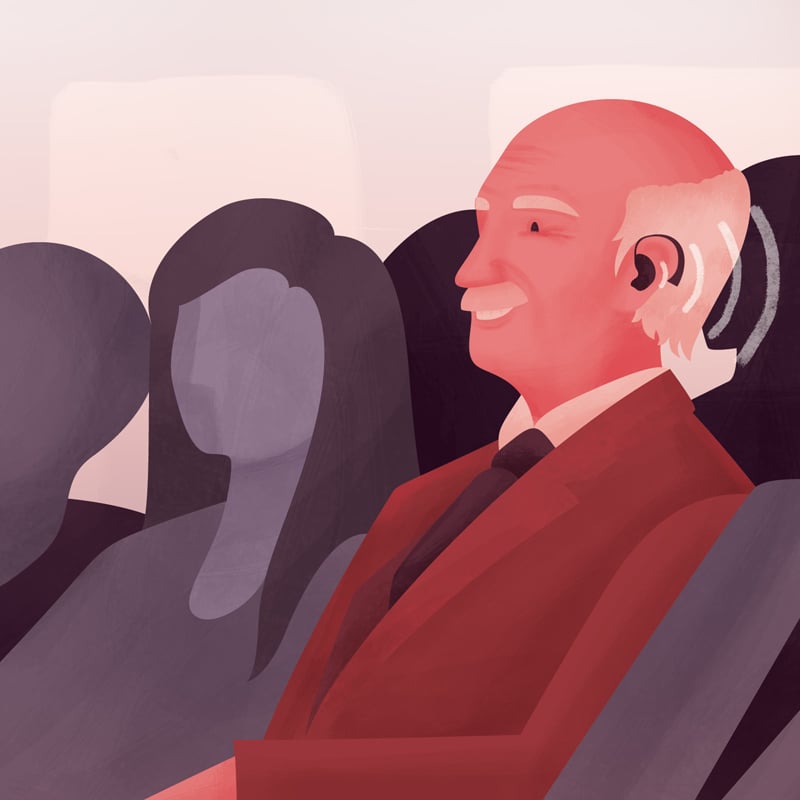 For people with hearing impairments, hearing aids restore the soundtrack to everyday life. For the estimated 48 million Americans with hearing loss — about one in four of whom have hearing aids — the devices increase independence and a high quality of life. Unfortunately, even with hearing aids, background noise and interference make it difficult to hear in large auditoriums and crowd-filled spaces.
Local audiology representative Melissa Carson is on a mission to change that. In 2012, she embarked upon a community outreach program to offer local support for a national public awareness campaign aimed at increasing the number of hearing "loops" available for assisted-hearing individuals.
Simply put, a hearing loop, or induction loop system, is a designated area within a building that conducts the sound from a microphone directly into a receiver inside a hearing aid or cochlear implant. This microphone-amplifier-induction loop (wire) system radiates a magnetic signal to a "T-coil" implanted inside a user's own hearing device.
For the hearing-impaired, this eliminates background noise by relaying sound from the designated source — such as a pastor, television or vocalist — directly to the user's hearing aid or cochlear implant. It's as if the speaker and listener were talking one-on-one and greatly improves the listening experience. While a person with normal hearing may have little trouble distinguishing between background noise and the primary conversation, this is more challenging for those with any degree of hearing loss.
Carson encourages churches, schools and businesses alike to increase access to meaningful interaction through the use of hearing loops.
"Our support has taken a variety of forms," Carson says, "from hosting loop demonstration events so hearing-aid users in our community have an opportunity to experience the clarity of sound a loop offers to our audiologists holding workshops for users at venues that have installed hearing loops."
In Tallahassee, momentum for these systems is building. Carson reports that currently, about a dozen local venues are considering hearing loops for patrons. In many cases, their audiences have told them about the benefits of a loop and how much better an experience it provides.
For Theatre Tallahassee, it was an easy investment decision. The hearing loop was suggested by a longtime patron who was familiar with the technology, and the $1,200 cost has paid for itself many times over.
"One of the greatest benefits is that we have patrons, after learning about the system through friends, family or the audiology group, returning to the theater and once again enjoying shows," says Brian Davis, artistic director for Theatre Tallahassee. "We've had people come up to us glowing and thanking us for bringing the theater back into their lives."
For businesses, hearing loops help meet the Americans with Disabilities Act compliance requirements to assist those with hearing aids. There is no limit to the number of people who can access the loop at once.
Hearing loops aren't a one-size-fits-all solution, however, says Nathan Rhodes, Au.D., an audiologist in practice at the South Georgia Audiology and Hearing Center in Thomasville.
"Not all hearing aids are equipped with the T-coil," he explains. "Many of the smaller, more cosmetically appealing hearing aids do not have T-coils. Another issue is that a hearing loop is not very portable, and it has not kept up with current technology."
Almost all newer hearing aids within the past few years are Bluetooth-enabled, he says. And they can accomplish the same goals as a hearing loop — but on an individual basis. Like Bluetooth mobile devices, these hearing-aid systems are far-reaching, wireless and portable. They also allow users to talk on a cell phone or watch a movie on an iPad and have the sound stream directly into their hearing aid, and more. Unfortunately, Bluetooth technology is slightly different from one hearing-aid manufacturer to another and therefore not necessarily compatible across models.
On the other hand, hearing loops are accessible with any device equipped with a T-coil, and they require less battery power than Bluetooth technology, which is perhaps what makes them the most popular choice for businesses to provide access to patrons.
This access is very important to hearing-impaired individuals like Charles LaTour. He is 77 years old and has had three sets of hearing aids over the past 18 years.
"I first heard of a hearing loop at my daughter's church in Chicago," LaTour explains. "It sounds like the person is standing right in front of you."
LaTour gets excited when he talks about how great the loop technology is. He would love to see Florida State University's Ruby Diamond Concert Hall or the Civic Center get the technology.
Hearing loops may be used in homes as well. With just the touch of a button on the hearing aid, a listener can "loop in" directly to the television without having to turn it up to a level bothersome to family members. Self-installation home systems range between $140 and $300 and are easily installed in a couple of hours.
Carson wholeheartedly believes in the hearing loop campaign. Since they began their outreach in 2012, Audiology Associates and Tallahassee Ear, Nose and Throat have made a point to educate all hearing-aid and cochlear-implant patients on loop usage. This starts with their audiologists turning on the T-coil in the devices and educating the patients to look for the universal sign — a blue ear — signifying a venue has a hearing loop installed.
"Hearing loops keep people with hearing loss involved and active," Carson says. "There is also an important economic impact to looping a community. When people can hear well and feel included, they are more likely to participate in community events like attending the symphony, theater or lecture series. Studies show those who stay engaged experience more healthy aging — and that is certainly good for our community."