His Plea: Shine a Light
Postpartum Depression is Real, and the Results Can Be Tragic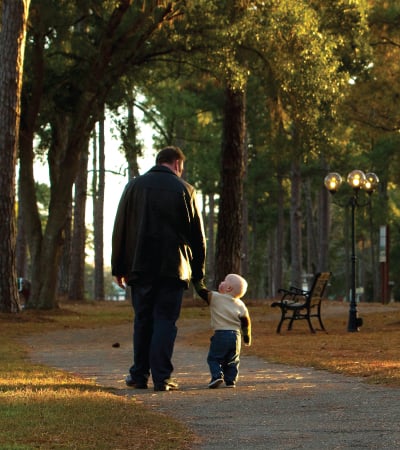 Jason Henderson describes his world as a living nightmare. Grief stricken, he has spent nearly every waking moment of the past year wondering what he could have done differently to save his wife from making a horrible, irreparable decision.
"I thought we did everything we could do," laments Henderson, 33, an information technology/network administrator.
Amy (not her real name) was diagnosed with postpartum depression after the birth of their son in February 2010. Many mothers get the "baby blues" as they settle in to a new life of making adjustments and coping with change, and Amy was no exception. But behind the happiness of holding a new life was an unrelenting sadness that just wouldn't go away.
She received psychiatric help in the form of monthly counseling sessions and anti-depression medication. She fought the illness hard and had good days and bad days. On the bad days, Jason and Amy would work through the emotions together until she felt better. Throughout it all, her motherly love never faltered.
"She was a very kind, a very loving, wonderful mother," Henderson said.
But somehow, she lost the battle against the shadow looming over her. Some little voice, or perhaps a tugging sense of unworthiness, or an unexpected drug interaction, or a combination of many things, allowed a mountain of depression to suddenly collapse on her. Seven months after giving birth, she succumbed to depression and took her life in 2010 — just a day short of her 30th birthday.
Since then, Henderson has racked his brain asking himself two questions. The first: Was there something else I could have done? The only thing that answers back in the night is a voice that tells him no. The proper steps were taken. They had help. Other couples have gone through this and come out fine. The fog was just beginning to lift.
The second: Why? What would drive a loving, caring and nurturing woman to become so depressed that she'd do something that couldn't be taken back? Henderson said Amy did have her share of depression issues before the pregnancy (a risk factor for PPD), but in his wildest nightmares he never imagined it was a depression that could lead to such a drastic action.
"It was always something that was short-lived, and typically she was out of it within a day or so," he said. "She'd snap out of it and be back to her normal self, and was generally pretty happy."
The Pendulum Begins to Swing
Amy had a rough time when she was pregnant with their son, Henderson said. When she was six months along, the car she was driving was hit and flipped by a drunk driver, causing her minor injuries and requiring a hospital stay. But she and the baby came out of that OK, he said. Then, she had some problems with pancreatitis, followed a month later by pre-eclampsia, a condition where the mother's blood pressure spikes out of control. Because of her blood pressure, it was decided to bring the baby into the world a month early.
"But he was fine and didn't have to spend any additional time in the hospital," Henderson said. "Everything was good … for the first few days. After that, she kind of developed what most people considered to be the baby blues. That's where the hormones you sustained throughout pregnancy are cut off, and your emotions crash. And we thought, 'OK, this is normal, baby blues happen to a lot of women.' This was a week, maybe. Feeling down, but still very interested in the baby, still mothering him; she was an amazing mother."
At a follow-up checkup with her doctor about a month after childbirth, Amy revealed she just wasn't feeling like herself. She was referred to a psychiatrist, which led to monthly counseling sessions. Henderson said she was also put on anti-depression drugs, which helped. But when she started to flag, the meds were changed, and she went back to being her old self again.
As time went on, however, she continued on a roller coaster of highs and lows. A tooth infection followed by dental surgery didn't make her feel any better. Finally, on a Monday in September, she went to work but was so upset that she decided to return home for the day.
Henderson said he could hear in her voice that something was dreadfully wrong.
"We talked on the phone that morning. I asked her not to do anything to hurt herself," he said. A short time later, he called his wife again. No answer. Again. No answer. Worried sick, he left work and headed home to be with her.
But it was too late.
The Aftermath
Henderson doesn't want another family to go through what his has gone through. He's making it his mission to make people aware how serious an illness postpartum depression is.
"It's a living nightmare. It's surreal," Henderson said about his life in the wake of Amy's suicide. "I don't think people know how bad (PPD) is or how quickly it can turn. But when it goes bad, it goes bad quickly."
When he made Amy's funeral arrangements, Henderson decided that instead of flowers, family and friends could make contributions to the postpartum support group jennyslight.org, a Minnesota-based, family-run nonprofit founded in 2007. The organization was established after its namesake — Jennifer Gibbs Bankston — suffered silently with PPD and tragically took her life, as well as the life of her month-old son, in 2007.
Jenny's Light is a clearinghouse of information on postpartum depression, according to Executive Director Randy Gibbs, Jenny's brother.
"Jenny was searching online for information in the weeks before she was a victim," Gibbs said. "That's why we decided we needed to put together a place for people to find information, whether they're a woman, a mom, a doctor or a family member wanting to learn more about perinatal mood disorders and what can happen if they go on untreated long enough."
Unlike Jenny, Amy recognized what was happening, got help and tried to recover. Sometimes, though, victims of PPD may not recognize what's happening or take steps early enough to stop it. The key in both situations is to get some kind of help as soon as possible.
"Not getting help means it'll escalate into a deeper form of PPD," Gibbs said. "The thing about it is, just like any mental issue, there is a stigma attached. They don't want people to think they are a weirdo or they're not a good mom. A lot of times it is out of the blue, the mother doesn't want people to know what she's feeling. It's a huge stigma."
Getting past that shame is perhaps one of the biggest challenges in helping a mom to recognize there is a problem and get help.
"Depression, unfortunately, still carries negative connotations in our society and many are reluctant to seek help," said Dr. Chris Sundstrom, an OB/GYN at North Florida Women's Care in Tallahassee. "Plus, there is the perception that once the baby is born everything is wonderful. When a new mom then feels sad, depressed, overwhelmed or inadequate they think they are a bad mom. This is simply not true. Up to 80 percent of women experience these feelings and about 10 percent to 20 percent actually develop postpartum depression."
Sundstrom said at North Florida Women's Care all patients are screened before their baby is born for risk factors that contribute to postpartum depression.
"We also screen all of our patients after delivery for signs of depression. Treatment depends on the severity of symptoms. If depression is suspected, I usually treat my patients with a six-month course of antidepressant medication," he said. When it becomes necessary, the physicians in his practice use psychiatric services provided at the Tallahassee Memorial HealthCare Behavioral Health Clinic.
It is important for new mothers to know that they are not bad people if they experience these feelings, Sundstrom said.
"There are a unique combination of factors accumulating after delivery that create a perfect storm for depression," he said. "The body and all of its systems adapted to allow a pregnancy to take place over the last 10 months. Now, in a few weeks, the body is transitioning back to a non-pregnant state. Couple this with a lack of sleep, stress from a crying baby and the emotional drain it can be to have someone 100 percent dependent on you 100 percent of the time and it's easy to see why postpartum blues and depression is so common."
Henderson said Amy, "a very private person," was afraid of what people would think if they knew what she was going through. But he doesn't think anyone should suffer in silence.
"Shout it from the rooftops, don't be ashamed. Don't be afraid. Find support. Anybody. Don't hide it. (Amy) was afraid people would think she was crazy. She obviously was not," he said.
Nor was actress Brooke Shields, who opened up to the world about her battle with PPD after the birth of her daughter Rowan in 2003. Shields' struggle with the illness became a hot topic when fellow actor Tom Cruise openly criticized her for her "misguided" use of antidepressants to treat her PPD.
In an op-ed she penned for The New York Times in 2005, Shields said she was hoping to avoid such a confrontation but felt compelled to speak out for not only herself but for the "hundreds of thousands of women who have suffered from postpartum depression."
"I couldn't believe it when my doctor told me that I was suffering from postpartum depression and gave me a prescription for the antidepressant Paxil," Shields wrote. "I wasn't thrilled to be taking drugs. In fact, I prematurely stopped taking them and had a relapse that almost led me to drive my car into a wall with Rowan in the backseat. But the drugs, along with weekly therapy sessions, are what saved me and my family."
Shields went on to write a book about how her experiences fighting PPD and received thanks from many women who appreciated her shedding light on an illness that doesn't enjoy much discussion.
"Since writing about my experiences with the disease, I have been approached by many women who have told me their stories and thanked me for opening up about a topic that is often not discussed because of fear, shame or lack of support and information," she said. "Experts estimate that one in 10 women suffer, usually in silence, with this treatable disease. We are living in an era of so-called family values, yet because almost all of the postnatal focus is on the baby, mothers are overlooked and left behind to endure what can be very dark times."
A PPD Checklist
Any of these symptoms could indicate a woman has a form of perinatal mood or anxiety disorder, such as postpartum depression. While many women experience some mild mood changes during or after the birth of a child, 15 percent to 20 percent of women experience more significant symptoms of depression or anxiety.
1. Are you feeling sad or depressed?
2. Do you feel more irritable or angry with those around you?
3. Are you having difficulty bonding with your baby?
4. Do you feel anxious or panicky?
5. Are you having problems with eating or sleeping?
6. Are you having upsetting thoughts that you can't get out of your mind?
7. Do you feel as if you are "out of control" or "going crazy?"
8. Do you feel like you never should have become a mother?
9. Are you worried that you might hurt your baby or yourself?
Source: Postpartum Support International