Hip Workout Gear
2013 Boasts Swanky Gear and Stylish Spandex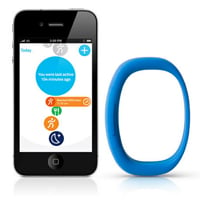 We've compiled a few of this year's hottest finds you'll want to get your hands on before gearing up for the gym.
Fitness made fabulous: 7 Designers that will make you want to start wardrobing your workout clothes
1. Stella McCartney for Addidas
2. LuLu Lemon
3. Zobha
4. Athleta
6. Target
7. Nike
8 Hip Gadgets to come out of 2013:
Merrell Flux Glove Sport: Shoe of the Month There's a fine line between comfort and practicality when you're in the market for a pair of cross-training kicks. These Merrells combine performance with protection, the result of which is one of the most impressive sneakers tested in some time. There's no drop from the heel to toe, yet they still feature 4mm of cushioning throughout the shoe. What does that mean to you? You can band out a heavy set of squats one day and rip through a long run on pavement the next — activities which used to require radically different pieces of footwear. ($100 merrell.com)
Withings WiFi Scale Withings' Smart Body Analyzer is an all-in-one measurement system for weight, heart rate, BMI, and body fat. The scale syncs with WiFi to upload readings and communicates with an app that tracks progress. Speel more soundly, Withings says, with the air-quality monitor, which norifies you when to open a window and get air circulating.
Tinke Tinke, an iPhone-based smart monitor ($119), measures blood-ozygen, respiratory-rate, and heart-rate variability by just pressing your thumb onto the device. The 30-pin connector uploads the info right to an iPhone.
Pebble Smartwatch Kickstarter-funded Pebble announced that its smartwatch will start shipping Jan. 23. With over 69,000 backers, the device's deput has been a long time coming, having successfully met its Kickstarter goal in May.
Pebble's watch is configured for cycling, running, golf rangefinding, music controlling, emailing, caller ID, and, well, time-telling. It can be customized with code, and a variety of apps are available through the Pebble watch app store.
Fitbit Flex Fitbit is entering the wrist race with its CES-launced Flex ($100), available this Spring. Integrated LED lights indicate how daily steps and calories burned stack up to personal goals.
Stats are uploaded in real time to iPhone and Android devices. In addition to the smartphone app, the Flex works with an online dashboard, as well. The tracker itself can be removed and used in a different color band.
iBitz Pedometer and Fitness App for Kids iBits ($35) is getting kids into fitness with the Powerkey App, where you essentially have to keep your "pet" alive and happy with exercise, food and water. The app also has a running game where kids jump and slide under obstacles. The colorful iBitz pedometer syncs with the app, which is only available for iOS, although the company plans on developing a version for Android.
Larklife Larklife deputed its wristband system ($150) in the Fall and demoed the tracking device at the 2013 Consumer Electronics Show. The "24-hour" diet, exercies, and sleep coach is intended to be worn day and night. It also doubles as an alarm clock that gently vibrates to wake the user.
Hapilabs Hapifork Hapilabs' Hapifork ($99), a high-tech utensil that reminds anxious eaters to slow down, is determinded to guide dieters to long-term weight-loss success. Hapifork encourages dieters to slow down between fork servings. Blinking lights and gentle vibrations indicate that the amount of fork servings per minute is too high.
A micro USB cable uploads information from the fork to the Hapilab online dashboard so that those watching their weight can visualize exactly how long it took to eat the meal, the amount of fork servings per minute, and the interval between fork servings.
Unconventional Finds:
As Sweet As Candy Garden Bon Bon Set ($15, uncommongoods.com) This cleverly packaged set of truffle-shaped seed balls contains all the charm of a box of chocolates — without the calories. Just plant the bon-bons in soil and watch them sprout into edible greens. Choose from the Herbal Teas (contains lemon balm, chamomile, borage blossom and anise) or the Italian Herbs (basil, parsley, chives and winter thyme).
Help, I Have a Blister! ($4, helppremedies.com)This little case is easy to find in your bag without taking up a lot of room. The bandages are made of hydrocolloid — a rubbery material used in hospitals to dress burns — which protects blisters better than a Band-Aid.
Tart Cherry Juice There are many benefits of tart cherry juice … one of which is helping ease post-workout muscle soreness. Tru Cherry ($22 for a 12-pack) from Cheribundi is a blend of fresh cherry juice and apple juice from concentrate. Too tart for you? Mix it with sparkling water for a recovery spritzer.
Twistband Finally a line of stylish ponytail holders and headbands that doesn't hurt your head or damage your hair. Made from elastic trim in a wide variety of fashionable colors and fabrics, Twistbands won't leave a dent in your hair when you take out your ponytail. They stretch to accommodate almost any hairstyle and are so cute you can wear a spare one on your wrist. (Prices ranging from $5 to $12 for a set of three)
Yogitoes rDot To get deeper into poses and twists, check out Yogitoes rDot ($17). The circular shape really contours to your body's lines and offers the perfect amount of support. For beginners who are trying to build up their strength, this prop is perfect because it forces your whole body to stay active, even when not in the ful expression of the pose.
Prima Studio Rehearsal Pants ($85) Not to be confused with old-school sweatpants — no elastic ankles here! The Rehearsal Pant is made from supersoft material and has an updated stylish flair. Whether it's for a quick coffee run or a session at barre class, these pants do not disappoint.
// By Sam Dehority, Nicole Nguyen and Emily Bibb