Here's How To Make Melt-in-Your-Mouth Salmon at Home
We've consulted a local executive chef to share the perfect way to cook this heart-healthy fish at home.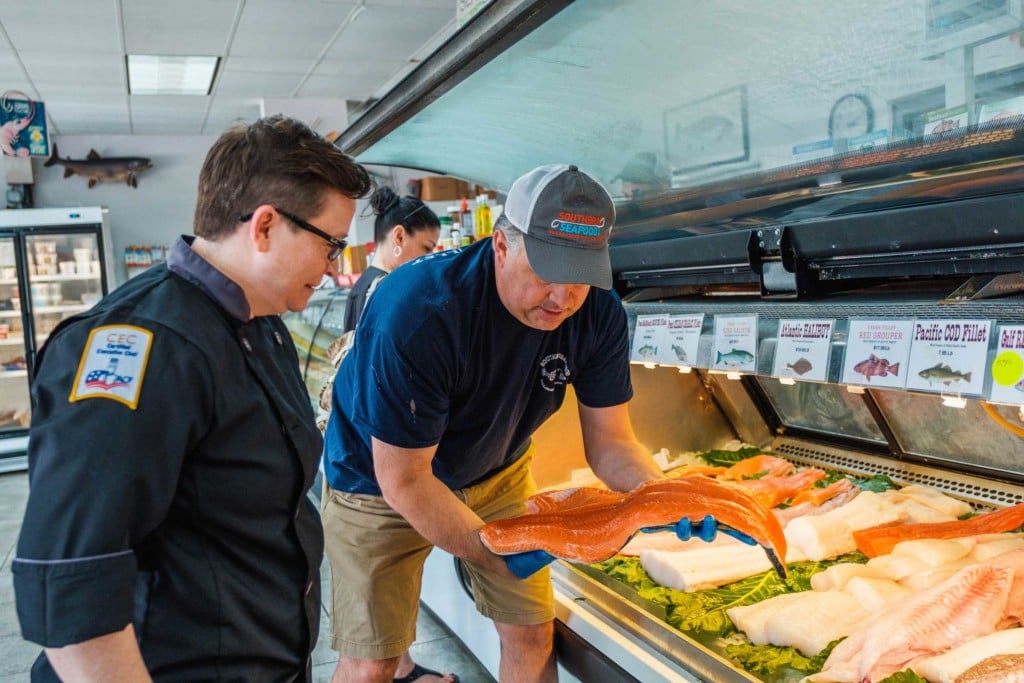 Salmon is a culinary star, a superfood known as a prime source of good fats and protein with lots of vitamins and minerals. Aside from its nutritional value, the coral-hued fish is a mighty tasty catch, with rich, flaky flesh you can savor baked, blackened, pan-fried, poached, grilled, raw or even cooked in a microwave.
So many choices when it comes to salmon. When you go to the market, you'll see some salmon that's "farm-raised" and others that are "wild" or "wild-caught" (fresh or frozen). They're all salmon, but the farm salmon is raised in an aquatic farming operation, and the wild salmon are caught in Alaska or the Pacific Northwest.
Wild salmon is regaining popularity amid growing questions about some salmon farming operations, driven in part by environmental concerns over sustainability. A free-roaming wild salmon is considered more sustainable, with more intense flavor and color, said Tallahassee chef Nikki Pettineo.
To better navigate your salmon choices, do some research to weigh the pros and cons, then "become friends with your fishmonger," Pettineo advised. "That's the key." And that's where my salmon cooking session began — at Southern Seafood in Tallahassee's Market Square with Pettineo, a certified executive chef who teaches at Keiser University and Browns Kitchen Center.
We looked over several slabs of salmon with Matt McCreless, general manager of Southern Seafood, which offers a variety of choices including wild king, keta, coho and sockeye salmon, as well as farmed king and Atlantic salmon. While they all looked good, we splurged on the fresh, wild king salmon, which had a gleaming, deep red-orange color and smelled like a whiff of sea air.
The king rules when it comes to flavor, but it's also pricey. We were shopping in the early part of the season when prices were higher. The cost was $27.50 a pound on that June visit, though the price fluctuates as more fresh king salmon becomes available.
When you're shopping for salmon, keep a few things in mind, Pettineo said:
▪ Ask what species are available, what was recently caught, when they put it out.
▪ When you buy any fish, you want it to be shiny.
▪ It should smell like the ocean but not be fishy-smelling.
▪ The salmon flesh should be bouncy to the touch and leave an indent with your finger when pressed.
▪ If you buy a whole fish, look for clear eyes. We took the splendid king salmon to Browns Kitchen Center on Capital Circle Northeast, where Pettineo prepared an Asian-inspired recipe.
Before you start cooking, a few tips:
▪ Get everything in place and sliced before you start.
▪ For food safety, prep all your other ingredients first and the salmon last, so you can use one cutting board and wash it once.
▪ Pat any protein before you start cooking. "You want to dab out the moisture."
▪ If the fish has been frozen, defrost it in the refrigerator on a paper towel and really press the water out so the fish isn't waterlogged, Pettineo said.
Pettineo seared the fish, then finished it in the oven, serving it atop black rice in the center of the plate, with a side of crisp haricots vert green beans. Get the recipe here.