Heavenly Hillsborough
The rapidly growing Tampa Bay area offers youthful energy and lots of history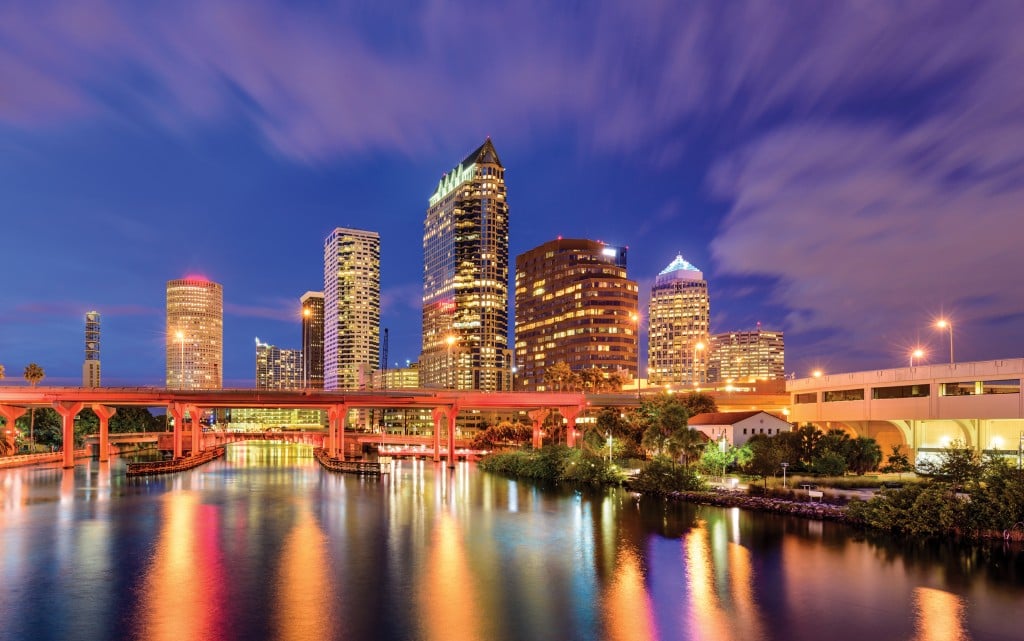 The Tampa Bay area is heating up — largely as a function of cool.
At the conclusion of the Civil War, the place was nowhere, home to but a smattering of people with, presumably, a high tolerance for biting insects. But with the discovery that the area was rich in phosphate deposits, Tampa started to come alive.
A railroad arrived. Tampa became a center of cigar production and then gained a reputation as a posh vacation destination for the rich and famous — and as a headquarters for organized crime.
Today, Tampa's population, currently a bit north of 400,000, is growing at 2 percent per year, according to the World Population Review, which compiles, charts and publishes population data. That contrasts with the nationwide growth rate of 1.5 percent. Seventy percent of Tampa's growth, according to WPR, is coming from net migration. A great many more people are moving to Tampa than are leaving it.
A few months ago, I was among the move-ins.
The new population growth is said to be making Tampa younger, more urban and more energetic. I will attest to that.        
Tampa is just four hours from the Red Hills of Tallahassee — hey, it's all downhill from here — making it an ideal candidate for a weekend getaway. Here's a possible itinerary.
Downtown
Leave Tallahassee by noon to make it to downtown Tampa before its main arteries begin to clog with rush-hour traffic. Check in to your room, freshen up and consider heading out to dinner at Ulele, located on the banks of the Hillsborough River and noted for its native-inspired Floridian fare.
The Gouda Grouper is an excellent catch. For dessert, enjoy a slice of the good life with a piece of Fortune Taylor's Guave Pie.
Here, you will feel like you are on an island. Watch the sunset over the water, and then linger over an after-dinner cordial.
Or, bust it over to La La's Sangria Bar. Opt for a sangria flight, and you can sample four of the bar's signature flavors. After your food settles, check in at Cigar City Brewing for some heady stuff.
Ybor City
A guided walking tour — after last night, the exercise won't hurt you — will introduce you to a part of Tampa that boasts a diverse and colorful history after it was founded by manufacturers skilled at rolling tobacco.
After the tour, stop by Carmine's
Ybor for lunch. This Cuban/Italian bistro has a big and varied menu. I am partial to the Cuban Roast Pork, which the wait staff refers to as "Ybor City on a plate."
Now, back on your feet.
At the famous Ybor City Saturday Market, stroll the grounds, admire the produce and plants, pause to watch the featured artist at work and shop for a host of items that are unique to Hillsborough County.
At the appetizer hour, visit the Ybor City Wine Bar, choose from among more than 200 boutique wines and pair your selection with a gourmet cheese board.
Finally, top off your Ybor City experience with dinner at the Columbia Restaurant, part of a Golden Spoon Award-winning chain that has been in business since 1905. Keep it light with tapas or heavy up on a New York strip steak, "The Bambino," once favored by frequent diner Babe Ruth.
St. Petersburg
Round out your weekend with a visit to St. Petersburg where, since 1928, The Don CeSar Resort has been serving as a gateway to Hillsborough County's beautiful beaches. After checking in, hit the sand in between dips in the Gulf of Mexico, and stop at Uncle Andy's Ice Cream Parlor for a mid-afternoon snack.
Later, create your own charcuterie board at the Bacchus Wine Bistro, and then enjoy dinner at Paul's Landing, offering "Old Florida flavors with a modern twist." Its grilled whole fish is served with herbs, citrus, charred corn and black bean salad.
Finally, before heading back to the hotel, stroll down the St. Petersburg Waterfront, take in the sights and sounds of downtown and begin to make your plans for a return visit.