Healing Together
A family doctor and nurse reveal the secrets of their 32-year working relationship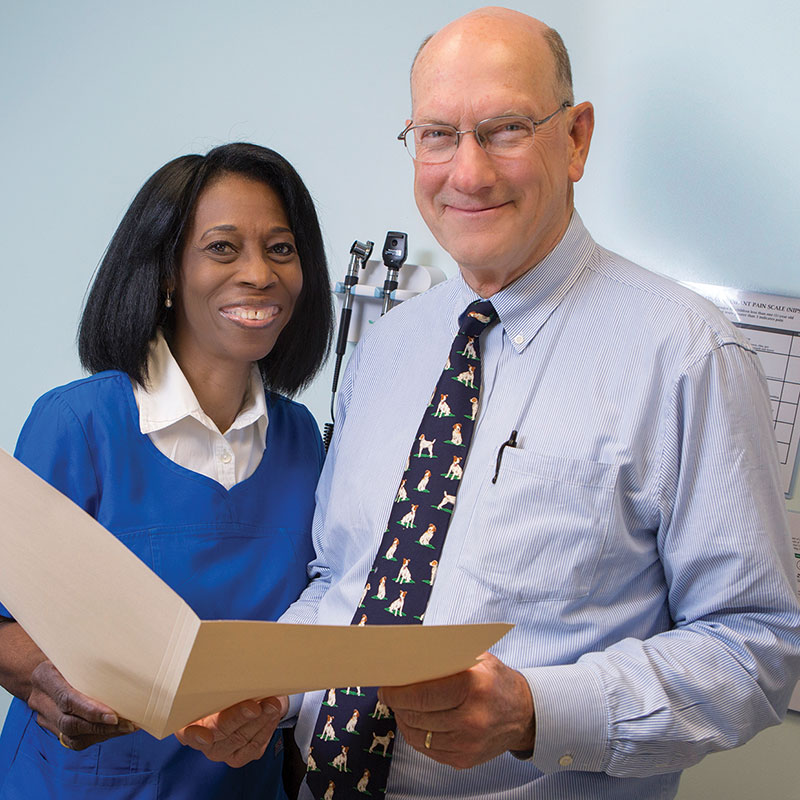 Tallahassee Memorial Healthcare casts a giant shadow over the tiny medical office at the corner of Centerville Road and Hodges Drive. But it's not big enough to eclipse the doctor and nurse team that have been treating patients here for more than 30 years, at Tallahassee Memorial's Family Medicine Residency Program.
Actually, Dr. Donald Zorn and Jodi Strong, RN, are more than a team. They're more like sidekicks who get the job done but aren't above an occasional good-natured ribbing.
"We like to make fun of each other," said Zorn, 66, a soft-spoken family doc originally from Georgia. "But I think it's a way for us to kind of cut the tension. We make fun of each other, even in front of patients. I think it helps for them to see that, and I often ask a patient, 'Do you know any good nurses I could work with?'"
Strong, 61, Zorn's nurse manager, laughs at the running gag.
"You've been trying to trade me off for years. I frighten other nurses away, so you're stuck with me," she said with a grin.
The amiable pair has been a team since Zorn first came to TMH back in 1984. Zorn tends to the patients' needs while Strong works diligently to make sure everything runs smoothly with schedules, nurses and residents. She was already working for TMH and was assigned to Zorn when he started practicing there.
"My job involves keeping the old man out of trouble," she said. "He strives to keep me busy and out of trouble."
Joshing aside, there's a mutual admiration at work between doctor and nurse. Zorn said Strong's lighthearted and good-natured personality provides a welcome calm in what can, at times, be a frustrating profession.
"I'm known for my temper, and Jodi is very even-keeled," he said in a quiet, self-deprecating manner. "So when I'm having a hard day and I get frustrated at certain aspects of the medical system and the regulatory burden that seems to increase on physicians and nurses … she's able to smooth that over. She just stays positive, and she looks for a way out of it. So we get through it."
Strong said it's a great comfort to her that Zorn is a knowledgeable, down-to-earth physician. She also said he has a better demeanor than he gives himself credit for.
"When you work with someone that you know is extremely knowledgeable, you don't have to question anything because you know it's always right," she said. "He's awesome to work with. He's very human. And he's forgiving.
"She's an exceptional nurse," he said. "I've had the opportunity to work with many wonderful nurses both here and elsewhere; but she's very smart, works very hard — she's very dedicated. She's very loyal, conscientious, and she has this sense about her that just seems so good. Everybody around her senses that too. She has such an optimistic and positive attitude toward life, and a big, caring heart … and a willingness to forgive the doctor she works with. No doctor can make it through the day without a good nurse, and I can't make it through the day without this one."