Have You Noticed The Revival?
Capital City offers options for those who embrace entertainment nostalgia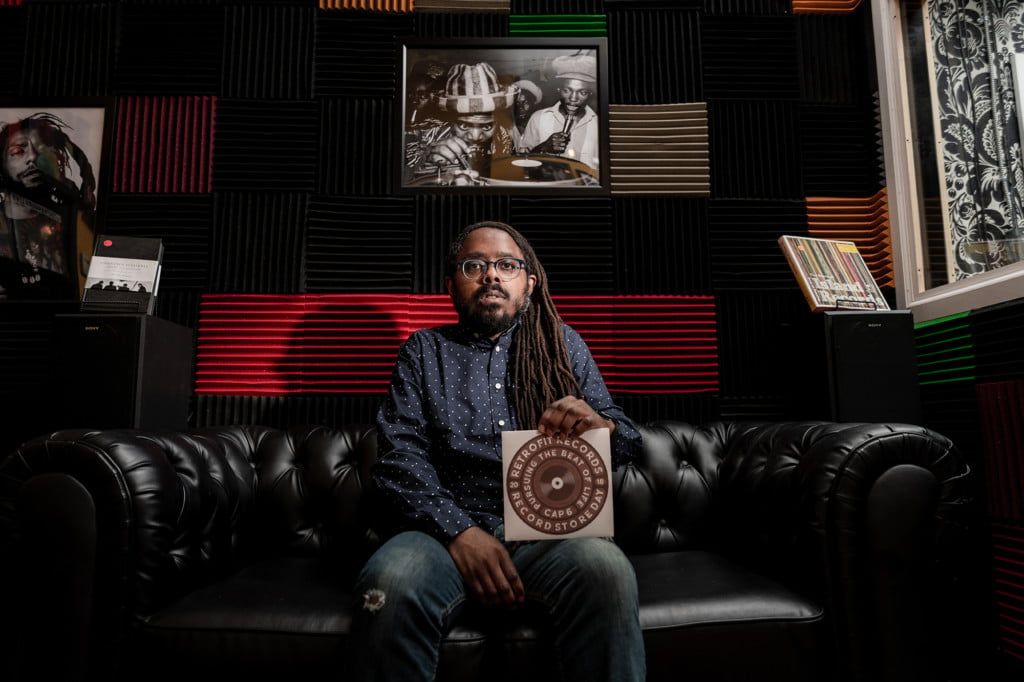 Go into the attic and get your turntable. Vinyl is back.
Dust off that DVD player. Video is viable.
Reopen your imagination. Comics remain a constant.
People are embracing entertainment nostalgia, perhaps especially when it comes to a national resurgence in vinyl records.
"People want a sense of ownership again, owning something tangible versus having a streaming service," said Sharod Bines, owner of Retrofit Records on West Gaines Street.
That appears also the case for video and DVDs, at least in Tallahassee. Cap City Video Lounge, in Railroad Square, stands as a digital-age rarity as a micro-cinema and video rental store.
Even pinball machines and video-game arcades are enjoying a resurgence. Big-box rental stores offer vintage-style arcade machines that feature Space Invaders and Pac-Man, among other 1970s and 1980s games.
Tallahassee bars such as Hangar 38 and Fire Betty's have introduced such entertainment sources for customers to enjoy while having a drink. They thereby join a national trend of arcade bars, as some call them. As for comic books, perhaps they've never gone away.
But they might have gotten a boost from recent blockbuster superhero movies, which one Tallahassee comics lover says has produced "a new awareness" and a new audience for comic books.
Here's a look at entertainment nostalgia in Tallahassee.
VINYL
Walk into Retrofit Records, and you'll find what you'd expect to find. You'll find vinyl albums from the Beatles, Deep Purple and The Jackson 5, just to name a few.
Checkerboard tiles cover the floor, in step with the retro merchandise. Posters and cover art featuring various artists fill the walls.
To find the magic, go into the back of the store. Here you'll find listening booths to sample some of your newly found treasures.
But it's not all vintage. You'll also find vinyl versions of albums from up-and-coming artists such as Billie Eilish and Mac Demarco — a consideration that the owner said inspired the business.
As a result, the store touts a diverse clientele of all ages and music tastes.
"With vinyl, you can experience music in a different way," said Carolyn Sizemore, a longtime customer and new employee. "There's a physical, ritualistic aspect of listening to vinyl. Picking it out, cleaning it, putting it on, and the whole practice of that is very physical compared to other mediums, which is why I like it."
She added: "It forces you to listen to it more in the way that the artist intended it. Instead of shuffling around, you have to listen to the whole A side, or the whole B side."
Consider how far vinyl has come — or come back. Vinyl sales totaled $15.7 million in revenue in 2006, according to the Recording Industry Association of America's U.S. sales database. Music streaming totaled $206.2 million in the same year.
In 2018, Vinyl record sales amassed $419 million in total revenue, the highest total for newly printed vinyl sales since 1988. This number does not account for the millions of used albums sold through Amazon, eBay and independent record stores throughout the year. Meanwhile, streaming sales recorded $4.7 billion in revenue in 2018.
CDs and digital downloads nearly destroyed vinyl records in the 2000s, but as those formats phase out and consumers begin to favor streaming, vinyl remains a way for music lovers to still hold onto, and own, physical music libraries.
"You may be paying for it, but you don't own any of that stuff," Bines said of streaming services. "If Spotify servers go down, then you don't have any music. I know my records aren't going to just disappear."
Aside from vinyl, Retrofit also sells CDs and those true recording-industry dinosaurs, cassette tapes — especially from indie labels such as Sub Pop and Matador. "It's a cheaper alternative than buying a brand new record," Bines said.
His store emphasizes that it buys, sells and trades vinyl and welcomes all music genres.
Bines grew up listening to music on his parents' turntable and always had a special attachment to music. In 2011, he took it a step further with his first business partners, Bradley Ellison and Adam Kent, and established Retrofit Records.
Bines initially ran a booking and promotions company for touring bands, connecting them with venues around town. Ellison worked as music director at Florida State's V89 radio station, where he would feature and interview Bines' upcoming artists.
"The original idea was to open a venue with a record store within it, like a pop-up shop," Bines said. "Well, we're in Tallahassee; there aren't going to be awesome bands coming through every night, so let's figure out another stream of revenue."
Vinyl Fever was one of the last record shops in town before it closed in 2010, leaving thrift stores and secondhand shops as the only places to buy vinyl. The trio altered their original plan of a record store by day and music venue by night and decided to emphasize vinyl sales.
"There were a couple places … where you'd walk in and all they have is used records and their kind of beat," Bines said. "But none of those places sold new records at all, so I was like, 'There's got to be room for a small shop to be able to provide brand new music that has come out on vinyl.' "
Today, big department stores such as Best Buy, Barnes & Noble and Urban Outfitters offer newly released music on vinyl. This wasn't the case back when Bines began Retrofit.
"There really has been a resurgence," Bines said. "Like, when you start seeing department stores and big box stores start to sell records when they haven't sold records since the '70s or '80s."
VIDEO
In the age of on-demand, movie streaming and Redbox video rentals, Tallahassee appears to be home to one of the Southeast's last video rental stores: Cap City Video Lounge.
Created by Kevin Cole, Cap City began as an attempt to further a passion and to fill a void.
"It's something I really believed in," Cole said. "Coming into a store and looking at movies and discussing them, it was terrible watching it die out."
Cole worked at Video 21, a Tallahassee video rental store up until its final year about five years ago. Cole said the closing of Video 21, and of Miracle 5, a former art house theater on Thomasville Road, inspired him to create Cap City.
"That gave me the idea of opening a one-screen theater, making it a movie rental store as well and creating a communal space for movie fans to get back together and bask in what we love," Cole said.
Cap City Video Lounge opened toward the end of 2016 and has since been a staple for film buffs and movie enthusiasts looking for people with shared interests.
You'll find walls filled with an eclectic assortment of movies old and new, with an otherwise humble and quirky interior.
Cole's inventory largely stems from his own collection from which friends would borrow.
"I decided a lot of times movies would be sitting there and collecting dust. What's the point of that?" Cole said. "So really we transplanted our living room into a business and moved all of our movies into the store."
Cole receives a variety of donations, from DVDs to Blu-rays to VHS tapes. He said it largely comes from people going digital and trying to clear out space.
Cole said his clientele mainly consists of students, though he gets customers of all ages.
"It's really cool seeing people looking through older films and talking about what they've heard or where they saw it for the first time," he said.
Previously located across from Tallahassee Community College on West Tennessee Street, Cap City Video Lounge recently moved into Railroad Square. And with that came a change in the business model.
Cole said Cap City has begun showing first-run independent movies, "stuff that the AMC or Regal just won't show."
As part of its new model, Cap City first showed IFC Midnight's "The Wind." The film's writer, Teresa Sutherland, and producer, Christopher Alender, hail from Florida State.
Cole also shows cult classics and other retro films such as "Videodrome," "Ms. 45" and "Something Wild," the latter of which was filmed in and around Tallahassee.
"It's a totally different experience than sitting home by yourself with a remote control," Cole said. "When you come to Cap City, you are actually hanging out with a bunch of like-minded people."
COMIC BOOKS
Young or old, the comic industry can be anything you want it to be.
"It crosses over into anything you can imagine. You name it," said Mark Wilkens, who opened Fallout Comics six years ago.
Fallout Comics offers comic books past and present, poster books and even board games.
A frequent customer, John Roberson, said his love for comics started when he was growing up and would visit comic book stores.
After moving to Tallahassee for school, he discovered Fallout Comics and a new interest in tabletop games.
"I come in for comics but end up walking out with the new Warhammer models," he said.
Less than three miles away, you'll find Cosmic Cat Comics. When you walk into the store, you see only a small portion of what owner Ned Stacey has up for grabs.
Stacey keeps most of his stash in a warehouse behind the store. From here, he ships comics to the online market and thereby combines the digital age with a more traditional one.
Some say that the digital age has benefited the comic book industry.
At Fallout Comics, Wilkens says he thinks comic books have flourished from movies such a Marvel's "Avengers."
"It truly expands the awareness of comics," he said. "You have your hardcore comic lovers who are the ones who have been doing this for a long time, but then with this new awareness, you get a newer audience."
PROMOTIONS
Fallout Comics promotes events such as National Free Comic Day and Comic Fest, where you might see people in costumes of their favorite characters. To ramp up interest for kids and their parents, Wilkens has even displayed a life-size R2D2.
"It's really a way for all to participate and it allows us to give back to the community," he said.
For vinyl records, independent stores aim to amplify the resurgence through the annual National Record Store Day.
Retrofit Records typically promotes the day — in April each year — with DJs, free food and live entertainment. And owner Bines said the line extends out the door.
"It sheds a light," Bines said. "It's a fun day to celebrate independent brick and mortar record stores around the country and around the world."
This year, National Record Store Day generated 827,000 vinyl record sales in the U.S. for the week, according to Nielsen Music. That marked a record for the week.
"There's part of it that is probably a trend," Bines said.
But perhaps it's more than that, he suggests. "I think we are also going through another renaissance age of creativity in music and culture."