Cap City Video Lounge Celebrates Tallahassee's Weird Side
A home for film lovers, but also people who like the weird stuff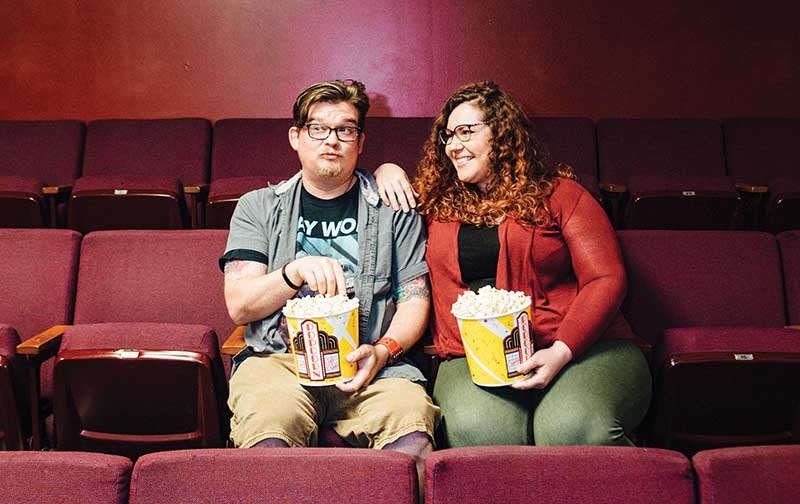 In the 1990 horror/comedy film "Troll 2," vegetarian goblins try to change a family into vegetables in order to eat them.
Despite the name, "Troll 2" is unrelated to the more popular film, "Troll"; distributors merely hoped to market the film as a sequel.
"Troll 2" is widely considered one of the worst films ever made, and Kevin Cole loves it.
The West Tennessee Street video rental store and movie theater Cole runs with his wife, Qas Jordan, is dedicated to "the stuff you can't find anywhere else," films he calls trash or weird cinema.
Films like "Troll 2."
Cole worked at the now defunct rental store Video 21 for years and curated weekly trash cinema nights at Bird's Aphrodisiac Oyster Shack before opening Cap City Video Lounge in December 2016.
For the record, his favorite movie is the 1969 drama classic Midnight Cowboy"; Jordan is a fan of "Harold and Maude" and "Exorcist III."
Asked for a more complete definition of the hard-to-describe "trash" genre, Cole listed a few adjectives: unique, entertaining and endearing.
"It's the thing someone poured their heart into and really wanted to work, but (the film) didn't necessarily take."
You'd be surprised who likes trash cinema, he said. "We get everybody. They hear about us through word of mouth or Facebook. For the most part, it's word of mouth — people want to share Cap City Video Lounge."
Cole and Jordan moonlight at the business after full days at other jobs, renting VHS, DVD and Blu-rays — a combination of Cole's personal library and donations from film aficionados with no more room to store prized DVD collections.
They screen double features, triple features and Saturday all-day marathons in a comfortable theater with a high-definition projector, professional sound system and seats trucked north from a Hialeah church.
"We get a lot of people who bring dates here. It's always the horror movies, the fright flicks. You bring a girl or a guy to a scary movie, it brings you closer," Cole said.
A relatively cheap date option, Cap City Video Lounge charges from $1 to $3 for movie rentals, and screenings run a $5 donation per person.
The venue also does a brisk business renting out the screening room for private parties at the very reasonable rate of $1 per minute; guests bring their own refreshments or buy buckets of popcorn popped in sweet coconut oil, or dill pickles and Slim Jims.
Cole said that for an upcoming birthday party, a girl turning 12 planned to screen "UHF" by "Weird Al" Yankovic. "'UHF' was Weird Al's only film," Cole continued, seemingly impressed by the birthday girl's choice.
Kids' parties are popular, but Jordan listed other options: bachelor and bachelorette parties, baby showers, organizational fundraisers, student film showings, professional photo shoots, burlesque auditions — even video game marathons on the big screen.
"Our first party was kids who wanted to play Donkey Kong, a week after we opened," she said. "We can keep it as crazy or as clean cut as you want."
The screening room has doubled as a stage — hosting, for example, rockabilly group The Living Deads and Snailmate, a band Cole classifies as hip hop techno; a monthly live comedy show on Sundays, Bitches Love Brunch; punk and indie karaoke; and Trivia and a Movie.
Originally from Winter Haven, Florida, Cole moved to Tallahassee in the second grade.
He said he's since left half a dozen times, but that local businesses like Video 21, the Miracle 5 movie theater, and record store Vinyl Fever — all closed — kept him coming back.
He wants Cap City Video Lounge to be that kind of place for other people.
"This is a home for film lovers, but also people who like the weird stuff," Cole said, walking past posters for "Prince of Darkness" and "They Live" signed by one of his filmmaker idols, John Carpenter.
"You go to the movies, and there's a ton of Marvel and Disney, but where are you going to see 'The Stuff,' directed by Larry Cohen, about a sentient ice cream cone that eats people? You have to seek it out."
2790-2 West Tennessee Street | (850) 765-0147