Have A Sip At The Lounge at Market Square
In the search for innovative libations one found a small flight of ecstasy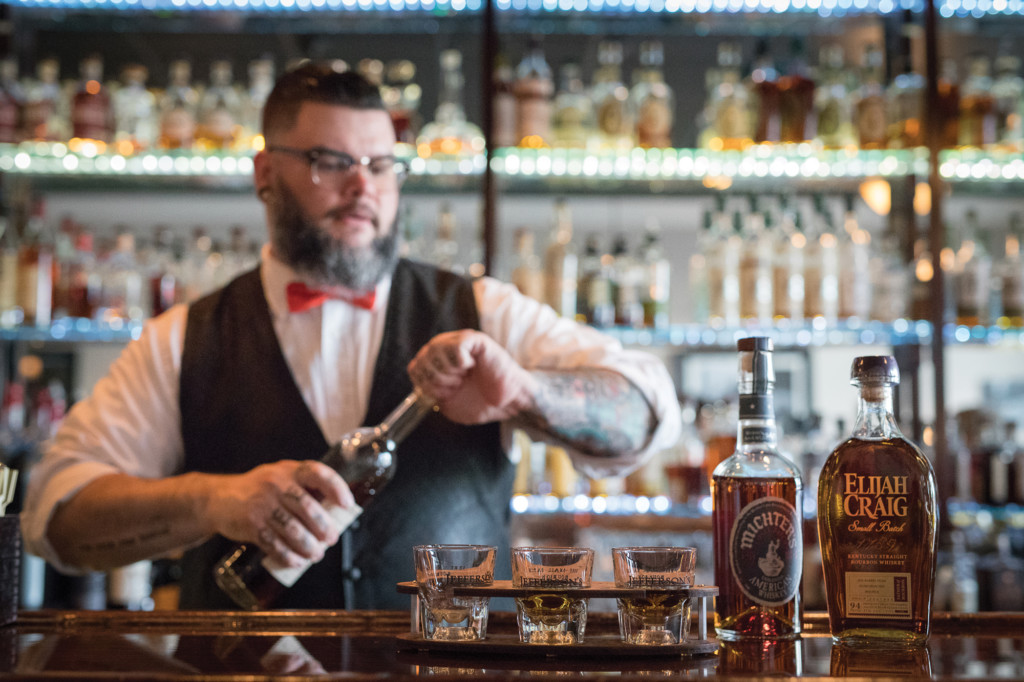 The Libations Research and Recovery Team takes pride in sharing our favorite places for innovative cocktails. Alas, our reporting leads to throngs of curiosity seekers, forcing us to seek less-popular places to slake our thirst.
As Yogi Berra once quipped: "Nobody goes there anymore. It's too crowded."
That said, we urge you to stop reading now so you never learn about one of Tallahassee's most precious libational gems: The Lounge at Market Square.
"We can handle all the standard recipes, but we love to do variations," bartender Adam Hanley tells us.
"We really enjoy making something unique, something special for one person based on their tastes and interests."
A veteran of a dozen years behind the bar, Hanley learned his craft at Waterworks before he settled into his slot at The Lounge.
"But the main focus here is on individual spirits. We have things that are pretty hard to find."
Such as?
"We have a Pappy van Winkle 12-year-old that is pretty rare," Hanley said. "And the Jefferson Presidential is almost impossible to find."
"We get to touch all the bottles," said bartender Dana DeToro, who recently joined The Lounge after creating the superb craft cocktail program at Liberty Bar.
The Libations team usually searches for mixological concoctions beyond our imagination. Our heroes at The Lounge are more than up to that challenge, but their unique offering is a carefully curated flight of spirits.
Just like beer flights common at Tallahassee's finer hop-and-barley joints, The Lounge lets discerning sippers sample three or four whiskeys, rums, tequilas and such.
Our spirit guides can conjure up a flight of anything you desire, but fair warning: If you request flavored schnapps or the like, you may endure some gentle mockery.
So in the spirit of things, we turned ourselves over to Adam's imagination. We gazed into sparkles of varicolored bottles, glitters of light flung like spangled coins across glass geometries that would have puzzled Euclid.
People down the bar goggled a televised sporting contest. To each their own.
It is a cozy joint, with four high-top tables for four and room for a dozen people at the polished wooden bar.
Notable in the ambiance: the absence of canned music dialed to stun volume. Just the murmur of conversation and the occasional tinkle of ice against glass, chamber music of the gods.
Our reverie broke when Hanley delivered a wooden rack of three amber-filled glasses, their bottles of origin lined up neatly behind.
"From your left: Elijah Craig Kentucky straight bourbon; Michter's American Whiskey, unblended; and the latest Midwinter Nights Dram, a hard-to-find rye whisky blend aged in port wine casks."
Stanwyck and I set to sipping. A little of this, some water to cleanse, a little of that. A wide range of aroma and flavor seemed to shape-shift as different spirits danced on our tongues. We came to agreement: The Midwinter Dram is just the thing to cozy by a fire, but Elijah Craig won the day with a classic Kentucky style.
"That is not the standard Craig," Hanley said. "Every so often, a group of us visits distilleries. We sample from a bunch of different barrels, and when we hit the one we like best, they bottle the whole cask just for our store."
A notation on the bottle confirms:
MSL Barrel Team Hand Selected 2018 Pick
This is not your daddy's Elijah Craig. Unless he shops here.
A flight is roughly equivalent to two standard drinks, so pace and discretion are paramount. Sip, savor and contemplate. But please. Do not tell anybody else about The Lounge. We beg you.