Guava Jelly and Hushpuppies
Odd coupling hits the spot around the Big Bend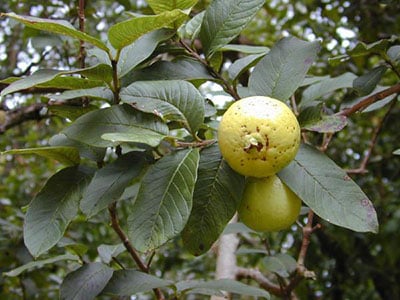 It's been scalding and you're scorched. The summer sun has turned your old dogs to frankfurters, and you roll down your window to admit a welcome evening breeze. A sweet and briney aroma invades your consciousness. An old seafood shack lies ahead. It's dinner time.
Numerous roadside eateries dot the Econfina and Steinhatchee river watersheds. Day-tripping visitors to the region from Tallahassee and the Panhandle most often depart their homes before daybreak with fishing on their minds. But once their limits are on ice, they would do well to stick around for supper. They'd find that the locals do things a bit differently. 
Big Bend natives have a peculiar tradition when it comes to seafood's favorite sidekick, the hushpuppy. Few choose to eat them plain. Georgians may prefer them with house-made remoulade, while Alabamans may slather them in tartar sauce. Everyone loves ranch dressing, and others may favor an herb or citrus aioli. But ask the Taylor County gentleman in the booth across the way, and he is likely to tell you that only guava jelly will do. 
Yes, guava, the tropical fruit, common to Cuban pastries and described by some as tasting like a combination of strawberry and pear. Nobody knows just how guava got hooked up with hush puppies. Maybe divine intervention was involved.
In Steinhatchee, Fiddler's is among the establishments that dole out guava jelly with hushpuppies. At Deal's Famous Oyster House in Perry, you'll find a bottle of the house-made goop on every table. Still, owner Zodie Horton, who was a server at the restaurant for years before making the operation her own in 2009, isn't sure where "guavapuppies," to coin a term, originated.
"I've always known it as a Taylor County thing," Horton said with a laugh. "We opened in 1961, and it's been on the menu ever since."
Guava is native to the Central American tropics. It has been cultivated in Florida since the mid-1800s, records suggest. By the turn of the century, the gnarled trees were widespread throughout Central and South Florida. My mother remembers how excited her grandmother would get when family visiting from downstate arrived with a truckload of guava jellies and paste.
Not every Big Bend eatery is like Deal's, of course. You may not find the tangy preserve sitting alongside the ketchup and cocktail sauce, but it's worth asking your waitress if she's got any guava jelly lying around. The first taste just might bring a crooked smile to your face.