SIGNING OFF
Sports broadcaster Gene Deckerhoff looks back on storied career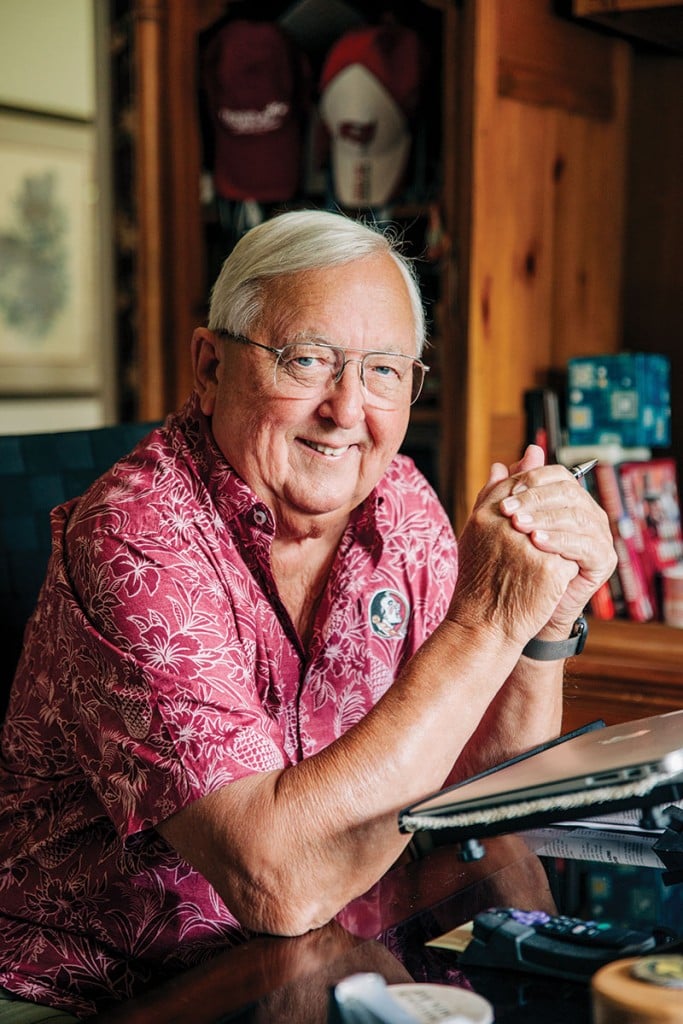 Gene Deckerhoff could move about Tallahassee unrecognized — if only he'd learn to keep his mouth shut.
His voice gives him away.
For generations, Deckerhoff has been synonymous with Florida State University sports. Earlier this year, he announced that he was retiring as the Seminoles play-by-play man after 48 years.
That's 48, not 43. Deckerhoff is quick to clarify that number. While most associate the 77-year-old with his 43-year tenure with FSU football, Deckerhoff got his start broadcasting Seminole basketball five years earlier. Deckerhoff has also been the voice of the Tampa Bay Buccaneers for 34 years and plans to retire following the 2022 season.
"To me, the basketball years are a big part of my career at Florida State," Deckerhoff said. "I'm a basketball Jones. I played basketball and scored 32 points against Lake City High School. It got me a college scholarship to play junior college basketball."
Even after a beloved career filled with awards and recognition, Deckerhoff holds his record-breaking high school game as one of his most noteworthy achievements. He's proud of the other achievements, too. Deckerhoff was inducted into the Florida Sports Hall of Fame in 2000, Florida State University Athletics Hall of Fame in 2002 and Florida Community College Activities Association Hall of Fame in 2004. In 2013, he received the National Football Foundation's "Chris Schenkel Award" and has been named Florida Sportscaster of the Year 14 times by the National Sportscasters & Sportswriters Association. The list goes on.
"Coach Bowden used to tell me, 'Gene, if you're in halls of fame, that means you're getting old,'" Deckerhoff laughed.
Despite his age, Deckerhoff exudes the same youthful, excitable energy that has kept fans on the edge of their seats for decades. One might suspect Deckerhoff's characteristic announcer voice is an affectation. If so, it is a tough one to shake. In casual conversation, his voice is more relaxed, but even still, it maintains a certain grandeur. Listening to him recount an endless stream of game-time highlights and behind-the-mic stories, one cannot help but hang on every word.
When asked where he was first bitten by the broadcasting bug, Deckerhoff had no clear answer. Despite an encyclopedic knowledge of every FSU football and basketball game to occur in the last half-century, he has some trouble pinning down this pivotal moment.
It may have started in high school when Deckerhoff manned the PA system at his brother's football games, or it could have been in the summer of 1962, when he and a friend rode his motor scooter some 22 miles to the 95.1 WAPE Jacksonville radio station to represent his high school as student council president. Whatever the exact moment, there is no debate as to when his career began in earnest.
After his freshman basketball season at St. Johns River State College, Deckerhoff was approached by the program director and play-by-play sports announcer for WWPF – Palatka, John Tilghman.
Gene, I know you're on the debate team, so I know you can talk. Have you ever thought about getting into the radio business?
Deckerhoff never hit the court his sophomore year. Instead, his part-time summer gig at the radio station became a full-time job. From then on, Deckerhoff was a radio man, covering sports from Palatka to Gainesville, and eventually, Tallahassee and Tampa.
Back in '74, when Deckerhoff first took the mic for Seminole basketball, there was no Donald L. Tucker Civic Center. The team played in Tully Gym, a much smaller court with a crow's nest big enough for Deckerhoff and his co-host Ed Littler, but apparently not big enough for air conditioning. Those early years hold a special place in Deckerhoff's heart.
"It was hot in that old crow's nest, but those were great times," Deckerhoff said. "In 1980, I saw a guy by the name of Les Henson throw up a shot after a missed free-throw for Virginia Tech from 93 feet away and make a basket. A couple of weeks later, the Memphis State head coach got upset with the officiating and walked off the floor. The official told him that if he didn't come back, he would be forfeiting the game, and he said, 'Do what you have to do.'
"I'll never forget the late Bill McGrotha from the Tallahassee Democrat who wrote that they should never tear down Tully Gym. They should take it apart piece by piece and send it to the Smithsonian Museum in Washington, D.C."
During his tenure with the Seminoles, Deckerhoff witnessed, and announced, some of the most iconic moments in Florida State history. He was there in '78 for the first year of Renegade and Osceola. In '79, he announced Bobby Bowden's first 11–0 regular season with binoculars in one hand and the mic in the other. He brought Burt Reynolds, a former FSU footballer himself, into the box for many half-time announcements. Reynolds' star power proved to be quite a spectacle for FSU fans who, according to Deckerhoff, lost all interest in the halftime show when Burt was in the box.
Over the years, a friendship grew between Reynolds and Deckerhoff, so Deckerhoff went out on a limb.
"I sent him a note saying, 'I had an idea that you could help coach Bowden's television show,'" Deckerhoff said. "Burt sent me a letter back, I wish I knew what happened to it, but it was on Bandit stationery, and he said, 'Whatever Coach Bowden needs, you just let me know, and I'll do it.' "
For the next 26 years, Reynolds made annual appearances on Bowden's show. Bowden and Deckerhoff would meet him in Atlanta, Jupiter, Hollywood or wherever his next movie was filming.
To this day, Deckerhoff maintains that his longtime friend and head coach of the Florida State Seminoles football team, the late Bobby Bowden, was one of the finest people he has ever known. In many ironic and, at times, confounding ways, Deckerhoff and Bowden's careers seemed to mirror each other. When Deckerhoff and his wife Ann moved into their first Tallahassee home, a next-door neighbor mentioned that the house's original owner, Robert Bowden, was coaching football up in West Virginia. The two worked in tandem to produce Coach Bowden's television show, and when the Buccaneers reached out to Deckerhoff about announcing their games, Bowden agreed to shoot the show in the middle of the night, giving Deckerhoff time to hop on a plane to wherever the Buccaneers would play next.
"He was the most incredible human being I have ever been around," Deckerhoff said. "I look around, and almost everything I have here in my office has something to do with Coach Bowden. I have every one of his books, I have the movie they did and I got to live that experience, you know? It's the highlight of my career."
Needless to say, Deckerhoff hasn't had a fall weekend off in nearly 50 years. He and Ann spend their weekends jet-setting around the country and beyond balancing their time between the ACC and the pros. Between the flights, drives, games, television shows and countless hours of preparation, Deckerhoff has given the best years of his life to the fans. Now, it's time for a few vacations.
"People kept asking when I was going to retire," Gene said.
Not long ago, Gene ran into Morris McComb at an FSU basketball reunion. McComb was the assistant coach to Hugh Durham
when Deckerhoff first started broadcasting basketball for FSU and could not believe he was still taking the airwaves.
"I always just say, 'You know, God is going to tell me when it is time to hang it up,'" Deckerhoff said. "It's not like I'm shuffling my feet right now, but I'm not running sprints anymore either. It was a tough call, but it was time."
With his schedule opening up post-retirement, Deckerhoff says he hopes to make some longtime dreams come true with his wife — like watching the leaves change in the mountains — and it's about time, he says, they make that trip.