For the Run of It
Local marathoners offer tips for beginners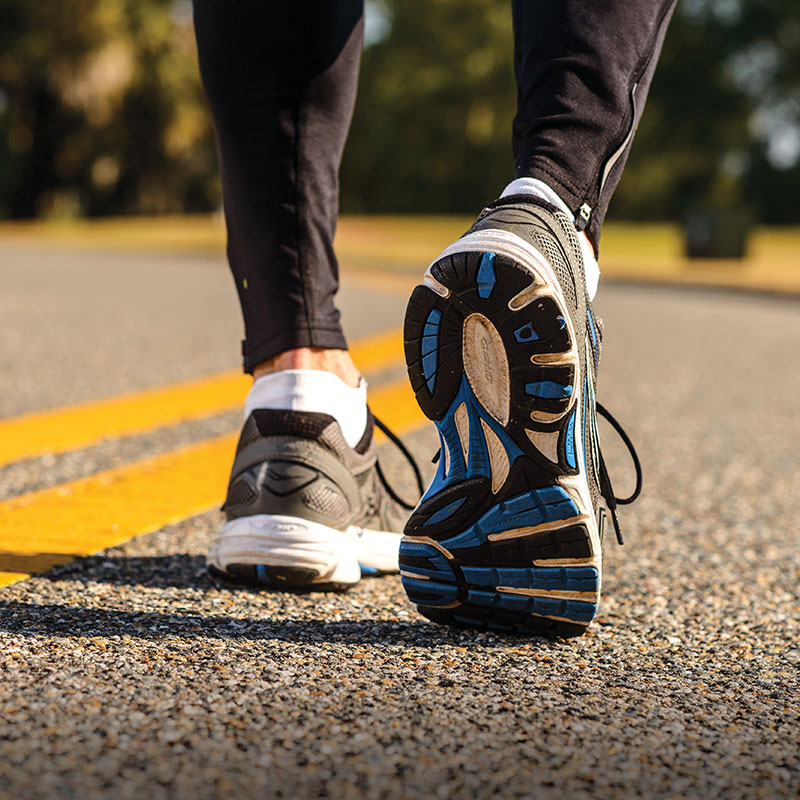 So you've set you mind to it: You're going to run a marathon.
Now that you've mustered up the nerve to run the race, what's next? Maybe you are not an active runner, or you haven't hit the track since you were in high school. No big deal, right? It's just you, a pair of running shoes and the open road.
Not so fast. There's a science to running and to preparing yourself for running long distances, whether you choose to begin with a half marathon (13.1 miles) or a full marathon (26.2 miles).
The first thing you'll want to do is visit your physician for a complete checkup and to receive his or her approval to start a training program — because that's the next step. Since each person's body reacts differently to training, programs vary.
The team at Runner's World recommends that you keep a training log, which should include your daily mileage, run times and notes on how you felt. They also suggest that beginners increase their weekly mileage by 10% and run 3-4 days per week at varying distances.
For Jonathan Manry, owner of Capital City Runners, the key to running involves building a solid foundation through long, slow runs, which increase cardiovascular stamina. He stresses the importance of focusing on proper form and technique while running. Wearing the right footwear doesn't hurt, either.
Manry says that anyone who wants to run a marathon should give themselves about six months to train, since the body can take two to three months just to get acclimated to running long distances.
"You need to give yourself time to get used to the physiological changes that are going to take place," he says. "You really need to get used to being on your feet for long periods of time."
Felton Wright ran his first marathon at the age of 17 and has been running ever since. At 59 years old, Wright has been running for more than 40 years and has run a marathon in 31 of the 50 U.S. states. He has run the Tallahassee Marathon more than 20 times and is a three-time winner.
But for those runners who are training for their first marathon, Wright recommends finding a running group or partner to train with. He also suggests that you begin your training in the fall or winter, when the weather is cooler.
"You have to make it fun, though," he says. "Running is a social sport; I've met so many friends and great people." »
The name "Jeff Galloway" rings a bell for most people in the running world. Wright said Galloway once gave him a great piece of advice that he still follows to this day: "Make your first mile your slowest, because you still have 25 miles to catch everybody," Wright says. "There's a lot of sense in that."
There are many health benefits to running, but it's important to heed the advice of your physician and training partners. Be sure to start off slow and build up to that 13.1-mile or 26.2-mile goal.
And remember to have fun while you are doing it!
Both Capital City Runners and Gulf Winds Track Club can help you find the training group that meets your needs and schedule. See capitalcityrunners.com and gulfwinds.org for a complete list of running groups in and around the Tallahassee area.
---
Tallahassee Marathon
The 43rd annual Tallahassee Marathon hits the streets Feb. 5, 2017 at 7:30 a.m. The race course has been updated to include a pedestrian bridge in Cascades Park that will lead runners onto FAMU Way. In keeping with tradition, the finish line will be in the heart of downtown at the permanent finish line on Duval Street, in front of the Kleman Plaza. The non-profit race will benefit Gulf Winds Track Club and the Hang Tough Foundation. Use the hashtag, #OWNTALLY, to join the conversation about the Tallahassee marathon. For more information about the event, visit tallahasseemarathon.com.
Marathon Man
---
Mickey Moore on hitting his stride
Mickey S. Moore, 46, pictured on the cover of this edition of Tallahassee Magazine, is the president of the Tallahassee Memorial HealthCare Foundation and an elite marathoner — which is to say that he is an excellent manager of time. He created a few minutes to spend with Tallahassee Magazine editor Steve Bornhoft, and fielded a few questions about his passion for putting one foot in front of the other.
Personal Best Time in a Marathon: 2 hours, 57 minutes, 4 seconds
Running History: I ran track in junior high, but I quit in high school because I wanted to play the cool sports — baseball and football. I didn't run at all from 1989 to 2007, and when I started back, I could only run a mile or two.
Miles Run Each Week: Thirty-five to 45. I vary the intensity. I'll do tempo runs, intervals and easy short and easy long runs. Mondays and Fridays are my off days.
Changes to Your Weekly Routine as You Approach a Race: I begin my taper three weeks out, scaling back my miles by 25 percent each week.
Your Diet: I run to eat and eat to run, but I avoid fast food and soft drinks entirely. For 30 days leading up to a race, I stay away from red meat and focus on lean proteins, vegetables and fruits.
Vices: Nobody is going to take my craft beer away from me. But hard liquor, I limit that to maybe two tailgates a year.
I wouldn't be the same runner if it were not for … my running partners at the Gulf Winds Track Club and the community that I am a part of.
Many runners tend to overlook … the mental aspects of running. When you taper, you can experience pain, but that's your body trying to heal. You need to understand what's going on and work through that.
Shoes: I train in Saucony's and go through three or four pairs of those a year. My race day shoe is the adidas adizero.
Advice for Beginners: Get your gait down, get the right shoes for you and Google "running."
Goals: I have run the New York and Chicago marathons in less than three hours. I've run the Boston Marathon twice, in 3:04 and 3:11. I'd like to run a sub-three Boston.