Emerson is Pullen Through
Tallahassee girl is thriving following surgery to repair holes in her heart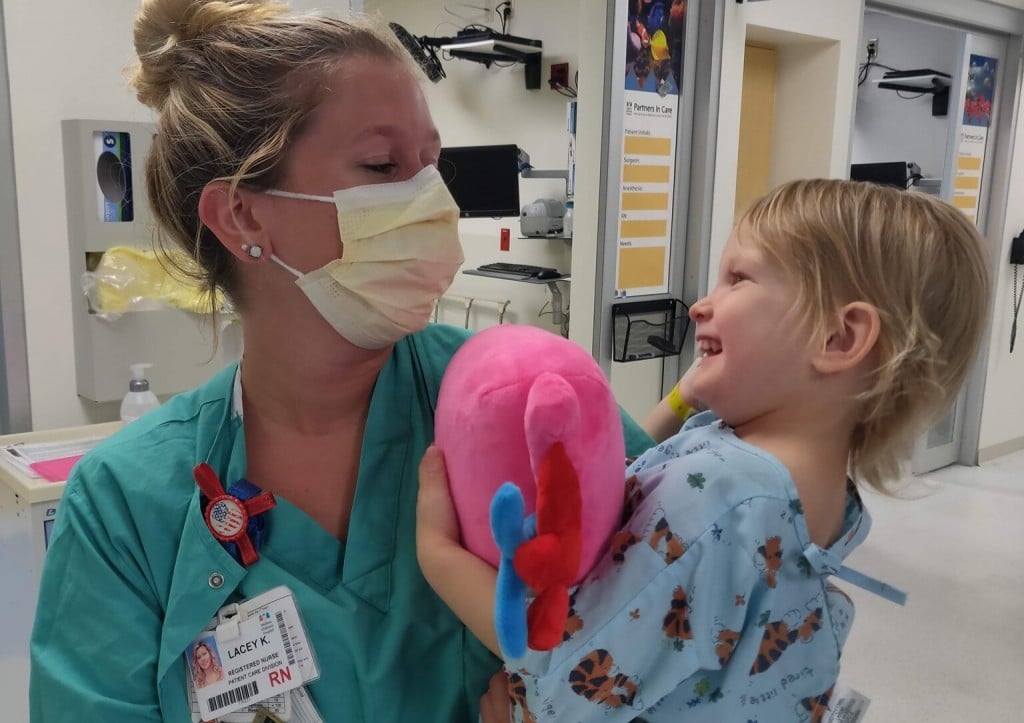 At first glance, Emerson Pullen is much like any other toddler.
Hallie Pullen, mother of the 3-year-old Tallahassee girl, said she's a "chatterbox," loving nothing more than playing dress-up and spending time with her dolls and stuffed animals.
But Pullen has struggled with a congenital heart condition that impeded her growth, and required monthly check-ups and, ultimately, open-heart surgery.
Born in July 2017, at Tallahassee Memorial HealthCare (TMH), Emerson showed signs of a heart murmur during her first days in the nursery. As a precaution, her she was referred to Dr. Justin "Mac" Vining, a board-certified pediatric cardiologist with the Wolfson Children's Specialty Center at TMH.
"I ordered an echocardiogram to rule out the possibility of congenital heart defects," said Vining, "and, in Emerson's case, her murmur was coming from a ventricular septal defect (VSD)."
VSD is a condition in which an irregular opening occurs in the ventricular septum or "wall" separating the two lower chambers of the heart. When this barrier is compromised, oxygen-rich blood mixes with oxygen-poor blood and pumps excess blood into the lungs, causing the heart to work twice as hard.
Vining identified a small hole in Pullen's ventricular septum, and the noise produced by blood pumped through it, as the source of her murmur. VSDs, when large enough, can lead to congestive heart failure. But Vining said these holes can close themselves and do not always require urgent surgery.
"Since Emerson's VSD was not the size of one that needed immediate closing, we decided to monitor her," he said. "So, I would see her every couple of months up until she was 2, and I determined it was time to start talking with her parents about surgically closing the VSD."
Vining said the left side of Pullen's heart had enlarged, and her pediatrician had noted she was slow to gain weight. He referred the Pullens to Dr. Michael Shillingford, chief of pediatric cardiothoracic surgery at Wolfson Children's Hospital in Jacksonville and a faculty member with the UPMC Children's Hospital of Pittsburgh. Wolfson Children's Hospital is a member of that hospital's Heart Institute Network, providing top-ranked, specialized pediatric cardiac care for children in North Florida, South Georgia and beyond.
"Our family had been praying for Emerson's heart to heal on its own, but we were grateful to learn Dr. Shillingford would be performing her surgery," Hallie Pullen said, according to a Wolfson Children's Hospital press release. "My great uncle is a retired surgeon, and he told us that Dr. Shillingford would be the best if surgery was required. So, that news in itself was an answer to our prayers."
Shillingford told Hallie and husband, Jeff Pullen, that he recommended an exploratory heart catheterization procedure, followed by open-heart surgery to effectively seal their daughter's VSD.
Such surgeries have been around for over 70 years. "One of the very first open heart surgeries on a child, performed in 1954, was a VSD surgery and, today, they have a 99 percent success rate," Vining said.
Last August, Dr. Robert English, a pediatric interventional cardiologist with Wolfson Children's Hospital and the University of Florida College of Medicine, performed Pullen's heart catheterization, guiding a thin, flexible tube through a large vein in her leg to her heart.
During the procedure, English discovered Pullen's heart was in worse condition than anticipated. A second hole was discovered between Pullen's upper chambers and was identified an atrial septal defect (ASD). Too, her tricuspid valve, which directs blood flow through the heart, required repair.
"In many cases, an ASD can be repaired during a cardiac catheterization procedure," Shillingford said. "Because Emerson's case was more complex, the cardiac catheterization was performed to provide a more thorough evaluation of her heart prior to surgery."
Five days after Pullen's catheterization, Shillingford performed open-heart surgery at Wolfson Children's Hospital in Jacksonville to seal both holes and fix the tricuspid valve, which may have become damaged when Pullen's body attempted to close the VSD on its own.
Vining said, on average, post-op recovery for any pediatric open-heart surgery runs five to seven days.
Pullen was back at home in Tallahassee in a mere two.
"She is a completely different child," Vining said of Pullen today. "She's always been very charismatic. But, she's so friendly and interactive, you'd never know she has a heart condition unless her parents told you."
At this writing, Pullen is in full recovery and has returned to pre-school. An echocardiogram administered at her first post-op follow-up appointment with Vining revealed that the heart enlargement had been resolved.
Vining said it's a common misconception that, after open-heart surgery, the organ is completely healed with no potential for recurring problems.
"At a minimum, I see patients born with these defects once a year," he said. "So, when I start a relationship with a family like the Pullens, they are going to know me for life."
Yearly appointments will assess different risks as Pullen matures. She may wish to play a school sport, and Vining can help determine which activities are safe. She may wish to one day become a mother, and Vining may assist her through that experience.
Vining spoke to Pullen in early February via Zoom.
"She is thriving," he said.