Earlybird Exercise
The Joys of Earlybird Exercise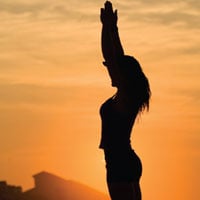 Photo by Scott Holstein
Doing a yoga Sun Salutation first thing in the morning, or whatever exercise you prefer, is a healthy way to start your day.
I've always PracticeD a healthy lifestyle. Physical exercise brings health benefits to my life, and I enjoy it. But many days other things in life would unexpectedly arise, and at the end of the day, I hadn't worked out.
I found myself missing multiple workouts a week because I was staying late at the office or going on a date with the boyfriend. I decided if being healthy was a high priority in my life, it was time to make some changes. My solution? Work out in the morning.
I had the resolution; now I needed to find a way to make it happen.
I usually woke up around 7 a.m., so adjusting my routine to get out of bed at 5 a.m. wasn't easy. In the beginning I failed, because a couple more hours' sleep seemed more important. Comfortable in my bed, I'd tell myself, "I'll just work out tonight, no problem," but … . Well, you know how that turned out.
Will power and desire were not enough to get me to fulfill my commitment and change my routine. I had to take control of influences that got in the way of reaching my goal to become a morning exerciser.
Here's what helped me:
Start small and build on it. In the beginning, I decided I would work out early once a week and made Monday my morning exercise day.
Sometimes, the hardest part of a morning workout is just getting out of a nice, warm bed — so it's very important to get enough sleep the night before a morning workout. I found I needed a bedtime of 10 p.m. — at the very latest — in order to be up and at 'em in the morning.
Next, make a commitment to someone else; let a handful of your family and friends know you'll be exercising in the morning. For me, being accountable and having support were very helpful. There are many different options to help with accountability, whether you pre-pay for a morning class, make a plan to meet a friend or join a local morning exercise club or run club. Having one or more people who rely on you to show up is important.
Whether it's a run, walk, class, video or other type of workout, be excited and have fun. I look forward to my morning exercise now. In the beginning I would tell myself, "I can't wait for my class in the morning!" It wasn't necessarily true, but like they say, "fake it 'till you make it." It's important to find an exercise you enjoy doing.
You'll find, just as I did, that exercising in the morning has many great benefits. I was able to get my exercise in at the beginning of the day before life would get in the way. I had more energy throughout the day and kick-started my metabolism. Studies show morning exercise increases your metabolism, burning more calories throughout the day.
I also found starting this healthy habit led to others. When I exercised in the morning, I would eat healthier throughout the day, and I just felt better. I was happy I had already exercised and proud of myself for doing it. All these benefits make it easy to add more "morning" exercise days. And before you know it, you'll become a morning workout person, too.
MORNING EXERCISE TIPS
Start small and build on it.
Get enough sleep the night before.
Be accountable and have support.
Get excited, and have fun.
In addition to a more than full-time job as the Marketing and Sales Manager for Rowland Publishing Inc., Burleigh also teaches at Sweat Therapy Fitness. She is certified in Fitness Anywhere's TRX Rip Trainer®, RealRyder® and PiYo Strength.