Stay Awhile and Enhance Your Curb Appeal
Simple design swaps can change the feel of a porch and perhaps a neighborhood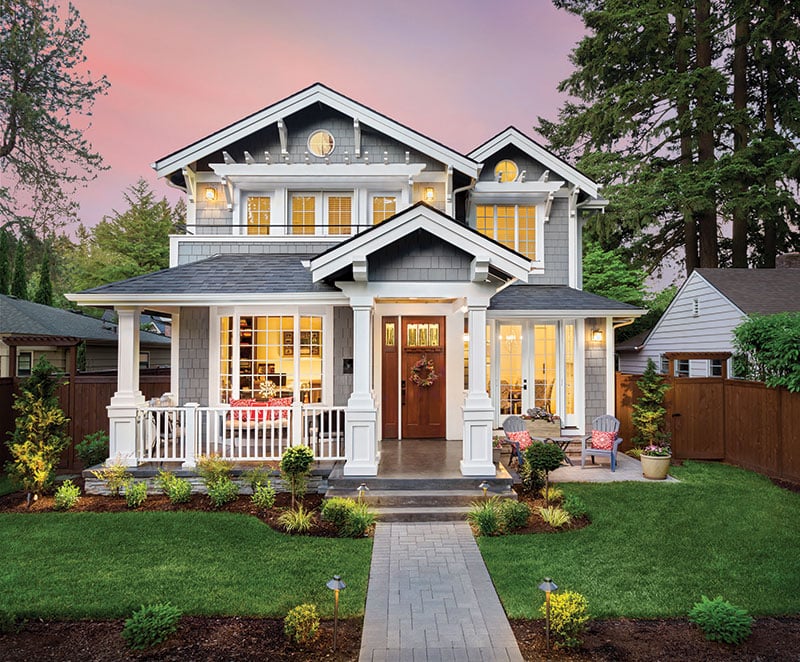 First impressions matter, and when it comes to the entrance of a home, it's like what a cover is to a book. It's the first thing neighbors and visitors see, so it's a worthwhile place to begin designing a more welcoming space. A new color for the front door, the addition of shutters, a new doorknob or house numbers are all easy starters for increasing curb appeal. Some elements, such as swapping out the mailbox, proper lighting and planters with colorful flowers on the porch, can be overlooked but add up to a major exterior upgrade.
For inspiration, do a little research by noticing eye-catching elements in the neighborhood. What houses stand out to you and why? Study the color schemes, the accessories, the walkways, lighting and plantings. Starting with the decor already in the neighborhood can be a great way to create a semblance of uniformity.
The Front Door
When it comes to the exterior of a home, nothing stands out quite like a unique front door.
Nick Eppes III of Eppes Decorating Center in Tallahassee says that homeowners overwhelmingly go for white or gray front doors, but occasionally somebody will opt for something like purple or bright orange. Eppes says they're not there to question anyone's taste but to help homeowners find the right paint and tools for their ideal design.
However, Sue Walden, director of color marketing at Sherwin-Williams, has lots of color advice.
She feels that her company's Color of 2022, Evergreen Fog, is a great front door choice. Evergreen Fog is a modern hue that adds a subtle pop of silver-green and is amazingly versatile, says Walden. It lends itself to just about any exterior style, from contemporary to colonial.
"Besides minding your neighbors' choices, consider the mood you want your door to evoke," Walden said. "If you're drawn to a bright front door, one of my favorite colors is Oceanside, an opulent, mysterious green blue that creates a bold, welcoming statement. And, of course, red and yellow doors are always welcoming. However, consider the style, color of materials, surrounding landscape and other exterior factors."
Meanwhile, the influential Pantone Color Institute, which combs the world looking for new color influences, has announced Peri as its 2022 Color of the Year. It's blue with a mauve undertone, which, according to Leatrice Eiseman, the institute's executive director, encourages courageous creativity.
Accessories Plus
Finding the right hardware for your front door — doorknob, knocker, bell, wall-hung mailbox — can transform a home's invitation. Use the same metal for all of them to maintain uniformity. Keep outdoor lighting coordinated as well. Oiled bronze goes with most traditional styles, and think chrome if your house is contemporary. Keep in mind that some hardware is designed to change appearance with wear.
Window boxes are fantastic accents. Choose copper or iron boxes for a traditional look, and painted wood boxes work beautifully for cottage-type homes. Mix and match flowers and plants depending on the amount of sun or partial shade you get and the colors of your home.
Install garden lighting for low-voltage impact while also providing security. The addition of accent lighting to a tree or illuminating a walkway are easy changes to enhance a dull-looking front yard. For the best landscape lighting, incorporate a variety of fixtures — think solar lighting it you're trying to avoid wiring.
Finally, if you have a front porch, be sure to take advantage of the elevated space. Welcome guests to pull up a chair and stay awhile. They'll love the living-room feel you have created with an area rug, pillows, end tables and lanterns. Combining curbside appeal with outdoor seating can also inspire more conversation and chats among neighbors — that's what makes a neighborhood wonderful. An inviting front porch welcomes passersby to chat and perhaps stay for a little while.