Outdoor Fabrics Go Chic
Furniture that looks like it belongs in the living room has migrated to the porch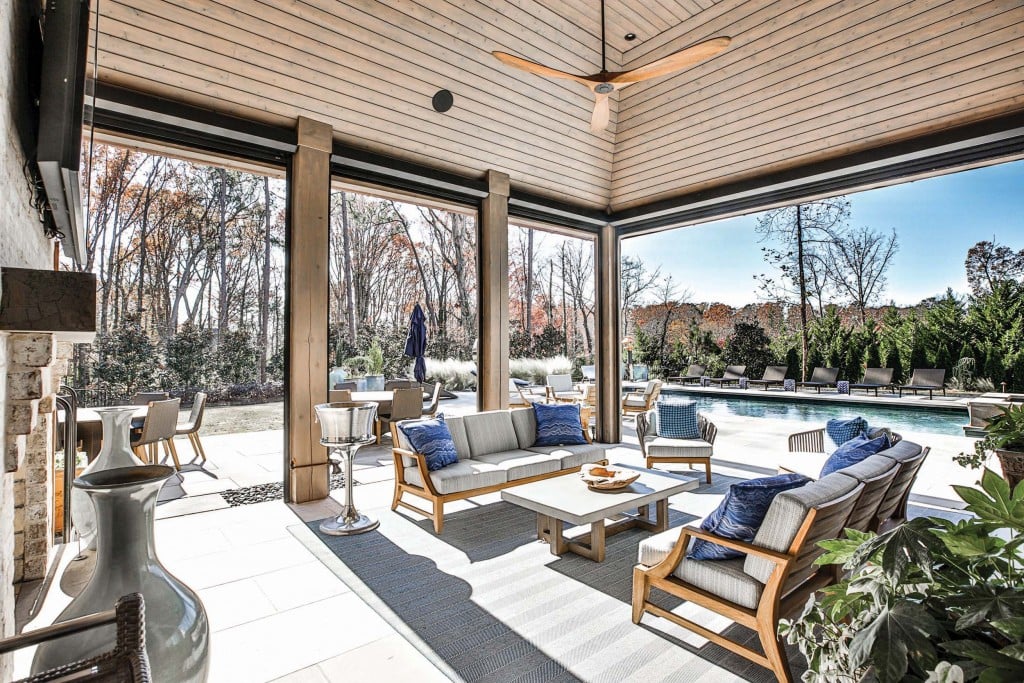 Have you ever wanted to upholster a poolside chaise in plush jacquard? Or cozy up a porch settee with velvet cushions? Well, go ahead. Now you can do it, thanks to technological advances in performance fabrics. That's trade-speak for outdoor fabrics, but interior designees say that we should actually call them indoor/outdoor fabrics.
"Those fabrics have become so sophisticated that they aren't just dressing up outdoor spaces," explained designer Ellen Sprowls, a partner in Langston Sprowls Interior Design in Tallahassee. "They have moved indoors in a big way. They have come a long way from those stiff canvas twills of not so long ago, but they are still enormously practical."
They are a blessing for anybody living with kids, pets or tipsy adults.
"Say you spill red wine on one of those multipurpose ottomans that everybody seems to have," Sprowls said. "If it is upholstered in one of these new fabrics, the wine wipes right up. Same thing if you spill anything from milk to hot sauce on the cushions of the kitchen stools."
But the popularity of the performance fabrics isn't just about functionality. Top designers like Ralph Lauren, Barbara Barry, Laura Ashley and Kelly Wearstler have jumped into the fray, coming up with stunning patterns, weaves and textures. Indoor/outdoor fabrics now appear as boucle, chenille, taffeta, linen and yes, even jacquard, velvet and raffia.
They'll fit practically any home scenario. They are naturals for dining chairs, kitchen banquettes, family room sofas, shower curtains, and, of course, cushions and pillows for lanai, porch and patio furniture. You could even find one that would be appropriate for a Louis Seize chair. A damask, maybe. Or brocade.
Fabric types abound
The variety of performance fabrics expands all the time said Patsy Scott, owner of Tallahassee Decorative Fabrics. She is also an interior designer, so she is excited to introduce area homeowners to all that functional fashion now available for rooms inside and out.
"All the fabric houses have launched or are in the process of launching an outdoor fabric line," she said. "Companies like Perennials, Kravet and Thibaut, among others, all have collections that were intended to bring interior elegance outdoors but ended up bringing outdoor durability and performance inside. Our team is especially fond of the Perennials line, which comes in an unbelievable range of designs. They have all the neutrals as well as lots of interesting patterns, from plaids and stripes to tropicals and animal prints."
However, all performance fabrics aren't created equal. Sunbrella Fabrics, for example, are 100 percent solution-dyed acrylic. The acrylic threads are dyed before they're woven, so the color is continuous throughout the fabric. This means these fabrics are colorfast, even when exposed to bleach and the harshest sun. They are treated to make them soil- and water-resistant.
Waverly is one of many companies using polyester as a base for its outdoor fabrics. Polyester-base cloths are screen-printed with dyes that are resistant to fading and outdoor elements. In addition, a water repellent guard is applied to further protect the pattern.
For all their functionality, items made from performance fabrics do need some care. Consider them to be water-resistant, not waterproof. They should be brought inside in heavy rainstorms, warns Scott. Wipe up spills immediately. Most fabrics can be cleaned with soap and water.
Decorating outdoors
Outdoor rooms are all the rage these days, but a smaller space, say a porch, modest patio or even a balcony can offer a great respite as well.
Sprowls and her team like neutral upholstery and cushions for outdoor use. She feels that flowers and greenery provide plenty of lively background, and if you really want more color, go for toss pillows.
In fact, one of the things she likes best about performance fabrics is that they make it possible to use white for upholstery, cushions and other decorative items.
Other places to use fabrics outdoors? How about tie-up side curtains for a balcony or patio? Use leftover fabric to make place mats or table runners.
And don't forget an outdoor rug to inject comfort and color. "It can complete a space," said Sprowls. "And wait till you see how many colors and patterns are available. Some come in weaves so plush you'd never believe they might well be made from plastic jugs."