Colorado in Winter
Atop skis, snowshoes and horses, guests at Vista Verde Ranch merge with nature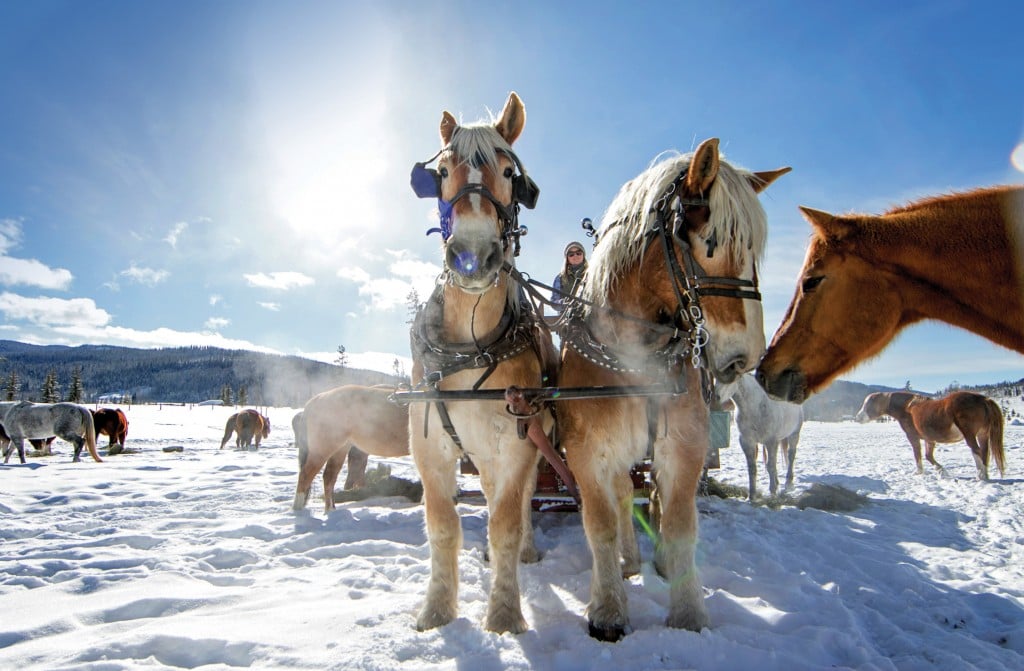 I will never forget the four days that I spent inside a snow globe. From a cozy cabin complete with crackling fire, I looked out upon impressive mountain peaks and watched as falling snow dusted mild horses.
My experience began when a ranch hand in a 10-gallon hat and cowboy boots greeted me at the Steamboat Springs/Hayden Airport. Soon, I would be introduced to Vista Verde Guest Ranch, a place that is indeed verdant and green in the spring and summer months and is equally spectacular in the winter in its coat of powdery white snow.
Vista Verde, a luxury dude ranch, is located in Clark, Colorado, on 540 acres in the middle of Colorado's Routt National Forest. On a plateau between mountains, 12 private log cabins surround an impressive lodge with floor-to-ceiling windows, ideal for watching the over 100 resident horses representing a variety of breeds.
The cabin I stayed in, Saddle, was a dreamy dwelling with lofted ceilings, beds enough for an entire family, windows aplenty, and a kitchen stocked with a bottle of Cabernet and homemade trail mix that I took a particular liking to. My daylight hours were consumed by a variety of activities, but every evening, I enjoyed the outdoor hot tub on the deck that overlooked a picturesque expanse, aforementioned wine in hand.
Even in winter, Vista Verde is like a luxurious summer camp. One guest likened a stay at the ranch to a land cruise, providing as it does an all-inclusive vacation experience.
Meals are served in a dining hall where I learned that a majority of the guests were repeat visitors for whom the ranch is a favorite family vacation spot. It's a communal environment where the staff often dines with the guests, and conversation flows freely about both the ranch and lives outside of it.
The culinary offerings equate to a fine-dining experience. An emphasis is placed on organic foods, and the kitchen is glad to cater to specific diets.
Some tips: Eat anything the pastry chef puts in front of you, don't skip lunch, attend the daily happy hour and savor all that the formal dinners have to offer.
At dinner each night, guests select the activities they want to take part in the next day. Winter activities include skiing, snowshoeing, horseback riding, sleigh rides, snow tubing, ice fishing, fat-tire biking, snowmobiling, photography workshops, yoga, cooking classes and wine tastings. Depending on your selections, you can fit in two or three activities per day.
As a novice, I signed up for beginning cross-country skiing. Another woman and I set out into the forest with our knowledgeable guide who made us feel safe and showed us around the beautiful property. By the end of the three-hour trip, we were plowing through powder skiing down hills. For more experienced skiers, a complimentary shuttle makes trips to Steamboat Springs every day.
As a Floridian, I was amazed by the experience of snowshoeing atop several feet of snow. I channeled my inner Henry David Thoreau and John Muir as I immersed myself in the beauty of unspoiled nature. My guide took me along an iced-over river, through forests of sweeping pines and up mountainsides. After snowshoeing, I ended the day snow tubing, which is an absolute stomach-dropping thrill.
I am a horse lover. I marvel at their beauty, their power and what I judge to be their intuition. I dedicated a day to horse activities. Although I had ridden before, every rider is required to take a horsemanship clinic before hitting the trails. In the clinic, you are taught simple commands to give your horse and are given time to learn your horse's personality. I had the pleasure of spending time with Gunner, an older male who preferred the company of women.
The five riders settled into the gentle rhythm and were able to enjoy brilliant sunshine that brightened the snow and made mountains visible for endless miles. A sleigh ride complete with hot cocoa is another memorable way to engage with the horses. That evening, I joined in the "sleigh feed." Each afternoon, guests and ranch hands use pitchforks to offload hundreds of pounds of alfalfa to eagerly waiting horses. I got to see Gunner again; he was surrounded by his gals.
I understand why visitors come back to the ranch year after year. I have never felt so connected to and welcomed by strangers both human and equine. I am already planning my own trip back.