A More Resilient Tomorrow
Claude Pepper Institute creates a better future for senior adults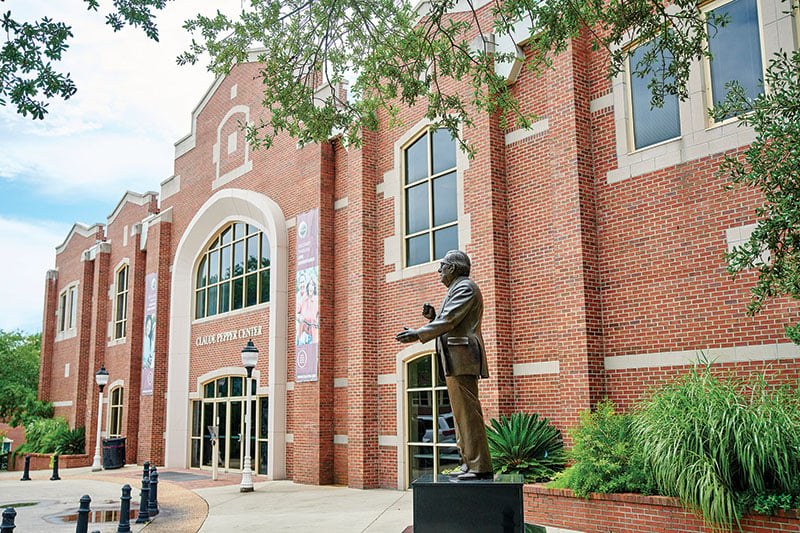 Florida State University's (FSU) Claude Pepper Institute on Aging and Public Policy houses some of the nation's premier voices on aging who, through research and policy efforts, are working to better understand and address the issues facing America's ever-growing elderly population.
The Claude Pepper Institute on Aging and Public Policy has two branches: the Pepper Center, which seeks to influence public policy, and the Pepper Institute, which conducts research. Though technically separate entities, the Center and Institute inform one another, and now more than ever, they work in lockstep thanks to the recent appointments of Pepper Center Director Dawn Carr and Pepper Institute Director Miles Taylor.
Taylor, who assumed her current position in 2021, and Carr, who took office in 2022, have a longstanding collegial relationship and friendship. In addition to the women's fascination with the process of aging and factors related to later life, Taylor and Carr share a personal connection with their subject matter, a kinship that has guided their efforts through an experiential lens as much as an academic one.
"I grew up with my grandmother, so aging and older adults have been a part of my life forever," Taylor said. "I started working on topics related to how to keep older folks as independent, especially functionally independent, as long as possible."
Like Taylor, Carr spent much of her formative years as a caregiver. Before pursuing her interdisciplinary studies in social
gerontology, Carr attended Arizona State University as an orchestral trumpet player. While there, she was largely responsible for her elderly grandmothers and eventually her ailing mother, who lost her battle with cancer while Carr was still in her early 20s.
"The end-of-life story was really intense in my early 20s," Carr said. "My whole life was just surrounded by elderly people. I spent more time around the elderly than people my age, even in college, which is unusual. Usually when you are in college, you're around young people and partying. I was doing none of that. I was caregiving. Caregiving and playing bridge with people in their 70s and 80s."
This experience, coupled with an injury that halted Carr's budding musical career, led her to the University of Miami, where her academic deep dive into later life began. In the years, fellowships and degrees that followed, Carr and Taylor formed a bond, eventually leading Carr to leave her position at the Stanford Center on Longevity to join Taylor as a researcher at the Pepper Institute.
Here, the two have explored a wide range of research topics from the challenges millennial caregivers face to equitable distribution of services across demographic lines, to cognitive impairment and delayed or phased retirement because of increased longevity and economic imperative.
In her new role as a champion for public policy on aging, Carr is working to establish better, more clear channels to communicate with legislators than have existed in the past. She sees opportunities to leverage this research to increase financial assistance to combat poverty, intervene in early life to promote positive overall life trajectory and reimagine the modern work environment in ways that could benefit an aging workforce. Carr's research and policy efforts around the "new retirement" is particularly relevant during the nation's ongoing (and much reported) workforce shortage.
"You talk to someone hiring, and they will say, 'I want someone who is young and hungry,' but there are people who are hungry at every age," Carr said.
"There are all these benefits of having new models for work that won't just help older people but help people who are younger. Not everyone wants to work full time. There are a lot of people who are motivated to have a part-time job, but there is no structure for that. For some odd reason, we set this bar for what number of hours is associated with being able to qualify for benefits. That policy alone could change all kinds of things."
In recent years, Taylor and Carr's research has, in large part, been centered around the concept of resilience. Rather than studying resilience in the traditional sense, by simply measuring outcomes in the face of hardship, researchers at the Pepper Institute have developed a first-of-its-kind data set to study resilience as what Taylor and Carr call an "internalized resource."
"This has been one of the most robust predictors of health that we have seen," Taylor said. "We know that you cannot change a lot about a person once they have reached a certain age. You cannot change that someone has been a smoker their whole life. You can't change whether they got a college degree or have a lot of financial resources. But internalized resilience is something that there is potential for boosting."
Resilience, research shows, is supported by interpersonal and financial resources, but these factors do not create resilience. That, Taylor said, is the million-dollar question.
"It turns out that older adults are experts on resilience," Taylor said. "They have had life experiences, challenges and hopefully a lifetime to develop the things we know protect us and give us these resilience resources: spirituality, relationships with each other, a sense of purpose in life, family — things that give us meaning.
"You can't be in a resource-deprived place and be expected to adapt and bounce back," Taylor later added. "When you think about issues facing older adults, things like Medicare, social security and financial solvency, these things are extremely important as a baseline necessity."
Taylor, Carr and the team of researchers at their backs have not cracked the code on resilience just yet, but they are not deterred. Each study brings them one step closer to understanding how to bolster our society and ready us for an uncertain future.
---
Pepper Institute director Miles Taylor and Pepper Center director Dawn Carr share a fascination with factors that influence the later years of life. Both spent years as caregivers for family members.
---