Christmas Through the Years at Esposito
Come take a stroll down memory lane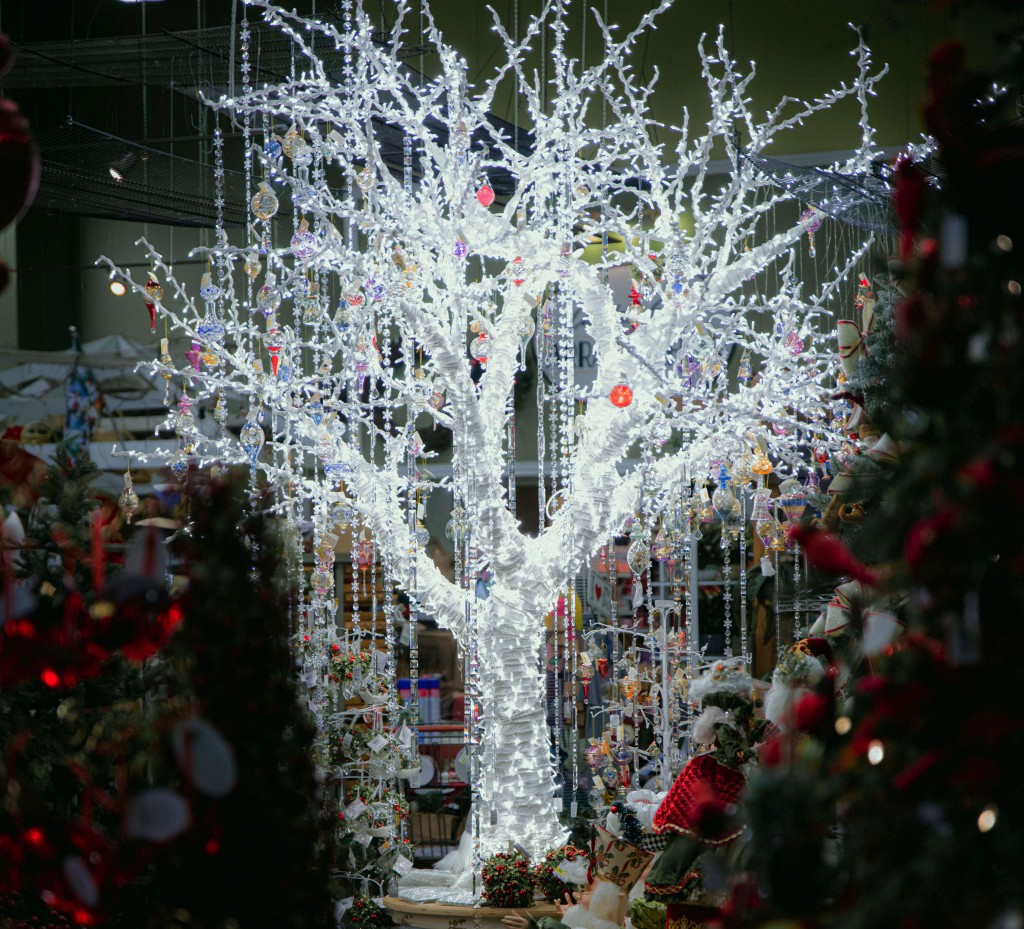 The Christmas Shop at Esposito Garden Center is a Tallahassee seasonal institution. The collection of trees decorated in various themes, the array of Christmas décor and accessories, and the presence of Santa himself create a magical wonderland of holiday delight.
It has also become a generational event, with parents and grandparents bringing children to "ooh" and "aah" at all the shiny signs of Christmas. The children who came in the early years now bring their children. Customers from as far away as Mobile make it an annual ritual to experience Everything Christmas as Esposito's.
Come take a stroll down memory lane with Ralph Esposito to the very beginning.
The early years
Ralph and his father, Garden Center founder Dominic Esposito, had been talking about adding a Christmas Shop since the mid-1980s. In 1990, they did it. Ralph and Hurtis Amerson, who was in his first year with the nursery, went to Atlanta's Merchandise Mart to buy inventory.
"We had no idea what we were doing," Ralph said. "We spent $18,000 and wondered, 'Who's going to buy this stuff?' We literally sold everything."
And it grew. The old building had to be rewired several times to keep up with all the lights on the Christmas trees. There were several small electrical fires. "We just absolutely outgrew it," Ralph said. "We placed the trees four feet apart, and it was like a maze walking through there."
The little ceramic villages from Dept. 56 were a big draw. Each year, on the day the company announced which pieces would be retired, the line of people would be out the front door. Then, pre-lit Christmas trees arrived on scene.
"About 60 percent of those early pre-lit trees were defective," Ralph said. "They were primitive compared to what we have now."
More space, better lights
The move in 2000 to the current, bigger building with ample wiring and the arrival of LED lights increased the magic. Rice lights with 1,000 lights on a string burn for 20,000 hours using little electricity. Some of the trees this year have 12 strings — 12,000 lights — on them.
"Life is so much simpler with LED," Ralph said. "It was expensive at first, but the price has come down. You can string 40 sets of 50 lights end to end. You probably couldn't do five or six sets of incandescent lights."
Each year, there are 50 decorated trees in the Christmas Shop, and every tree and every ornament are for sale. "We have five or six that are the same every year, such as Baby's First Christmas, Sports, Hunting and Fishing, Cardinals, Ballerinas," Ralph said. "Others are there three or four years. We have new ones every year."
There's a Travel Tree with hand-painted ornaments representing luggage, passports, destinations. A Mardi Gras tree with feathered masks. A tree with hand-blown, Old World glass ornaments.
"We're one of a very few places within 150 miles where you can get your Christmas tree, live cut or artificial, your lights, ornaments and lights for your yard," Ralph said. "We've also been installing outdoor lighting, both residential and commercial, for about 10 years. We truly are Everything Christmas."
Looking ahead
The addition of the Gift Boutique this year was a stroke of serendipity. After Covid-19 struck, a tenant no longer wanted to move into the space next door that was under renovation. A Gift Boutique, which will be open year-round, seemed the perfect addition to Esposito's already diverse inventory for gardeners, hydroponic gardeners, beekeepers, bird enthusiasts and people looking for power tools, patio furniture, barbecue grills or sassy casual clothing and home décor.
The Gift Boutique has a bar, and Ralph has applied for a license to sell beer and wine. He plans to add a big-screen TV and comfortable seating, for shoppers as well as shoppers' spouses.
"It all started with the Christmas Shop in the old store, and we've taken the best of a lot of good ideas," Ralph said. "We're very fortunate that we have plenty of room, loyal longtime customers, designers with 'out of the box' imagination and an incredible staff."
Esposito Lawn & Garden Center
2743 Capital Circle NE, Tallahassee  |  (850) 386-2114  |  EspositoGardenCenter.com