Burn Baby Burn
Tabata training is the hottest (literally) workout right now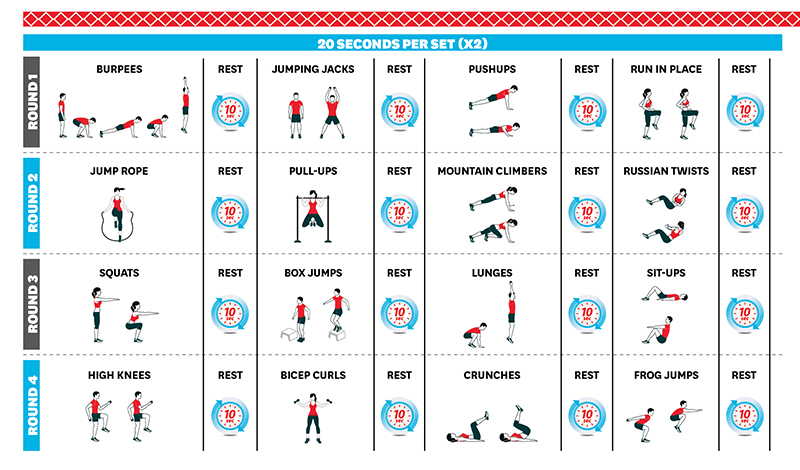 Every now and then a new term arises in the fitness realm. At one point Zumba, Pilates, keto and even quinoa were all words that caused us to enlist the help of the Google search bar. Tabata is the latest word you should add to your fitness dictionary, as it is quickly heating up most local gyms.
Those who are spotted leaving the gym gleaming with perspiration and with the type of delirious smile that could only be summoned from a workout that has taken their all — but will reap great rewards — have likely just completed a workout consisting of Tabata training.
Tabata training is a form of High Intensity Interval Training (HIIT), composed of 20 10-second intervals, where participants exercise at their highest intensity for 20 seconds followed by 10 seconds of rest, and then repeated for eight total rounds amounting to four minutes. You can repeat the four-minute sequence as many times as you want, but because of the intensity of the intervals, most classes don't last longer than 30–45 minutes.
"People's lives are becoming more and more hectic, and finding time to squeeze a workout in is often a struggle for those who lead busy lifestyles," said Cecily Armengol, fitness director at Sweat Therapy Fitness. "Tabata workouts can be performed in as little as 20 minutes, and some can even be done without equipment."
It is a common misconception that hours upon hours have to be spent at the gym in order to obtain recognizable results. Japanese scientist Dr. Izumi Tabata and a team of fitness-sports researchers set out to disprove that theory; thus, Tabata training was born. They learned that because the body is performing with such high intensity, it has to work faster, resulting in a rise in metabolism and an elevated heart rate — two key factors in weight loss.
"Tabata training is popular because it yields powerful results in less time and is adaptable for all fitness levels," said Tonya Smith, program and communications director at Premier Health & Fitness Center.
No matter the intensity, your workout should utilize as many muscles as possible instead of isolating a group of muscles. This will result in the burning of fat and production of muscle, even hours after you've hung up your gym towel. This guaranteed sweat session will have you feeling and embracing the burn.