Building an Olympian
What it takes to make an Olympic contender.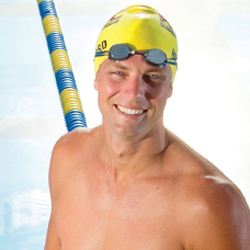 Scott Holstein
Malcolm Hosford
Swimmer/cover model, Malcolm Hosford, is an Olympic contender in the worksBuilding an Olympian
Malcolm Hosford, 30, is one of four swimmers representing the Area Tallahassee Aquatic Club at the U.S. Olympic Team Trials starting June 25 in Omaha, Neb. Here, we break down what it takes to make an Olympic contender.
Swimmer Malcolm Hosford is an Olympic contender in the works. Photo by Scott Holstein
VITAL STATISTICS
6-feet, 4-inches tall, 205 pounds, BMI 23.
His race is the 100-meter breaststroke.
IN HIS EAR
Before competing, Hosford is partial to "Eye of the Tiger" to get fired up as well as the Superman movie theme. "Makes me want to rip out of my clothes and fly through the water every time I hear it," he says.
TRAINING TIME
Consistency is key. At least once a day for two hours at the Trousdell Aquatics Center, but as the trials get closer, his training will get more intense, with morning and afternoon swims totaling four-and-a-half hours.
BODY HAIR
He'll shave his legs and body, but probably wear a cap at the competition.
SWIMSUIT
After high-tech suits led to records falling in the 2008 Olympics, the swimming regulatory body has banned body-length suits. For men, suits can only extend from waist to knees.
EQUIPMENT
Hosford is wearing a swim cap to cut down drag from his hair in the water as well as tinted goggles to help keep the Florida sun out of his eyes. 1. A kick board is used to strengthen the legs and is key to having good stamina in the water. 2. Paddles are used to strengthen arms and shoulders. Distance per stroke is key with paddles. 3. Fins are also used for strengthening a swimmer's legs. 4. It's important to stay hydrated during practice (water or Gatorade are Hosford's drinks of choice). 5. A snorkel is used to work on the lungs and help with breathing. It also helps with head positioning. 6. A pull buoy, often used with paddles, isolates a swimmer's legs and helps them float so he or she can concentrate on the upper body portion of the swim.