Brent Sutton is Reinventing the Cocktail at Sage Restaurant
With a doubled bar area, an added events dining room and exciting new cocktails, Sage restaurant is shaking things up.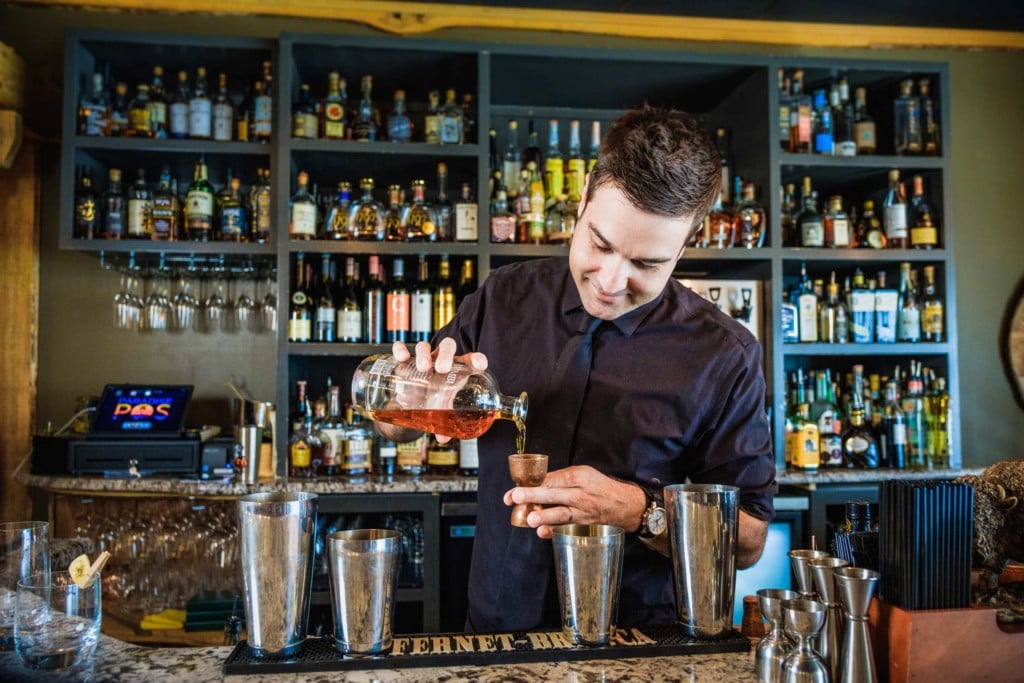 In any discussion of Tallahassee's best eateries, you can bet that 4 out of 5 people will mention Sage, renowned for high-quality ingredients, inventive menus and top-drawer service. It is a reputation well-earned over its dozen years tucked away just north of Market Square.
Their bar is less widely recognized but has emerged as one of the best craft cocktail joints in town.
Added after a 2011 fire, the bar affords a casual place to grab a bite or watch a wizard mixologist concoct unimagined libational delights.
We needed greater insight than my hops-addled palate could provide, so I enlisted my ace assistant — Stanwyck is dangerous with a jigger and cocktail shaker — to help assess the goods. Settling down across the bar from Brent Sutton, a recently returned FSU grad who for seven years served up drinks to Destin beachcombers, we surveyed the drink menu.
You can get your standard vodka tonic or scotch-rocks here, but the cocktail list encourages adventure. Sutton explained their fresh-squeezed juices and handcrafted "shrubs" — vinegar-based potions infused with fruit juice and macerated herbs and spices — and filled us in on their wide range of bitters and deep selection of premium liquors.
Stanwyck — International Woman of Mystery — was already taking mental notes on how to replicate the strawberry pineapple peppercorn or cantaloupe honeydew basil and mint shrubs.
Then Sutton dropped the deepest secret of his peculiar alchemy. "The basics are 2-to-1-to-1. From there, it's just improvising. Dazzle your friends!" That 2:1:1 is the ratio of liquor-to-sweet-to-sour that Sutton says makes any drink work. But the magic — the legerdemain that makes the cocktail pop — comes in the improvisation.
We began with a Curious George, a rum drink exclusive to Sage that began life as an Old
Fashioned variant — "it was dull, just dead," said Sutton — and ended up as this daiquiri homage that made the notoriously picky Stanwyck trill in delight. The key to this one: egg whites, shaken to a fine froth and providing a just-right feathery topping that you could mistake for whipped light cream.
Exquisitely balanced with a whiff of banana courtesy of the Bumbu rum, this drink is perfect for a warm Tallahassee evening.
Curious George is the newest cocktail on the Sage menu. Or was. Stanwyck challenged Sutton to prepare something brand new. Sutton had declared gin the most versatile liquor on the shelf — a declaration in accord with Stanwyck's leanings — so he pulled down a bottle of Boodles and set to work.
The result was a cocktail that won over even this gin-avoider, but more critically, led Stanwyck to sigh, "I could drink these All. Day. Long."
And just like that, Sage has a new cocktail feature: The Stanwyck. Ask for it next time you visit. And speaking of next time: By the time you read this, Sage will have doubled its bar area and added an events dining room. Try the accompanying recipes at home — we did, repeatedly — but nothing beats the luxury of watching a seasoned professional handcraft your elixir and serve it up in fine glassware (no plastic cups here).
So lift your glass and take a sip. There is nothing better than sipping a fine cocktail with an International Woman of Mystery.
Curious George
2 oz Bumbu rum
1.5 oz. Strawberry Pineapple Peppercorn Shrub
1 oz. freshly squeezed lime juice
1 oz. egg white
4-5 drops Bitterman's Elemakule Tiki Bitters Directions
Combine with ice, shake, strain, dry shake, and finally strain into cocktail glass.
The Stanwyck
2 oz Boodles Gin
1 oz. Strawberry Shrub
Half ounce Aperol
1 oz. freshly squeezed lime juice
Half ounce rosemary simple syrup
Shake and serve over ice with an orange expression. Garnish with dried banana chips
Sage Restaurant
3534 Maclay Blvd S., sagetallahassee.com, (850) 270-9396, Tue.–Sat. 11 a.m.–3 p.m., 5:30–10 p.m, Sun. 11 a.m–2:30 p.m.