Bottles and Bows
Making spirits bright … with spirits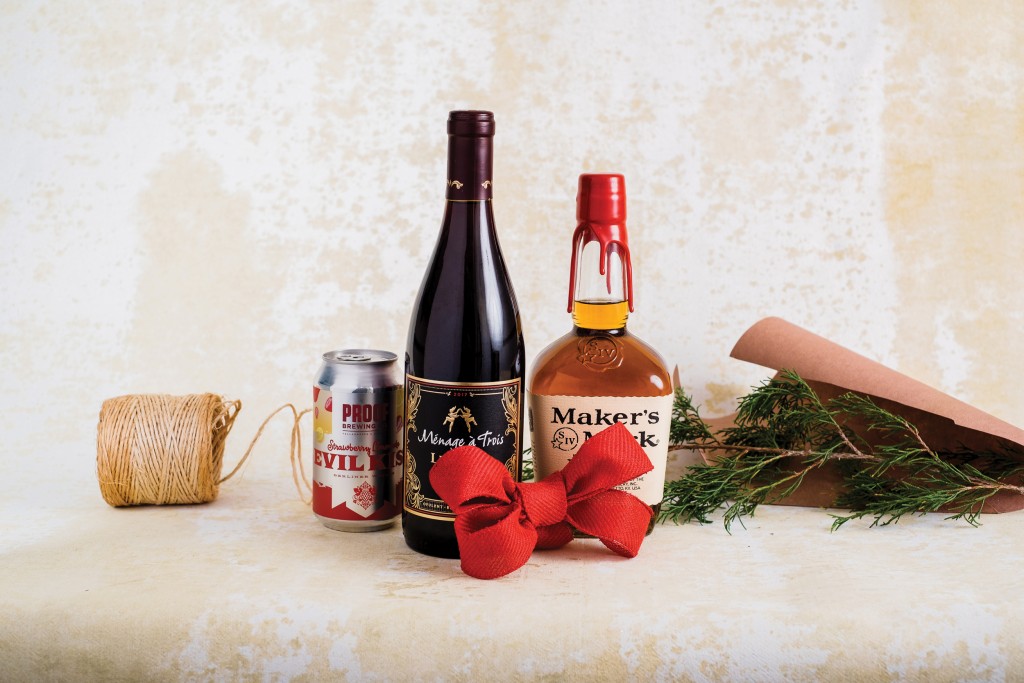 If you don't want to show up to a holiday party empty-handed or you're seeking a gift that will impress, a bourgeois or better bottle of booze will do the trick. Although buying a bottle is easier than trying to decipher a recipient's fashion or musical tastes, gifts of spirits should be made with intention and care in order to be memorable and truly a gift.
Select a bottle that will occupy a prominent place on a bar cart. You want your bottle to be featured front and center, not pushed behind more unique and tasteful options only to collect dust until the next holiday season.
"A great gift is something that someone can share to celebrate special moments, which is why the right beverage choice can help you relax and unwind, adding happiness to any occasion," said David Plendl, manager at Market Square Liquors.
Think outside of the boxed wine, and consider port, cognac, rye, mescal, bourbon and liqueurs. If you go the wine route, think about regions known for their flavor profiles such as South Africa. For beer, lean local. Everyone loves a local brewery, all the better if it's one the gift receiver has never heard of.
Be mindful of the occasion. For a casual holiday house party, Plendl suggests a midrange bottle of popular wine such as chardonnay or pinot noir or a seasonal holiday beer.
Angela Burroughs, founder of Proof Brewing Co., suggests bringing a beer that is accessible to multiple palates, such as Mango Wit or Featherweight. For fun seasonal and winter options, she turns to Royal Bloodline, Coffee Creatures or Prickly Pear Margarita Kissing Giants.
Libations brought to parties are shared with the purpose of being consumed that night. They are a nice gesture that enhances the overall mood of the party, but one that doesn't have to break the holiday budget.
If you're attending a family gathering, consider ports, madeira, whiskey or any liqueur. Liqueurs are ideal for holiday sipping alone or in a festive cocktail. Bring the bottle complete with fixings.
"For a boss or respected colleague, you should aim for something of higher quality and a little harder to find," said Plendl.
Plendl suggests a fine bourbon or whiskey from Market Square's extensive collection. Some of his favorite private barrel collections include Smooth Ambler, Woodford Reserve, Knob Creek, Russell's Reserve, Elijah Craig and Old Forester. These are meant to be sipped slowly and enjoyed. Will they cause the boss to warm up to the idea of granting big holiday bonuses? It doesn't hurt to try.
"When giving a beer or spirit as a gift, I would recommend understanding what the individual is interested in and focusing on their specific tastes," said Burroughs. "There are high-end and seasonal products or year-round spirits that can be geared toward personality types and special relationships."
When shopping for a family member or friend, it's most important to consider what his preferred pour is. If Uncle Bob raves about rum, get him that whimsical bottle that will remind him of the beach in December.
If your best friend is a gin drinker, spring for the unique art deco bottle that you know she will proudly display. Where close friends and family are involved, look for bottles that are eye-catching, new to the market or limited editions.
Gifting a libation that you can sip, swill or mix is sure to fuel the holiday spirit.