Big Bend Hospice Celebrates 30 Years
Compassionate Care, and More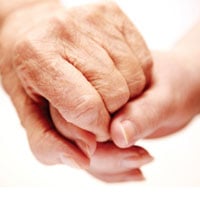 Big Bend Hospice goes beyond basic end-of-life care with programs for music therapy, respite care, camps and bereavement services.
The region's "Hometown Hospice" is 30 years old, but Big Bend Hospice has grown over the decades to a $15-million-a-year operation offering services and programs well beyond what hospices normally provide. International acclaim and the years of awards tell us that whatever the original team set out to do, it was done — and continues to be done right.
Hospice programs care for patients whose illnesses no longer respond to treatment, providing medical and emotional support to allow the family to make the best of their time with their loved one. The hospice movement in the United States started in 1974. A few years later, a handful of Tallahassee leaders, including Dr. and Mrs. Al McCully and Dr. Jim Beck, decided to bring hospice services to North Florida. After receiving state permission to provide hospice care in eight Big Bend counties — Leon, Franklin, Gadsden, Jefferson, Liberty, Madison, Taylor and Wakulla — Big Bend Hospice began offering services in 1983.
Sharon Davidson, Big Bend Hospice's public information specialist, reflected that the way the organization started is very special: "Some of the nonprofits here started in Leon, and then started expanding out. We were right there from the get-go. Thirty years in each of these eight counties."
Big Bend Hospice's focus continues to be providing compassionate, neighbor-to-neighbor care throughout its service area. With an office and advisory council of community leaders in each county and geographically segmented teams, the organization ensures services are completely in tune with each community's needs, and carried out by friendly, familiar faces. They also keep funds separate and local, ensuring money raised in one county provides facilities and care to that county only.
In the beginning, Big Bend Hospice served fewer than 50 patients, with only three employees — most work was done with the assistance of volunteers. Last year, they served 1,741 patients with a total staff of 173. And this year, the nonprofit has already expanded to 231 employees. In addition to a growing staff and reach, the organization has vastly expanded its scope above and beyond requirements.
"If you come to me and say, 'I need hospice for my mom,' I don't just assign you a person and that's it. You get a team," said Davidson.
This team would include a patient's doctor, hospice nurses, home health aides, social workers, chaplains, music therapists and specially trained volunteers.
Core hospice services are usually covered by Medicare and Medicaid, but not everyone qualifies for this financial assistance, and the special programs, such as music therapy and chaplains, are not covered under these. Because of this, Big Bend Hospice started a foundation in 1996 to provide financial support for hospice programs, making them available whether or not a family is able to pay.
Music therapy is not required, but Davidson maintained it is one of the most important services offered, and that their internationally renowned music therapy program initiates moments of unity, happiness or understanding for families dealing with difficult situations.
Additionally, Big Bend Hospice makes sure to provide help across its community whenever possible. In late 2012, when Taylor County experienced the back-to-back deaths of two teens in car accidents, the organization sent its bereavement team to help the community and worked with the media to provide a resource for that grieving community.
The organization's volunteer program is both essential and renowned. With more than 450 volunteers, Big Bend Hospice's program is recognized as one of the best in the area. Recognized as the "Volunteer Group of the Year" by the Tallahassee Democrat, the program trains local citizens, patients' friends and neighbors to perform many tasks, including light housekeeping, meal preparation, talking with patients and staying with a patient who will pass away in less than 24 hours.
Davidson explained that these programs are what make Big Bend Hospice special — they represent the organization's drive to provide the best care possible to patients in a difficult transition.
"Since the inception of a basic, skeleton hospice team, over 30 years we've grown into an all-encompassing team, definitely offering more than what's required, and that includes the enhancement of our bereavement team. We've come a long way."
Bereavement services at Big Bend Hospice are diverse. The requirement under hospice guidelines is to provide some sort of bereavement service to a patient's family during the 13 months after the patient's passing (anything from sending quarterly cards to offering the occasional bereavement session).
Families in the Big Bend also have access to a full-time bereavement staff. Monthly specialized sessions, including a grief and loss session and a suicide loss session, combined with The Caring Tree Program, which focuses on children and teens, are available not only to patients' families, but to anyone in the service area who has suffered a difficult loss in the family and needs help coping. Camp Woe-Be-Gone is another program that allows children and teens to get away, with access to art and music therapy, and also helpful interaction to deal with loss.
While these supportive services can be provided anywhere a patient calls home, some patients need 24-hour medical supervision. In these cases, the patients may move to Big Bend Hospice's Margaret Z. Dozier Hospice House, located here in Tallahassee. This home-like, 12-room facility provides transitional care from hospital to home, advanced pain control, respite care and proper attention when a patient's condition is such that the caregiver can no longer provide for his or her needs at home.
The Hospice House includes private rooms with home-like furnishings, each with overnight accommodations for one guest. The house also features a children's playroom, open spaces for families to gather, a Reflection Room available for quiet meditation, a garden and professional hospice staff who can provide required interventions for the patient and/or their families.
"We are the hometown hospice," Davidson said. "We are the resource for those coping with death … the go-to organization for those dealing with a very difficult situation."
This will continue, according to Big Bend Hospice Chief Executive Officer Cathy Adkison, despite the changing landscape of health care with the Patient Protection and Affordable Care Act. She explained that Big Bend Hospice is ready for the changes, and is confident about the direction it will take as baby boomers become the organization's next generation to receive treatment. The organization has recently launched the PEACE Project, which addresses the end-of-life planning needs baby boomers will face before a potential healthcare crisis.
"The future of hospice care is bright," she said. "The need for hospice care will continue to rise as baby boomers age. Boomers are experiencing the chronic illness and death of their parents and peers. Big Bend Hospice provides the kind of care boomers want. Care provided in their home. Care that is individualized specifically for them. Care provided at a substantial cost savings compared to mainstream medicine."