Beyond the Beach
Coastal communities offer varied attractions, activities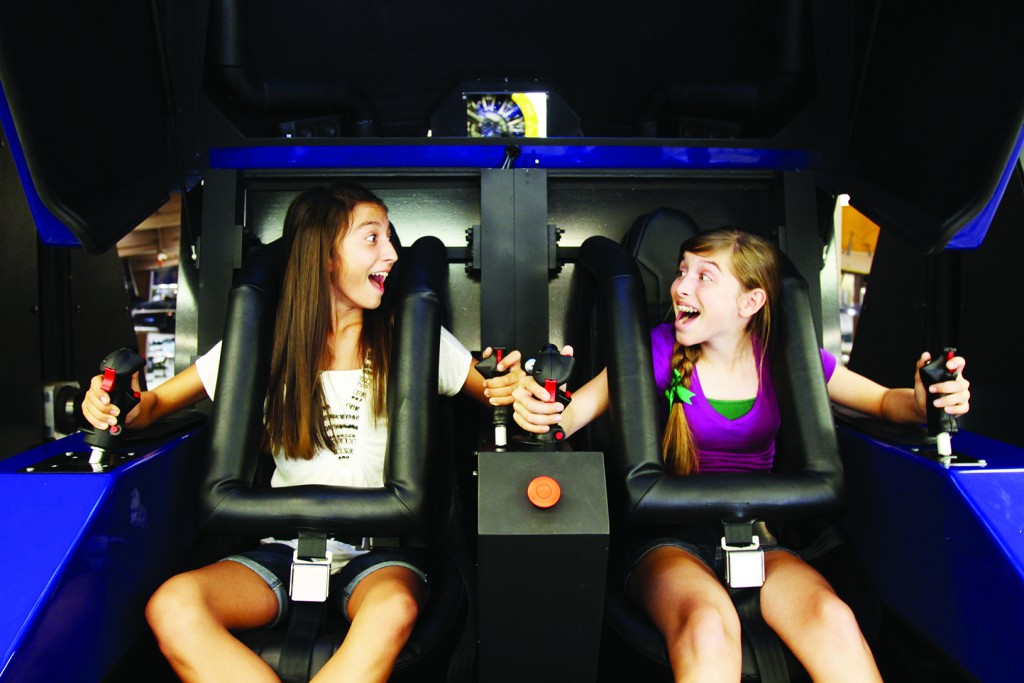 Northwest Florida's welcoming coastal communities are synonymous with sun, sand and surf but offer visitors a growing and tremendous variety of things to do. Here, we offer a mere sampler of the activities and attractions.
PENSACOLA
Pilot a Simulator
The National Naval Aviation Museum is the world's largest Naval Aviation museum and one of the most-visited museums in Florida. Visitors are invited to share the excitement of Naval Aviation's rich history and see more than 150 beautifully restored aircraft representing Navy, Marine Corps and Coast Guard aviation. These historic and one-of-a-kind aircraft are displayed both inside the museum's more than 350,000 square feet of exhibit space and outside on its 37-acre grounds. The museum features two state-of-the-art MaxFlight Simulators capable of air-to-air combat and stunt flying. The simulators' patented, fully interactive 360-degree pitch-and-roll technology makes MaxFlight one of the world's most exciting indoor attractions. The Blue Angels can be seen practicing over the museum most Tuesday and Wednesday mornings from March to November. After practice on select Wednesdays, guests are treated to meet-and-greets with the team.
navalaviationmuseum.org | (850) 452-2643
DESTIN
Walk the Docks
HarborWalk Village is the hub of activity along Destin's waterfront. Restaurants, activities and entertainment cater to all tastes and interests. Here, visitors find waterfront shopping, paddleboard and kayak rentals, pontoon and Jet Ski rentals, parasailing, glass-bottom boats, world-class fishing, pirate ship excursions, dolphin cruises, concerts and live music, weekly fireworks, weekly Fat Tuesday parades, live entertainment and an array of restaurants, including Jimmy Buffet's Margaritaville and Harry T's. HarborWalk Village is home to the Destin fishing fleet, the largest such fleet in the country.
Venture out into the Gulf of Mexico aboard a charter fishing vessel, and you will soon learn how Destin gained its reputation as the World's Luckiest Fishing Village. Landlubbers can stroll along the docks and welcome the boats as they return with their catches. And, where there is great fishing, there are great seafood restaurants. HarborWalk offers an array of cuisine that is fresh, local and delicious.
emeraldgrande.com | (850) 676-0091
PANAMA CITY BEACH
Snorkel Along a Jetty
St. Andrews State Park afford visitors the chance to experience five distinct ecosystems — Grand Lagoon, the
Gulf of Mexico, upland hammocks, Gator Lake and Buttonbush Marsh — in one stunning location, making it among the most popular and heralded parks in Florida. Theodore Tollofson evidently liked what he saw when he shipwrecked on what is now the park during a 1929 hurricane. He homesteaded in his derelict boat for the next 25 years.
Now, state park visitors can experience what kept "Teddy the Hermit" at St. Andrews — sugar white sands, emerald green waters and a vast array of ever-changing winged creatures. The park is a popular migratory stopover for numerous bird and butterfly species. Besides boasting 1½ miles of pristine beaches for fishing and swimming, St. Andrews also offers the chance for visitors to stroll through pines and along dunes and coastal plant communities or stay overnight in a campground.
The park is marked by jetties that stabilize the pass to St. Andrew Bay. These rock structures are a snorkeler's delight, attracting as they do myriad types of fish and other marine life forms, ranging from blennies to redfish and damselfish
to mullet. Even a grouper might pass by.
floridastateparks.org | (850) 708-6100
FRANKLIN COUNTY
Climb a Lighthouse
Franklin County is home to two restored lighthouses, on St. George Island and at Carrabelle Beach. They are a reflection of coastal living in Franklin County 100 years ago, and each is worth visiting. The Cape St. George Light, which stands at the center of St. George Island, has been rebuilt four times and was originally built on what is now Little St. George Island. It was built initially in 1833 near West Pass but was difficult for maritime traffic approaching from the east to see.
The Cape St. George Light valiantly served mariners well for decades, but beach erosion ultimately caused its collapse on October 21, 2005. With extensive community support and public and private funding, the Cape St. George Light was successfully rebuilt and opened to the public on December 1, 2008. A replica of the original keeper's house, built next to the lighthouse, features a museum and gift shop. For nearly 100 years, the Crooked River Lighthouse stood as a guiding light for captains navigating the treacherous pass between Dog and St. George islands. Today the lighthouse and keeper's house museum stand on the mainland where the light was originally built in 1895.
The 103-foot iron and steel structure was decommissioned by the Coast Guard in 1995 and is listed on the National Register of Historic Places. Objects in the keeper's room include original clocks, a barometer, a glass fire grenade, pages from the keeper's watch book, currency and much more. Both the St. George Lighthouse and Crooked River Lighthouse host special climbs on full moon evenings. Daytime climbs are also available at the Crooked River Lighthouse, Wednesday through Sunday afternoons.
floridasforgottencoast.com | (850) 670-3474.