Between the Lines
Tallahasseeans rise to top ranks of tennis officiating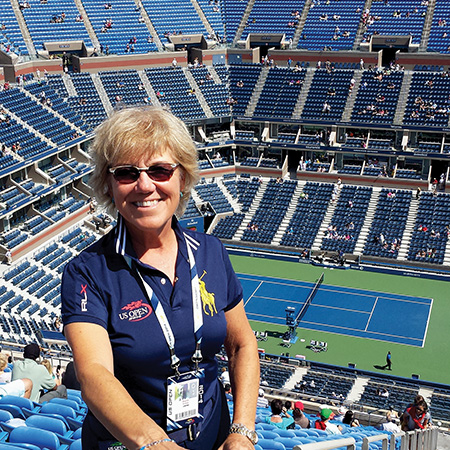 Come late August, the U.S. Open will begin, featuring the best tennis players on the planet, big prize money and lots of excitement. But there are two other prime reasons you'll want to pay attention to this top-tier tournament: Maria Long and Jake
Garner, homegrown stars in the world of tennis officiating. Long, a line umpire, and Garner, a gold-badge chair umpire, are residents of Tallahassee who have trotted the globe as officiators. Here's a look at how the two umpires got where they are today.
Maria Long spends weeks away from home, watching players send fast-flying tennis balls speeding across courts. She focuses intently when the ball lands on thin, neatly painted white lines. And she knows the next move could be hers — determining whether the ball is "in" or "out" of bounds.
It's not the most relaxing way to enjoy the game, but Long relishes her role as a tennis line umpire, officiating at matches that may feature college students or superstars. Regardless of who's playing, she can count on her concentration, calm demeanor and resolute attention to detail.
And then there's her understanding of the game.
"I really love the court — seeing the tennis and the players up close," she said. "You see it differently than you do on TV or in the stands, because you're on the courts." She added, "I love tennis. Love it, love it, love it."
While she appreciates the opportunities to get a close look at the game, she also explained, "You cannot socialize with the players. You don't even want to have the appearance of favoritism. I don't even know if a player recognizes me or not."
Karen Vogter, director of the Tallahassee Tennis Challenger for the past 14 years, agreed that being a line umpire has its challenges. "You have a ball that could be going anywhere from 90 to 150 miles per hour," she said. "You have to pay attention all the time, and not fiddle, and not close your eyes, and see that ball hit, and make an instant call of whether that ball is 'in' or 'out.' That's hard. The concentration level has got to be tremendous."
Long said that being a tennis player, herself, has helped her umpiring skills. "To me, to be a good tennis player, one has to concentrate and focus. That's what I do as a tennis player. I pay attention to what's on my court. I'm not looking around to see what you're doing on your court or thinking about my grocery list. I'm single-minded on the tennis court."
Long played a bit for Rickards High School but didn't pick up the sport in earnest until after college, when she met her husband, Bill, a tennis enthusiast and surgeon. Now a proud grandmother, 66-year-old Long has been playing doubles in the South Georgia/North Florida Women's League since 1974.
In 2000, Long heard about training for umpires for college games, and she decided to give it a shot. In the past seven years, she's branched out. Along with officiating, Long has started training others to be line umpires, and she's working as a chair umpire for college matches, which take place from January through March.
Long's officiating lineup has included Wimbledon, the U.S. Open and the Australian Open, among many other professional events.
"I really enjoyed going to Australia, and I never would have gone there if I hadn't been working the tennis tournament," Long said. "After I officiated, I took a week off and went to the Great Barrier Reef."
One of her favorite events has been the Davis Cup, which gives professional tennis players a chance to play as a team, representing their country in an international competition. The Davis Cup is the men's tournament, while the Fed Cup is the women's.
"It was thrilling to be there," Long said of the 2007 Davis Cup, held in Portland. "It's kind of like the Olympics, with flags from different countries and big opening ceremonies. It was really, really exciting."
She said that it's one of her dreams to work the Olympics, but it's often a "challenge" to be selected for top events. "There's competition to get the best assignments."
Long has seen many changes in the game, including the advance of electronic judging. She welcomes the technology, however. "I'm happy for it to be here," she said. "To me, it's a validation. Or if you make a mistake, it's corrected."
So far, she doesn't see technology taking over. "Apparently fans like to have officials," she said. And that works for her. "I do this for fun. And then, I've met so many people, and we've become very good friends."
She explained that officiating also appealed to her "because I didn't work." She was a nurse, but she never resumed her profession once she gave birth to her son and daughter. "I was a stay-at-home mom," she said. "Umpiring was a chance to sort of feel like I was getting out in the working world and pursuing something other than just playing tennis."
She explains that with pay for line umpires ranging from $85 to $250 per day, depending on the event, "You wouldn't do it for the money."
Aside from playing tennis, Long and her husband of 42 years spend a lot of time on their farm in South Georgia. She's an avid hunter of quail and ducks on their 400 woodsy acres of land, and she's also a fly fisherman.
"I don't exercise inside," she said. "I don't do the gym. I love to be outside." →
Jake Garner
As a gold-badge tennis umpire, Jake Garner has traveled to more than 30 countries and officiated at some of the world's top matches; but on a sunny afternoon in Tallahassee, he was back where it all started.
"The first event I ever officiated was here, at a satellite tournament," said Garner, overlooking the courts at the Forestmeadows Parks & Athletic Center.
That event was in 1996, when Garner was just 16.
Garner said he had been an "average, at best" tennis player on the Marauders team at the Maclay School when he walked into Forestmeadows and noticed a flyer advertising a tennis certification school, with the prospect of officiating games for Florida State University and FAMU.
"I knew I was never going to be good enough to be a player at any significant level past high school," said Garner, now 37. "To an extent, I always had an interest in officiating."
Garner became certified when he was 15, but he wasn't able to jump right into umpiring college games.
"Coaches were not entirely comfortable with having a 15- or 16-year-old trying to control the game," said Garner, who was a high school sophomore at that time. "College tennis is pretty intense."
Instead, Garner said he honed his skills working junior and adult tournaments as a roving official: someone who walks around, observing multiple courts and matches "and helps as needed."
After graduating from high school, Garner started summer classes at Tallahassee Community College, knowing he had a chance of officiating at the U.S. Open in Flushing Meadows, New York. In late August of 1997, just after his 18th birthday, Garner became a line umpire during qualifying rounds at the event. He doesn't recall who was playing, but does remember being "very nervous."
Garner was quickly captivated by the world of professional tennis and was recognized as a top rookie umpire in 1998, a year after his first trip to the U.S. Open. At that time, he was given the Jr. McGovern Award, which is only presented to a worthy younger official with great potential.
The travel and the excitement were lures that kept Garner on the court instead of in the classroom. "It was going well," he said. "I was enjoying it, and I was traveling with a great group of friends. I first thought of it as a 'gap year.' I never thought it would turn into this."
"This" is a journey that has taken Garner to the top rung of the officiating ladder, as a gold-badge chair umpire. In the tennis hierarchy, umpires progress from white badges to bronze, then to silver and finally to gold.
Confident, calm and even-tempered, Garner is one of eight gold-badge chair umpires under contract with the United States Tennis Association and one of 28 current gold-badge chair umpires in the world.
In 2012, 14 years after being honored as a junior recipient, Garner again received the John T. McGovern Award, which is also given to a chair umpire or line umpire for a lifetime of dedication to and service and expertise in tennis officiating.
Garner has officiated some of the most important tennis tournaments in the past two decades, including the 2007, 2009, 2012, 2013 and 2014 U.S. Open men's finals; the 2011 and 2015 Australian Open men's finals; the 2010 and 2016 Wimbledon men's final; and the 2008 Olympic Games men's singles final. He was also the umpire for the U.S. Open women's doubles in 2015.
"He's one of the very best in the world, because that's who gets to do that," said Vogter, in reference to Garner's impressive list of officiated tournaments.
Garner's success is also a boon for local tennis fans, she said. "It's a sort of collective 'oh my gosh, there's Jake Garner and he's doing the Men's Wimbledon final,'" she said. "Everybody was buzzing about that."
Just don't expect Garner to join the buzz. "It's always a goal of an official to walk off the court or field in a sport and hope they weren't seen or heard," he said. "We don't like to be the center of attention. If someone says they saw me on TV, I think, 'Uh oh, what went wrong?'"
Garner lost his anonymity in a much-publicized match between Roger Federer and Juan Martin Del Potro in the U.S. Open in 2009.
Federer was fined $1,500 for swearing at Garner during his final defeat to Del Potro, using a profanity that was picked up by microphones on the court for the live broadcast of the match.
"These are matches being played at the highest level with the highest intensity," said Garner, who was quick to explain that he can't discuss specific incidents or players. "Some are going to be upset with the umpire's decisions. … We know that the personalities will be a little different from time to time, but it doesn't change how we officiate or the decisions we make. We're still officiating the way we need to officiate, making decisions we need to make no matter who's playing, no matter the match, no matter the situation."
It all comes with the territory of sitting in that "hot seat," overseeing all that happens in the game. Chair umpires "are the guardians of the Rules of Tennis," according to the International Tennis Federation.
"You have to be prepared for every situation," said Garner. Even at this stage, he still feels the pressure of umpiring the huge events with superstar players. "From the time you walk on the court 15 minutes before the match until the time the match is over, everything that happens on that court is your responsibility. … There needs to be some level of nerves leading up to any match, just to have a little of that edge to make sure you're as sharp as possible."
That's the case even when it's an epic tennis battle like the one Garner officiated between Rafael Nadal and Fernando Verdasco in 2009, when the superstars played for five hours and 14 minutes at the Australian Open Semi-Final (Nadal won).
"It was just a fantastic match," said Garner, who finds that the atmosphere and the "feelings around the match and not necessarily the match itself," can make an event memorable.
During the past two decades, Garner, like Long, has witnessed a lot of memorable changes in the sport itself. "Players are pushing their limits," he said. "They're such great athletes, and they're so well-trained, and everything's thought out: their diet, fitness — all that stuff."
It all leads to "the best tennis," he added.
Aside from its superstar champions, the sport gets more media coverage than it used to, particularly with the Tennis Channel. "It used to be you'd see tennis on weekends," Garner said, "and now there's live streaming" — including streaming of the Tallahassee Challenger. "True fans can follow their favorite players and events all year, and that leads to the sport being an even bigger deal."
One downside to umpiring is the time spent away from his family: Kelley, Garner's wife of 13 years, who works as a medical insurance company claims manager, and their two daughters, ages 9 and 4.
Garner has cut back some traveling, although he'll be away about 20 weeks during 2017. When he's home, he's "a full-time, stay-at-home dad."
He's also an achiever — so he returned to school online, through Tallahassee Community College, and then through the University of Florida, earning a degree in business administration.
Those who haven't seen Garner in years will also discover that there's less of him to see: He dropped 75 pounds by walking and counting calories over an eight-month period. "I'd walk for hours, but I could never get my head around running," he said.
After 20 years, Garner's head is still in the world of tennis officiating. "It's great," he said. "It's the type of job where nothing's ever the same. It's always challenging, and it always keeps you on your toes."