"Best Of" Tallahassee FAQ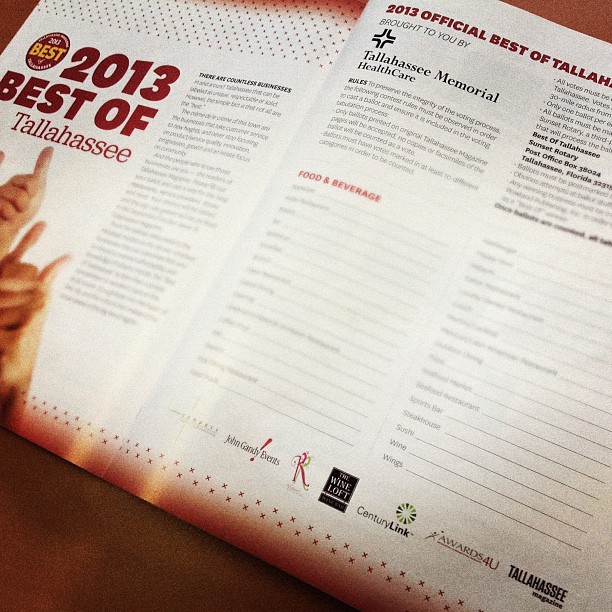 Each year, Tallahassee Magazine celebrates dozens of businesses throughout our community that have been singled out by our readers as the best of the best. We have always been transparent about this yearly survey and how it works, but for those who may be new to the process here are answers to some of the more commonly asked questions about "Best Of."
How are Tallahassee Magazine's "Best Of" winners selected?
The readers of Tallahassee Magazine choose the winners. A ballot is printed in the magazine (May/June) and readers are asked to fill it out and mail it in by a certain deadline. Each ballot must have votes marked in at least 10 categories to be counted. Votes arriving after the deadline are not counted.
Who counts the votes and decides the winner?
Tallahassee Magazine contracts with a third party to count the votes and determine the winner and runner-up. This year the counting was done by Sunset Rotary.
Do you have to buy an ad in the magazine to win?
Absolutely not. Our winners include advertisers as well as non-advertisers.
Can someone "stuff" the ballot box?
No. Only ballots printed on original Tallahassee Magazine pages are accepted. Copies or facsimiles of the ballot are automatically rejected.
Who is eligible?
The readers decide whom they want to honor. So any business — whether locally-owned or chain — within a 30-mile radius of the Tallahassee city limits is eligible.
How are categories decided?
The categories are revisited each year and we welcome reader suggestions.
What do Best Of winners get?
Winners earn the prestige of being selected by a majority of our readers. They also get a write-up in the magazine, usage of the Best Of logo for a year and an award.
View our searchable database of Best Of winners from the past 7 years!