Bar @ Betton is The New Hot Spot for Coffee and Cocktails
The cozy space atop Food Glorious Food brings a new take on the classics.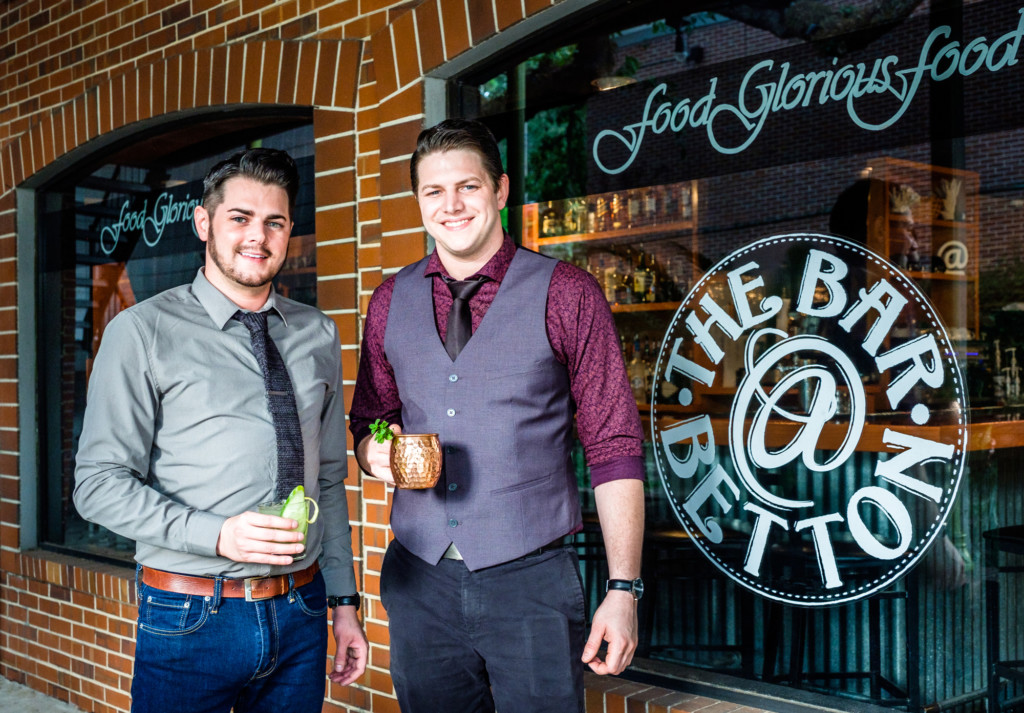 Before we get down to some serious drinking, let's begin with a fact that really ought to blow your mind: Food Glorious Food, that perennial favorite of Tallahassee foodies, just celebrated its 36th birthday.
That means 36 years of delivering high quality and service, innovating recipes to stay abreast of evolving ideas about food and innovating changes that keep the whole concept fresh and lively.
Restaurant years are dang close to dog years, but you can take out-of-town guests to FGF and leave them thinking that Tallahassee is on the cutting edge of gustatory heaven.
A recent innovation at FGF is the Bar @ Betton, slightly "upstairs" and behind the main dining room in what was, back in the day, the entirety of the restaurant.
This cozy space serves triple duty. Aside from bar service, you can grab coffee and breakfast at Beans @ Betton or satisfy your sweet tooth any time with creations from the stellar FGF bakery.
But this is about the bar, doggonnit, so let's get to it. Stanwyck, my trusty libations consultant, is short on time.
There's a plane to catch to St. Kitts for her work, of which we must not speak.
Look. Just forget about St. Kitts, OK? I forgot myself. Carry on. We settle in with Matt and Eric Rodin, Tallahassee-raised brothers who are FGF's general manager and bar manager.
The bar is modest but comfortable, with seating for about 30 with another half dozen tables on the patio.
It can get crowded, especially during happy hour (4:30–7.30 p.m. Tuesday through Saturday), but the vibe is generally relaxed, with lots of walk-in regulars from surrounding neighborhoods.
The cocktail menu is fluid (forgive me), shifting with seasonal tastes, menu changes and availability of certain herbs and vegetables growing in the FGF garden. Eric suggested the Apple Cider Mule for our consideration. FGF offers a variety of mule concoctions, and as it turns out, Stanwyck is something of a mule cognoscente.
We were excited to see what emerged. What emerged was a propane torch and a smoking board, necessary tools for preparing this simultaneously warming and refreshing drink.
Start with a fresh apple slice and coat it in cinnamon sugar. Then fire up the torch and brûlée that sugar-coated sucker on the smoking board until it is golden, crispy brown.
Both sides, now. No shirking. Mix the ingredients from the accompanying recipe over ice in a copper mule cup.
Toss once. Drop in two cinnamon sticks and drape that brûléed apple slice across the top.
Voila. The Apple Cider Mule.
Stanwyck took one sip and offered that it seemed the kind of cocktail that would go nicely with dessert, say an apple pie or crumble.
Turns out the cocktail/dessert pairing is a standard at FGF, with offerings like the Almond Joy martini or the Key Lime Pound Cake martini, obvious partners to their namesake FGF desserts.
Then Stanwyck snagged the apple, cursed her three times, fairly swooning over its crunchy surface and tart sweetness.
Thus was I denied my ration of fresh fruit for the day, though it was worth it to see her savor that slice of serpent's temptation, eyes closed, as it rained outdoors under a clear blue sky.