Auto Enthusiasts Lose Themselves on the Racetrack
Atlanta Motorsports Park is a haven for those with a passion for speed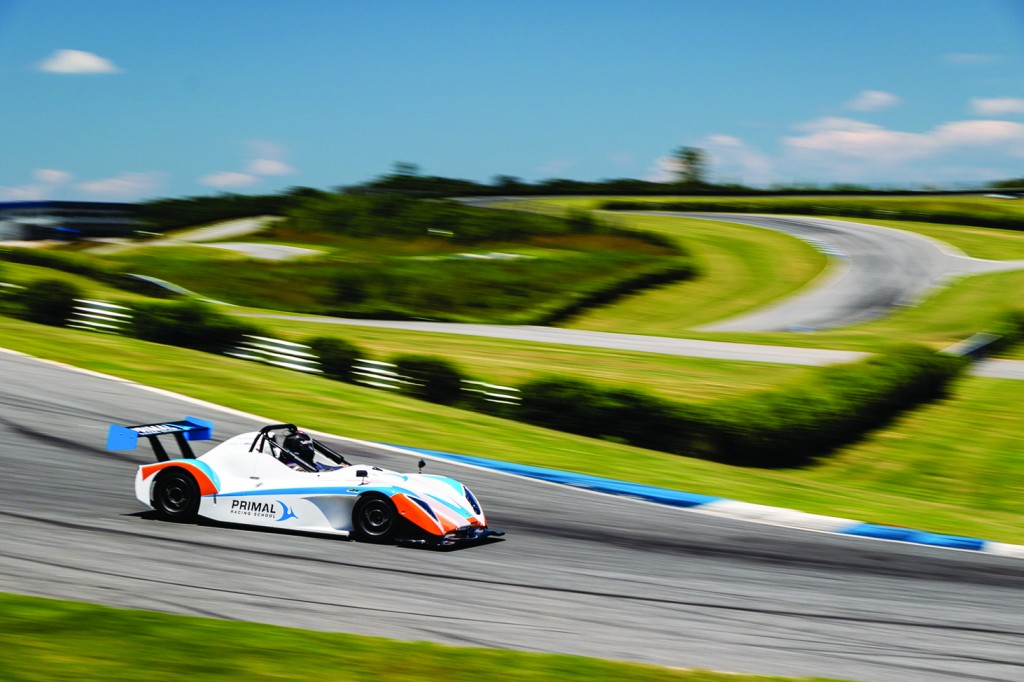 It's long been said that health care professionals love golf, but for Dr. Scott Tetreault, that stereotype is nowhere near par for the course.
"I've never liked it," Tetreault, an oncologist and founder of the Tallahassee Cancer Center, said of pasture pool. "It's too slow."
Of course, when you're going 130 miles per hour around a Formula One racetrack in a Porsche GT4, comparatively speaking, most things are.
Tetreault, a lifelong automobile enthusiast, was introduced to the racing world a year ago when a close friend and Ferrari dealer in Atlanta invited him up to the Atlanta Motorsports Park (AMP) in Dawsonville, Georgia. Tetreault had just acquired his Porsche 718 Cayman GT4 which, for the money, said Tetreault, "is one of the best street and track cars you can buy."
"It's funny because I was never a Porsche fan," he said. "I never owned one or thought I liked them. But, one day, my son started talking all these numbers. Porsches don't have cute names like Malibu or Eldorado. They're models 997.2 or 993 and, suddenly, he was really into them."
For years, Tetreault has participated in what's called restomodding, equipping pre-owned, vintage grand touring cars with new technology beneath the hood while retaining their classic exteriors.
All seven automobiles in Tetreault's garage have been upgraded to today's safety standards, with some requiring new engines and seatbelt installations. When Tetreault's son talked him into picking up a used 2013 Porsche 911 at auction, he was quickly smitten and "all in on Porsches."
His newly acquired GT4 is a balanced, mid-engine car, built for handling curves with relative ease.
"It's a manual transmission car, which is sort of a lost art today, so I feel it adds to the romance," said Tetreault. "When you drive around town in these performance cars, you always sense they're capable of so much more than what you put them through going to Publix."
Drivers go wide open at Dawsonville. Designed by Formula One track architect Hermann Tilke, the circuit features 16 turns and around 98 feet in changing elevations.
"The first time, you're apprehensive, and think you're going a lot faster than you are," Tetreault said. "You get going faster and faster, and finally understand why your car was built the way it was."
Tetreault said that once you reach 130 mph, car and track demand all of a driver's attention. Let your mind wander, and you risk serious injury. That might sound stressful, but for Tetreault, it's catharsis.
Drivers complete a certified instructor-led "racing school" to become familiar with the track and how to properly navigate its corners. They learn how to safely recover in the case of fishtailing and how to be mindful of other drivers sharing the track.
Tetreault recommends the sport to teenagers. He's hauled his son and a few of his friends to AMP, where they received the same training he did.
"We know how teenagers are when they get their license and want to play racer on the road," he said. "When you bring them to a real track, teach them the rules and let them go as fast as they want, I think, in a way, it gets that out of their system."
Indeed, the Tetreault need for speed is hereditary. Tetreault, who makes the trip to AMP about once a month, said the last time they visited, his son raced the GT4 for 1,000 miles.
"You can't really keep it up for more than 20 minutes at a time because it's very stressful, but for young people, I guess it's different!" he laughed. "He's really gotten good. His instructor wasn't kidding when he said, by the end of the day, he had become a better driver than he."
Too, motorsports are gaining popularity among women. Tetreault's instructor said he much prefers teaching women because they are initially more cautious than men who want to get in their car and "go, go, go."
"I think it's gaining traction among older people, too," said Tetreault. "The track, like many around the country, is privately owned. It's like a golf club. You become a member and can go anytime you want by just making a reservation on your phone, and you never get turned away."
With a member's lounge, wine room, pool and fitness facility, the AMP is a haven for auto enthusiasts and their families. Tetreault likes to drive up on Fridays for the member's happy hour (the racing transpires before you raise a glass) and mingle among well-known Atlanta surgeons, athletes and like-minded folk in the motorsports world.
Of course, AMP hosts a little friendly competition — nothing like the Daytona 500, but serious fun.
Tetreault is a relative newcomer to the sport, but he's already burned some rubber doing autocross, time trial track racing, dual racing and drag racing. Skidpad racing is especially fun, he said. Drivers are graded on how well they retain control over a slick, glass-like area.
He has yet to win a competition, but you can bet his day is coming.
"That's what I like about this sport; it keeps you humble," he said. "It's not pretentious, there's not a bunch of testosterone-fueled guys up there bragging about their cars. Everybody is into different things and interested in learning about your car and sharing advice.
"You see everything up there, from a $450,000 Ferrari Pista to a $10,000 Mazda Miata racing right next to each other. And, sometimes that Ferrari driver gets beat by the Miata because that driver is just that good."